How to Add Annotations to PDF Using OneNote
 Update:

Recently, Microsoft is making a change to its Microsoft Office branding. Microsoft Office is being renamed by Microsoft 365. After the official renaming, our article content will be updated accordingly.
Today, more and more people deal with work or study online using digital files. If you are one of them, you will find out that taking notes online is not as easy as doing that on printed books and paper documents. Whether you are using Windows PC, Mac, or a portable device, what you need is an application that allows you to take notes easily.
OneNote is a good choice for many reasons. However, this software has an obvious drawback, and that is its poor compatibility with file formats. It's not straightforward to open a PDF and take a note on it, but it's not impossible. This post is for people who want to learn how to insert a PDF in that software and get OneNote PDF annotations. If this is what you are looking for, read it on.
Related Article: >> Rotate PDF in OneNote with 2 Methods
What is Microsoft OneNote?
As one of the applications in Office 365, Microsoft OneNote makes it extremely easy to take notes without printing the files out. One of its stunning features is that you can add a password to protect your note, and the software can even automatically lock a password-protected section if it turns inactive for a long time. Thus you don't need to worry that others will modify your notes.
When it comes to the operating systems it supports, Windows, macOS, iOS, and Android are all the platforms on which it can run smoothly. However, it is not compatible with most file formats as Microsoft designed some specialized formats for this program, such as .one, .onetoc2, etc.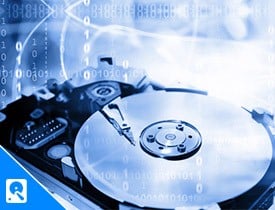 How to Add Annotations to PDF in OneNote
It's easy to import and export the files in the formats mentioned above, but those formats are not widely used in our daily life while Word, Excel, and PDF are more popular in various fields. Especially PDF, sometimes people have to convert or save their Word/Excel documents to PDF to keep the original layout. If you get the PDF courseware and want to take some notes on it using OneNote, is there any available way? Yes, you can get a document with OneNote PDF annotations easily, as long as you can insert it into the software and open it as a printout.
Detailed steps to open PDF in OneNote are offered in the following post. Then, click it and import PDF to OneNote on PC and mobile devices.

How to Insert PDF into OneNote as Printout
OneNote offers you many options to insert a PDF into it. Should you import it as an attachment or insert it as a printout? This post will give you the answer.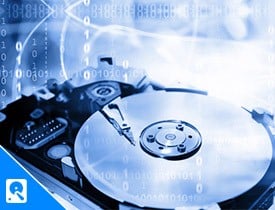 When you get that done, there are only 2 steps away from adding annotations to a PDF. Follow the steps to do that.
(Desktop Version) Step 1. You can highlight the important text in the PDF to emphasize it. It enables you to choose a suitable tool from the "Draw" menu, and you can draw shapes or handwrite some comments to the PDF file.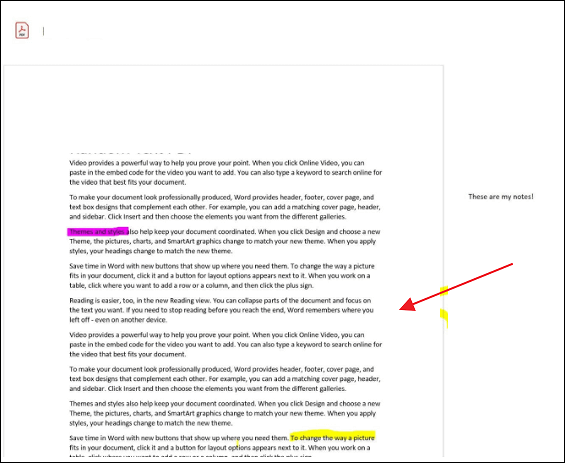 Step 2. Click on the "File" option and choose "Export". There are three options for you to choose to export one page of the notebook, a section of it, or the whole one. After selecting the page range, you can select the file types, including ONE, PDF XPS, DOC, etc. Next, select PDF as the target format and tap on the "Export" button to save the notebook in PDF format.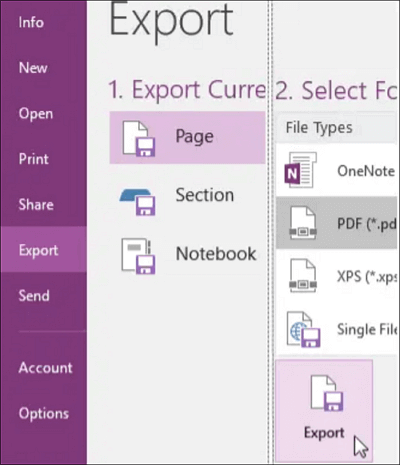 (Mobile Version) Step 1. After importing PDF into OneNote as a printout, you can annotate the PDF using many tools you can find on the top toolbar. OneNote supports drawing and writing on the PDF as well as highlighting essential words.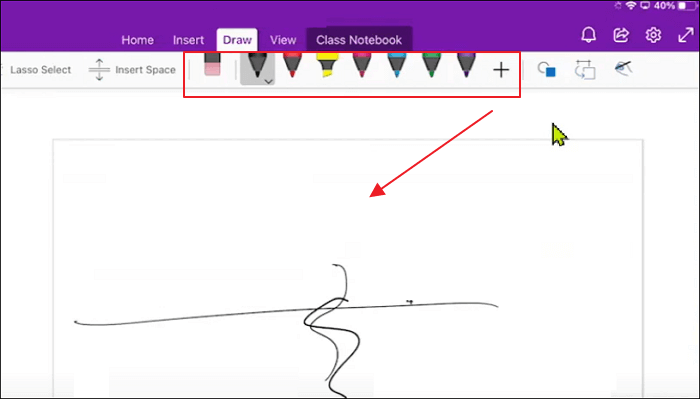 Step 2. When you want to save the notebook, click on the "Share" icon, and there are many options for you.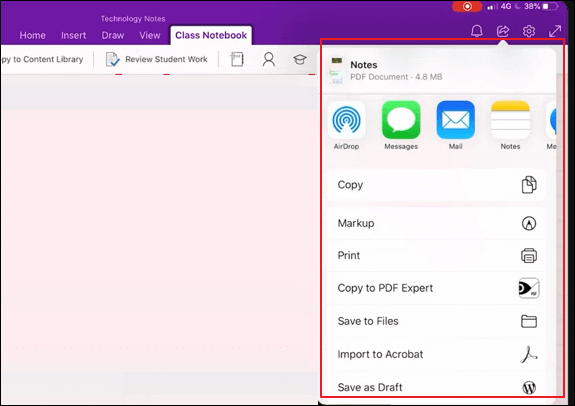 How to Take Notes on a PDF with EaseUS PDF Editor
From the above parts, you probably know that inserting a PDF into OneNote and add annotations to it in that software is difficult for many people, especially beginners. What is the most convenient way to take notes on PDF? Is there any specialized application? Of course, a powerful PDF editor is what you need now.
As a Windows user, you have countless optional PDF editors you can use on your PC, but you cannot miss EaseUS PDF Editor, a versatile but lightweight PDF editor for Windows. This software offers you a "Comment" mode to add many useful elements to your PDF file. For instance, many types of drawing markups are available, including arrows, rectangles, lines, pentagons, and so on. If you want to leave a comment on PDF, a comment box is available, and you can input text in it.
Features:
Add a password to protect the PDF file
Edit PDF content by adding or removing text and image
Add shape to PDF as the annotation
OCR scanned PDFs and make them editable
Click on this button, and you will have this great software installed on your Windows PC.
Steps to Annotate PDF with EaseUS PDF Editor:
Step 1. Launch EaseUS PDF Editor and click on the "Open Files..." button to import the PDF file to which you want to add the comments.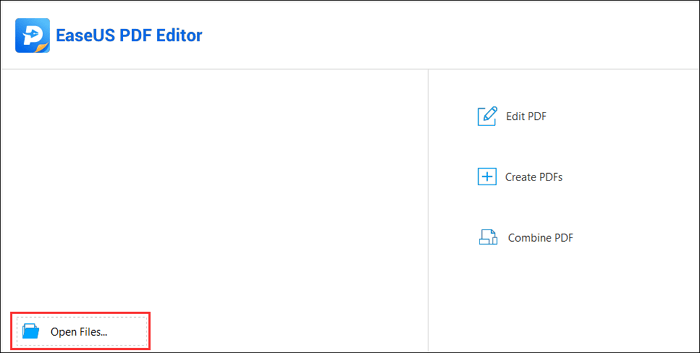 Step 2. Click on the "Comment" button, and then you can choose to add a comment to the PDF by clicking the notepad icon under the "Annotations" tab.
Step 3. Click where you want to put the notepad, then you can take a note on the PDF file by typing in your comments in the textbox. If you want to hide the note box, you can click the close button in the top right corner.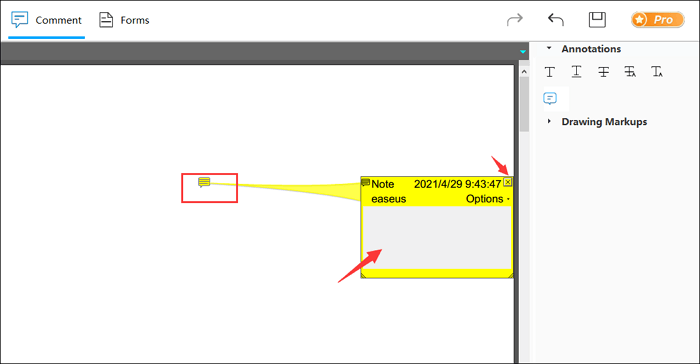 Step 4. Now, you can click on the "File" button and select "Save" or "Save As" to obtain the PDF with your annotations.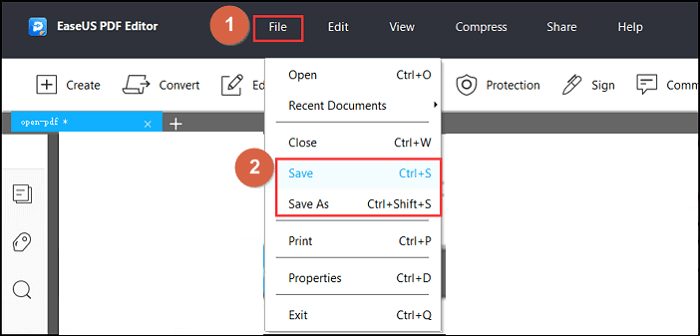 Conclusion
OneNote, the vendor-supplied software designed by Microsoft, helps users a lot as it's easy to use. However, some formats developed by other companies, such as PDF format, are not supported by this software. The only method of importing PDF into OneNote is inserting it as a printout. When PDF is opened in this software, you can use many built-in drawing tools to annotate it freely.
But for those who are not willing to spend time learning how to open a PDF in OneNote, a PDF editor is the best tool to annotate a PDF. If you are a novice in this field, EaseUS PDF Editor can help you a lot. Its user-friendly interface will navigate you to the correct tools you need to use.
About the Author
Melissa is a sophisticated editor for EaseUS in tech blog writing. She is proficient in writing articles related to screen recording, video editing, and PDF file converting.