2022 | How to Save Autocad as PDF on Windows/Online
In simpler terms, opening AutoCAD as PDF is easier for most devices, especially if your device doesn't use AutoDesk software. After all, not everybody has the luxury of purchasing AutoDesk's license.
Besides the universal nature of PDF, those who use AutoCAD get plenty of other benefits as they know how to save an AutoCAD file as a PDF. when the AutoCAD file is exported as PDF, the user can keep the original nature of their file (like layers, custom font, etc.) without having the need to tweak the file. All they need is to convert the AutoCAD to PDF, and they can keep their original file in another format and share it with non-AutoCAD users. It is important for us to know how to save AutoCAD as PDF. Worry not, as this article will cover the topic in as detail as possible. 
What is AutoCAD?
In a nutshell, AutoCAD is a CAD-like program for drawing and modeling in 2D and 3D. It enables its users to create and modify geometric models with an almost limitless capacity for the construction of various buildings and objects. AutoCAD now contains a significant number of tools that span a wide range of 2D and 3D modeling industrial applications.
AutoCAD has substantially increased the capability for 2D design in the latest edition, fine-tuning the precision of the tools by introducing various alternatives. Examples included here are the dynamic blocks, adjustable views, matrices, and other AutoCAD-owned 2D features.
When it comes to 3D modeling, Autodesk has focused on improving its rendering features along with the compatibility of AutoCAD with other products that complement AutoCAD. Users can employ realistic lighting, cloud-based rendering, realistic 3D models, and cross-sections in drawings, among other things.
As a company, Autodesk is now focusing its efforts right now on cross-device interoperability and cloud-based work. Multi-device compatibility, file history, cloud storage, a block pallet, and other cloud-related features are all included. Anyone who works with 2D and 3D designs will benefit from AutoCAD and software from Autodesk.
How to Save AutoCAD as PDF on Windows
If you use AutoCAD, then you're in luck as you can convert AutoCAD to PDF directly using the software. If not, you can use Adobe Acrobat as another option.
1. AutoCAD
Nothing much can be explained about AutoCAD here since the software has been thoroughly explained in the previous section. Despite the fact that bitmap graphics are supported, AutoCAD works with universal layers of vector images, just like Photoshop and Illustrator. 
Its user interface has been revamped to make building plans and constructions more straightforward. The way they structure their features into visual areas, command line, status bar, and other aspects that make 2D and 3D visuals easier to interpret demonstrates this. Since you can convert it to PDF, there's no need to install other software for the conversion.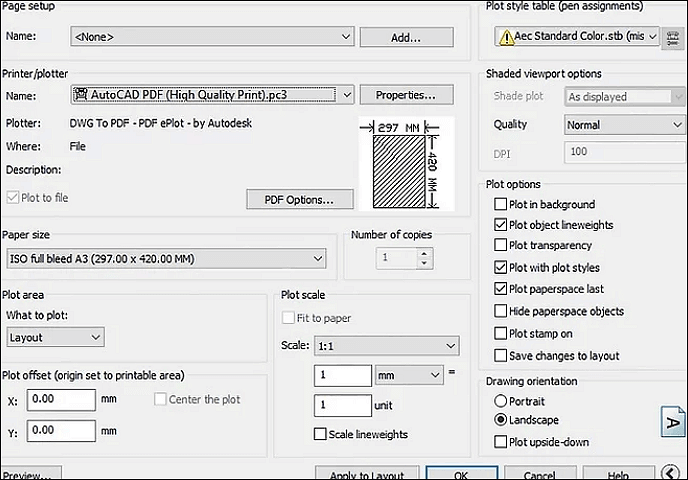 Features of AutoCAD:
Realistic 3D visualization and modeling
3D scanning and point clouds
Great solid mesh modeling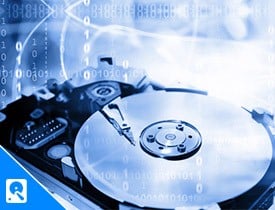 2. Adobe Acrobat
If you don't have AutoCAD, you can always opt for Adobe Acrobat to do the steps on how to save AutoCAD as PDF. As stated before, PDF preserves the original nature of AutoCAD, and considering how Adobe Acrobat is the main software for PDF. Its best users use Adobe Acrobat to maintain the quality of the PDF as high as possible. Thus, if AutoCAD is not an option, you ought to use Adobe Acrobat for your Windows device.
Besides its compatibility with the AutoCAD file extension. PDF documents can contain text, photos, vector drawings, videos, animations, audio files, 3D models, interactive fields, hyperlinks, and buttons. All of these elements can be combined into a single PDF file and presented as a report, a presentation, or a portfolio. Seeing how the features are similar to that of AutoCAD's, it's no wonder that PDF is compatible with AutoCAD's file.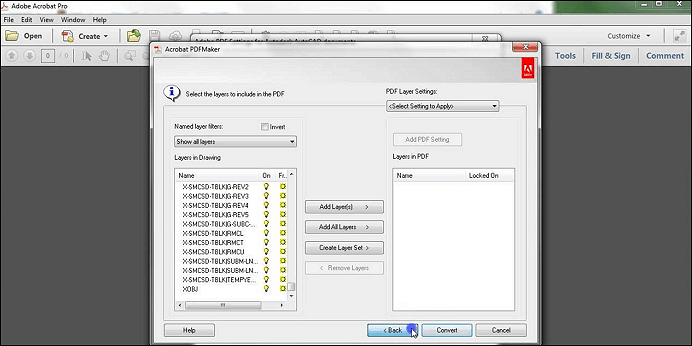 Features of Adobe Acrobat:
Combine files into one PDF
Convert most files to/from PDF
How to Save AutoCAD as PDF Online
If AutoCAD, Adobe Acrobat, and Preview for Mac are not available for you, you can try converting the files online and use browser-based converters such as Allinpdf.
1. Allinpdf
Allinpdf is a web-based PDF converter that also works on mobile devices. DWG is one of the several formats to which Allinpdf can convert PDF (the AutoCAD file extension). Users can convert MP3 and video files in addition to papers. Allinpdf is one of the online converters you should choose because of its simple design and good quality.
You can rest easy if you're worried about your safety. Allinpdf uses SSL-based transmission to ensure that the files you submit to the website are secure. As a result, you'll get a high-quality result without using any of your device's resources.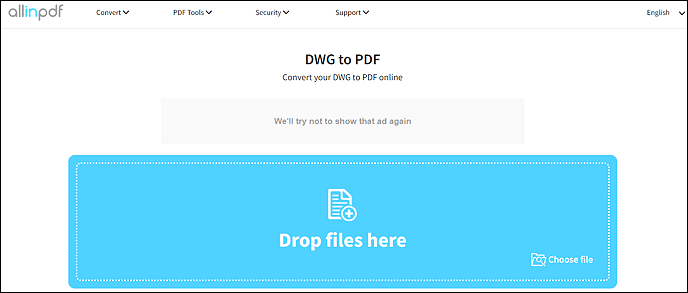 Features of Allinpdf:
Quick conversion
File deletion after 30 minutes
Available for all operating systems
2. Zamzar
Zamzar is a web-based conversion tool that lets you convert a wide range of files, including DWG (the AutoCAD file format) to PDF. Zamzar does the conversion job well done, with conversion times that rarely surpass one minute (unless the file size is big). The conversion instruction is also shown on the same page as the conversion, making it easy for visitors to find.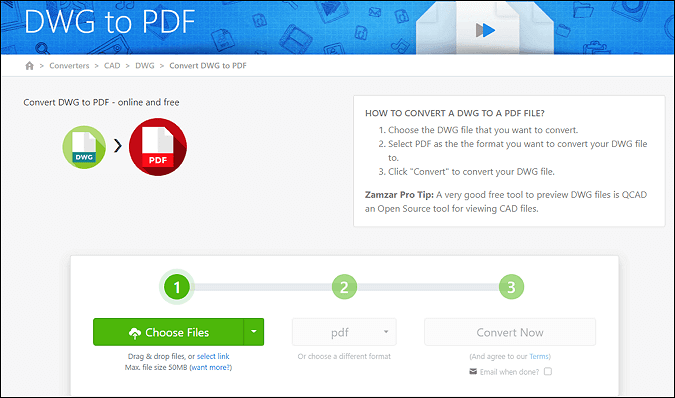 Features of Zamzar:
Varied options for conversion format
Option to send the converted file through email
An easy interface that can easily be understood
Bonus Tips: Convert PDF to/from Common Formats
Despite the fact that we've already covered how to save AutoCAD as a PDF, there are situations when we need to convert or change the document. In this case, EaseUS PDF Editor comes in handy. With it, you can convert PDF to documents like DOC, PPT, and images formats. The conversion quality of this software is what sets it different.
It will obtain a high-quality PDF file that is identical to the original as a result of the conversion. Besides conversion, it creates a new PDF from start or adds new components to an existing PDF. It's a program that allows editing PDF files and adding new words and graphics. Here are more features included in this software. 
EaseUS PDF Editor:
The ability to protect PDF with a password
Print PDF without margin on Windows PC
Form components can be added to a PDF
OCR scanning is used to recoginze text on photographs
Allow for the addition of a digital signature
About the Author

Crystal Chen is very interested in technology products. Experiencing many technological applications like video editors, screen recorders, and PDF editors, She is willing to solve users' issues through writing tech-related articles. Through her words, you can find various solutions to solve one problem.