How to Convert PDF to Keynote Easily in 2022
Keynote is a unique format developed by Apple Inc. It can only be opened, edited, and saved with the appropriate software. It may take hours to create a keynote manually, but converting the PDF to a keynote is easier. Therefore, people prefer this conversion over keynote creation.
Now the question arises: Is it easier to convert keynote to PDF compared to the PDF to keynote? Apple users can easily export keynote as PDF by using iWork Keynote; however, you will require a PDF tool to do the opposite.
To help you complete this task, here are the top two ways for converting PDF to keynote on Mac. Also, you will know the details of a PDF Editor as a bonus tip. Let's dive deep into the details!
How to Convert PDF to Keynote with Keynote
Keynote application on Mac is an excellent and coherent tool for designing an attractive and impressive presentation by adding images, text, charts, etc. Also, you can work across various Apple devices. Since it handles all the presentations, it is possible to save files as keynotes. You can also select the style and images and arrange PDF page icons.
Though it offers you the free conversion of PDF to the keynote, it does not support the opening and viewing of documents in PDF format. That is why the uploaded PDF will only get imported as an image file, and the converted keynote will also not be editable like in PDF2Office. Above all, its clear, catchy, and intuitive interface makes the work processing easier.
Here is a detailed procedure to convert PDF to Keynote by using the Keynote Mac application:
Step 1. First of all, you have to open the Keynote on your system. Now, select a Keynote theme to start processing from a blank file.
Step 2. Open the PDF in a reader and then drag and drop the pages of the PDF one by one in the left thumbnail of the Keynote application. These pages will be imported as images where it is possible to reorder them as per your requirements.
Step 3.  After you are done with resizing and reorganizing the pages, click the "File" and then the "Save" button to save the file in its local folder. You are all done!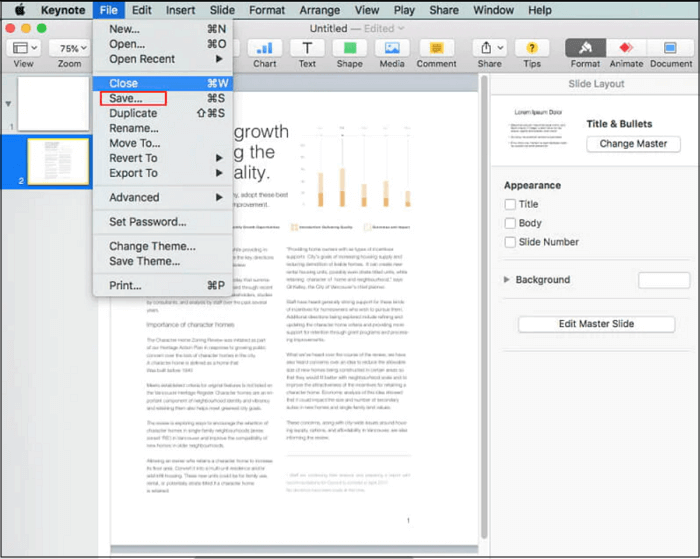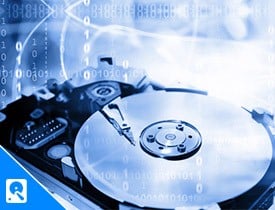 How to Convert PDF to Keynote with PDF2Office for iWork 2017
PDF2Office for iWork is a fantastic application in Mac offered by Mac App Store. It aids you in converting PDF to keynote files; however, you have to purchase a license for exporting more than 5 slides. It is a desktop application where you have the complete security of your documents since they are not on someone's server like in online tools. All the uploaded PDFs will remain in the local storage.
Its most significant advantage is to provide the converted keynote as an editable file, a unique feature compared to the Keynote Mac application. Even it offers an iOS application. Moreover, you can convert PDFs into batches to save time. Though some advanced features can't be converted accurately, generally, it is a good one!
Let's move forward toward the steps of converting PDF to Keynote through PDF2Office:
Step 1. First of all, download, install, and open the software on your system. Now, open the PDF that you need to convert.
Step 2. In the second step, you should select the "Keynote" as the target file format.
Step 3. In the end, press the "Convert" button to get the conversion process done.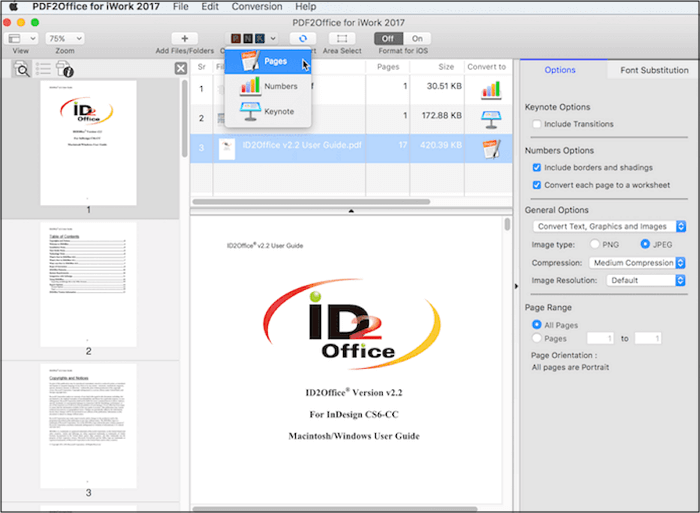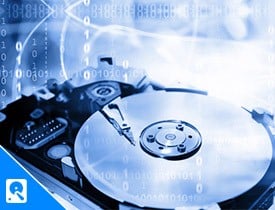 A PDF Editor and Converter You Can Never Miss
If you deal with PDFs on a regular basis, you must have software to edit and view them. Moreover, you may need to convert or edit PDFs before converting them to Keynote. Here, an efficient and quick PDF editor is the one that can help you out.
EaseUS PDF Editor
EaseUS PDF Editor is counted among the most credible and high-performing software to aid you in management, conversion, and editing tasks. Supporting formats like Word, Powerpoint, and others, allows you to convert PDF to these formats. Also, it never compromises PDF quality while all the converting and other processing. Even its OCR feature assists in recognizing scanned PDFs in multiple languages. It turns them into an editable copy.
Besides conversion, you can add/remove images, text, pages, comments, and much more. Along with that, it is possible to insert the links or add bates numbering in PDFs. Furthermore, you can encrypt the PDF files with a password if they contain confidential information. Even the watermarks and signatures can be added to overcome the infringement issues.
Not only editing, but it also helps in easy reading with its zoom in and out feature. Also, you can combine multiple PDFs to make a single one, if required. Last but not least, you can compress the PDFs to reduce the file size by maintaining document optimization.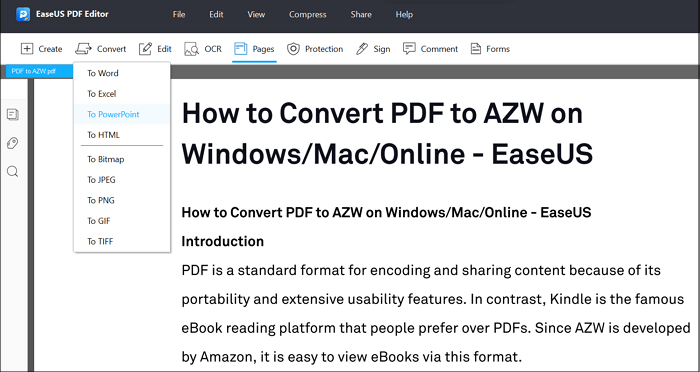 Features:
Create PDFs from blank documents or files
Convert PDF to formats like PNG, Word, BMP, etc.
Offer PDF sharing via email
Show/hide navigation panels easily
Add various drawing markups and annotations
Conclusion
Whatever situation you are in, if it demands you to convert PDF to Keynote, you can easily do this after reading the above information. Though PDF2Office 2017 and Keynote are the best to carry out the task, you can choose any that best suits your demands. Moreover, if you are required to edit the PDFs before conversion, EaseUS PDF Editor helps you out. The reason lies in its capability to assist in performing multiple functions. Also, you can enjoy all its available features to turn PDF into the desired product.
About the Author
Melissa is a sophisticated editor for EaseUS in tech blog writing. She is proficient in writing articles related to screen recording, video editing, and PDF file converting.