How to Delete a Page in Word [Easy as 1-2-3]
 Update:

Recently, Microsoft is making a change to its Microsoft Office branding. Microsoft Office is being renamed by Microsoft 365. After the official renaming, our article content will be updated accordingly.
Have you ever been in a situation where you need to delete a page in Microsoft Word? This sounds simple but can be tedious, especially when you have a page that won't go away. Imagine having a lengthy document of many pages and wanting to delete a blank page which becomes almost impossible due to the hidden formatting unknown to you.
Blank pages can make you look unprofessional, especially to potential employers or editors. This guide will reveal how to delete a blank page in Word, recover a deleted page, and delete or remove blank pages from PDF on Windows using the EaseUS PDF Editor. Let's get started.
How to Delete a Page in Word
Microsoft Word is a popular software for creating documents, but it can sometimes cause frustration from the blank pages you get. Hence, when you edit a Word document, you need to know how to delete a page in Word. You can either delete a blank page or a Word page with content like graphics, texts, images, and the like.
Let's begin by looking at how to delete a page with content:
Step 1. Select the page you want to delete by scrolling or using the "Go To" function.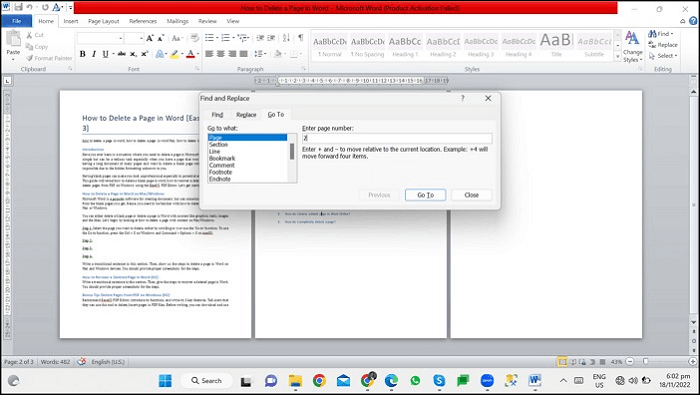 Step 2. Click "Go To" and enter the page number.
Step 3. Then, select all page content to indicate that you want to delete the complete page, not just some part of it.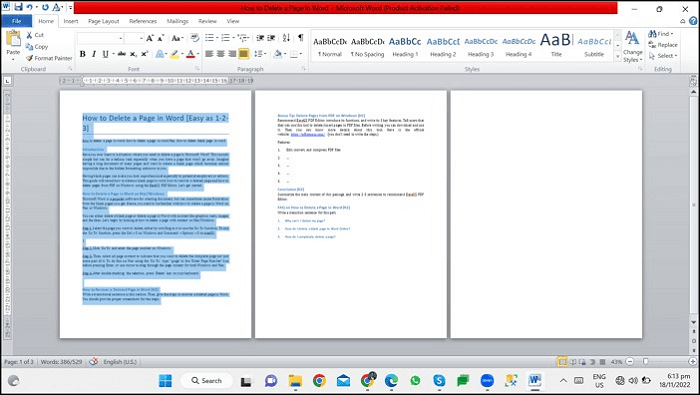 Step 4. After double-checking the selection, press the "Delete" key on your keyboard.
Sometimes, a few pages have no content, and you just need to eliminate the blank pages.
Here's how to delete the blank pages:
Step 1. Find the blank page/pages by opening up the Navigation pane. Select the "View" tab and ensure the Navigation box is ticked.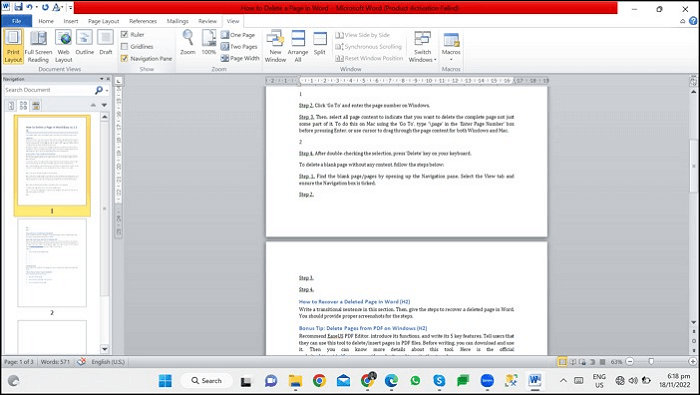 Step 2. Select "Pages" on the sidebar that displays pages in the document.
Step 3. Scroll through the sidebar to find blank pages you wish to delete. Then, double-click on it to jump straight to that page.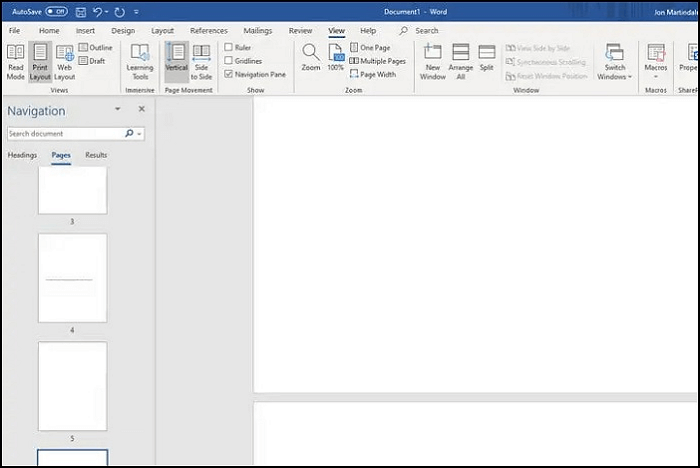 Step 4. Your cursor will be at the top of the page, hit "Delete" or "Backspace" to clear out the blank page.

How to Rearrange Pages in Word | 3 Simple Methods
Whether personal or professional, a document has to follow a specific set of guidelines to get accepted. That's why writing effective business documents are always challenging, especially the formatting.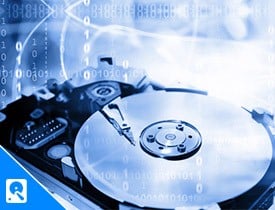 How to Recover a Deleted Page in Word
Anyone can make a mistake, like deleting a page accidentally. You can recover it immediately by pressing the "Ctrl + Z" or "Command + Z" on Windows and Mac, respectively, as long as the file is still open.
However, if the file is closed, you can use the AutoRecovery feature to get the previous version of your document before accidentally deleting the right page. Sometimes the pages are lost because your computer or software crashed.
Here's how to get your AutoRecovery feature running:
Step 1. Go to "File", then "Options".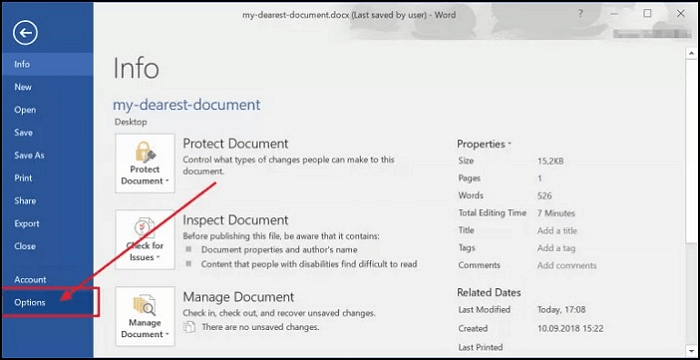 Step 2. Click on "Save", then tick both the "Save AutoRecover information every X minutes" and the "Keep the last autosaved version if I close without saving" box.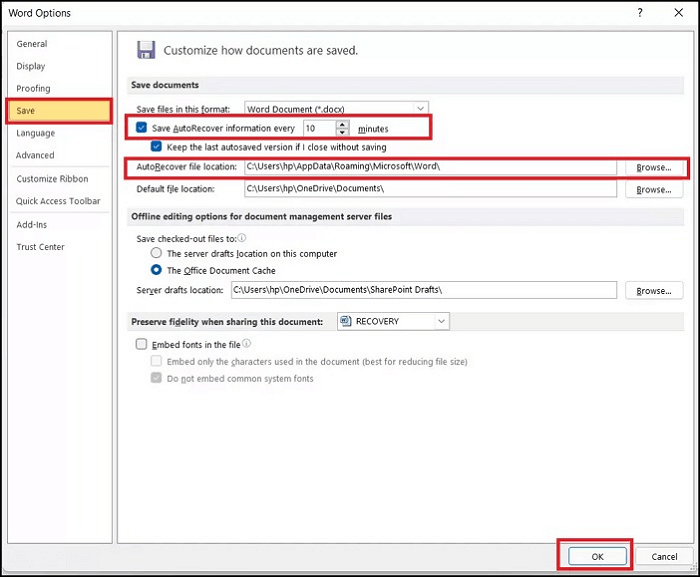 Step 3. Browse to the AutoRecover file location, then click "OK".
 Notice:

After doing this, you will always get the previous versions of your document when such a mistake happens. Alternatively, you can select "Always Create Backup Copy" to get backup copies of your files automatically. The files are saved with the .wbk extension in your preset AutoRecover location.
Bonus Tip: Delete Pages from PDF on Windows 
Various kinds of documents exist, so you will not always have to delete pages from a Word document, sometimes, you may need to delete pages from PDF on Windows, and there's no better software besides the EaseUS PDF Editor.
PDFs are difficult to edit, and the EaseUS PDF Editor can make that easy. It can help delete or insert pages in PDF files. In addition, you can add, modify, remove or add image to PDF, reorder, extract, crop, rotate or change PDF page size with ease. In addition, you can include headers and footers in no time.
Don't wait, click here and download this good program.
Features:
Highlight in PDF files to show the key information
Provide six interactive form controls
Delete pages from the PDF
Edit, convert, and compress PDF files
Add bookmarks to PDF with ease
Here are the steps to delete blank pages in PDF:
Step 1. Install and launch this program on your computer, and next, click on "Open Files" to import the PDF document.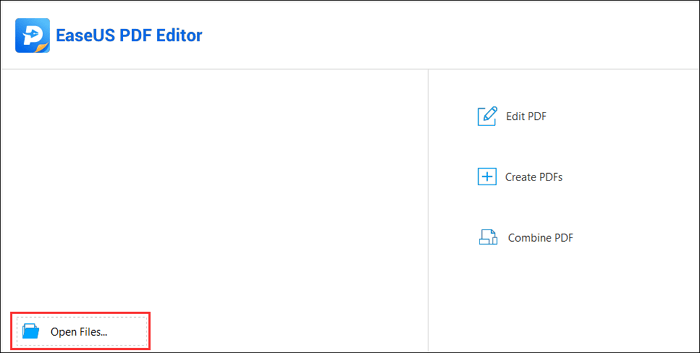 Step 2. Click on "Pages" in the top toolbar. After that, choose "Pages" in the left-hand sidebar to open the page thumbnails. Here you can enlarge or reduce the thumbnails based on your needs.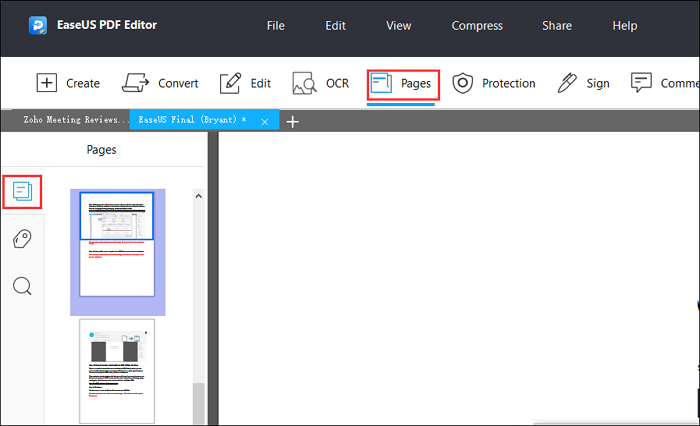 Step 3. Drag the process bar to choose the blank pages that you want to delete. Once selected, right-click on the thumbnail and choose "Delete Pages…".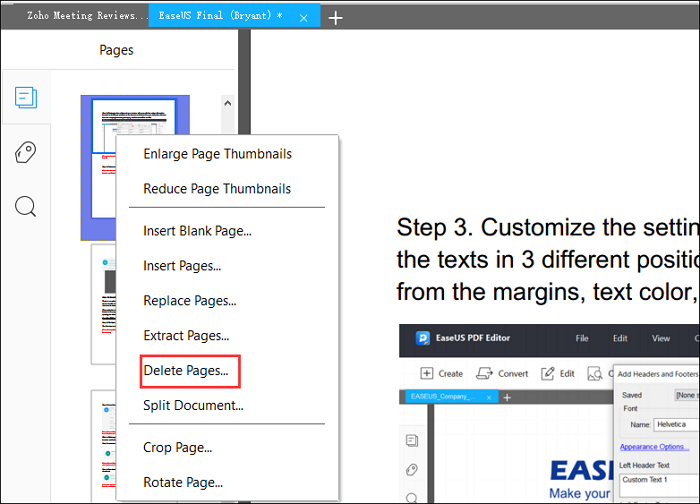 Step 4. Repeat step 3 until you remove all the blank pages you want to delete in your PDF. At last, don't forget to save your changed PDF file.
Conclusion 
This article extensively discussed how to delete a page in Word for Mac and Windows and introduced the EaseUS PDF Editor as an excellent option for deleting a page on PDF files. In addition, it gives the freedom to create and edit PDFs confidently and painlessly.
FAQ on How to Delete a Page in Word
Here are some additional tips on how to delete blank pages in Word.
1. Why can't I delete my page?
This is because you are not an admin of the page. If you are an admin and still face the same issue, there is likely another admin.
2. How do I delete a blank page in Word Online?
Step 1. Click "Edit Document" and select "Edit in Word" for the web.
Step 2. Then, select and delete the blank lines in your document.
3. How do I completely delete a page?
Step 1. Tap any spot on the page, and select all the content.
Step 2. Then press the "Delete" key before "Ctrl + S" to save the edited document.
About the Author

I'm glad you can find my post. I hope my article can help you a lot. If you have any questions, please feel free to contact me!