Electronic Signature vs Digital Signature | Differences
PAGE CONTENT:
Contrary to the general assumption, an electronic signature differs from a digital signature. A digital signature is primarily used to identify and seal a document to safeguard it from forgery; it operates on more advanced authentication.
In contrast, an electronic signature is the confirmation of agreement to the terms of a document or business contract. When you need to sign a PDF file, a signature generator for PDF is one of the best choices you shouldn't miss. The differences are clearly explained in this article.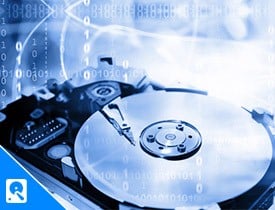 What Is an Electronic Signature?
An electronic signature, also known as an e-signature, is a quick way to get your electronic documents signed. It's an electronic symbol attached to a document, record, or contract to recognize the identity of the parties involved and shows their willingness to agree to the contract terms.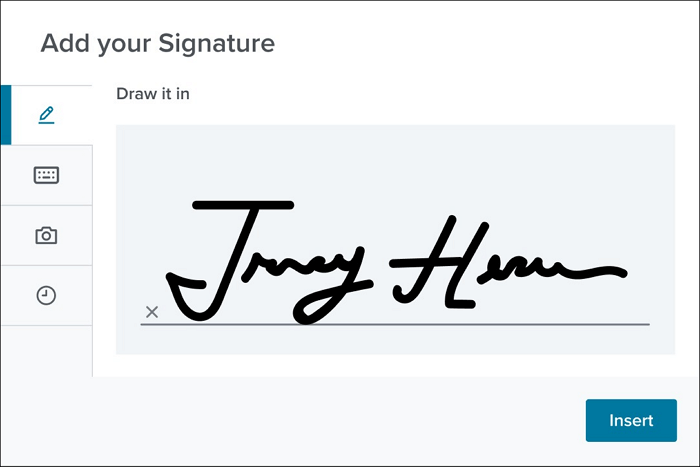 Main features of an electronic signature:
An electronic signature mainly verifies a document
A digital certificate is not included
It involves multiple party signatures, legally binding all parties together if they agree to sign electronically
Increases information exchange speed
What Is a Digital Signature?
We use a digital signature when there's a need to secure a document. A digital signature provides more security and authenticity than an electronic signature. It has encryption standards and is validated by trusted certificate authorities or trusted service providers.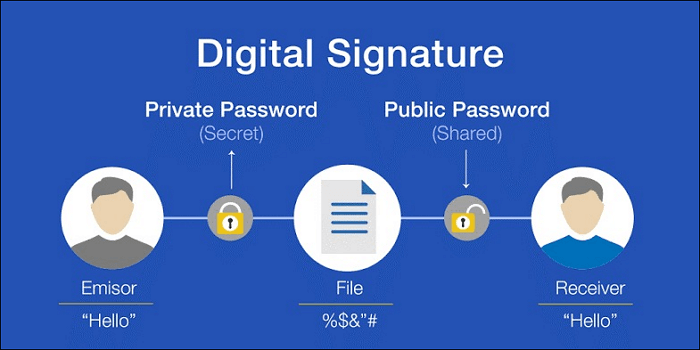 Main features of digital signature:
Protects documents from forgery
Authorized and regulated by certification authorities
The security of the documents is the signer's major concern
The document is encrypted and backed by digital certification
The Differences Between an Electronic Signature and a Digital Signature
Specific differences in the function of electronic and digital signatures are detailed below: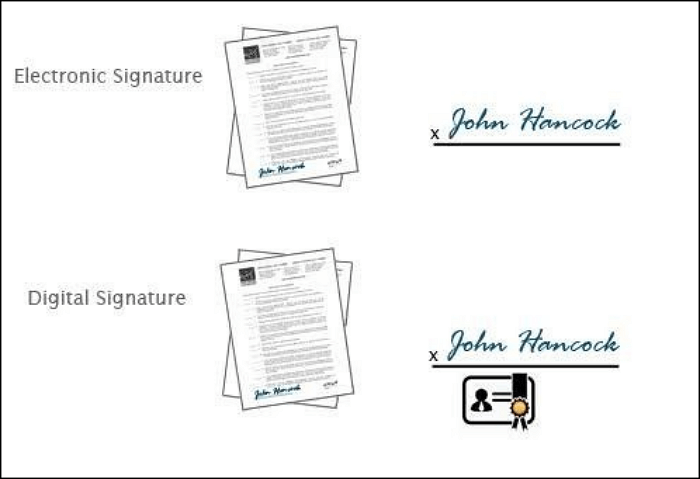 Purpose
Digital signature's main purpose is to secure the document and verify it hasn't been altered, forged, or tampered with by people without authorization.
The main goal of an electronic signature is to verify a document. The authors of the document are identified, and it indicates a binding agreement or contract.
Security
A digital signature uses cryptographic encryption methods to protect the document making it more secure.
An electronic signature is less protected as it does not have viable protection features that can be used to protect it from alterations.
Common Use Cases 
By creating an electronic signature, businesses create a signatory agreement to the terms laid out by both parties.
Certification authorities or trust service providers that validate the digital document use digital signatures more often than a commercial team looking to close a deal.
Bonus Tip: An All-In-One PDF Editor
EaseUS PDF Editor is a great choice for adding a digital signature to PDFs on Windows PC so that you can protect the files. This software helps you to add signature to PDF quickly. EaseUS PDF Editor also protects your personal information and prevents unauthorized persons from modifying your signature. Why not download it now?
Features:
Work as PDF management software
Allow you to e-sign documents
Simple for any user to use
Creates editable text from scanned files
Here are the steps to e-sign a PDF with EaseUS PDF Editor:
Step 1. Make sure you have launched EaseUS PDF Editor. Open the PDF you want to edit. Then, click on "Sign" and select "Sign Document."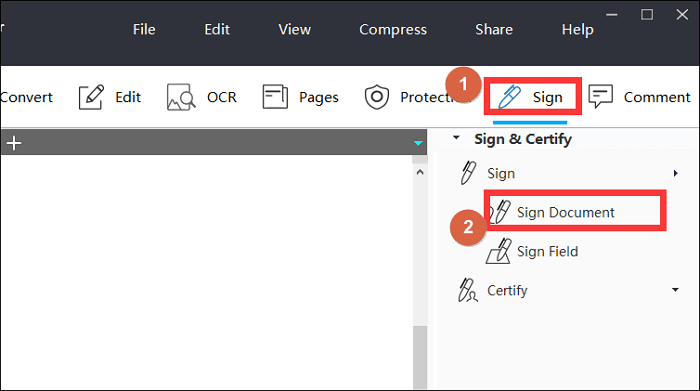 Step 2. In the diagram window that appears, if you are ready to add the mark, click on "Drag New Signature Rectangle" to operate the task.

Step 3. With your mouse, drag out the area where you want the mark to be shown. Then, a diagram window appears, based on your needs, and you can set the information like password, reason, and so on. Finally, click on the "Sign" to edit your PDF.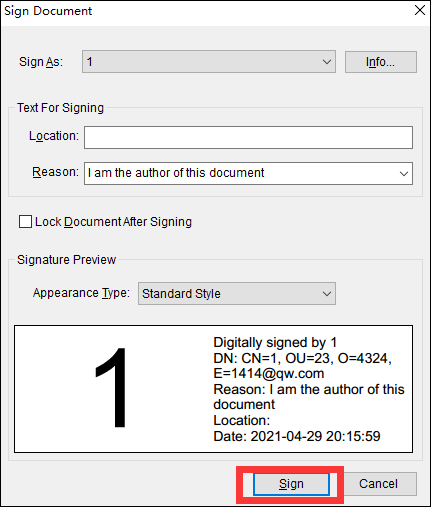 Step 4. Choose the location where you want to save. After that, you can do another editing.
Conclusion
An electronic signature helps to verify a document and allows businesses to confirm the terms of a particular document and contract. While a digital signature primarily helps to secure a document and protect it from alterations.
EaseUs PDF Editor is highly recommended as it allows you to e-sign your documents while protecting your personal information and ensuring the security of your digital signature.
FAQ on Electronic Signature vs Digital Signature
If you have more questions on how to use electronic and digital signatures, you will find answers in the following FAQ:
1. How to create an electronic signature?
You can create an electronic signature following these steps on Adobe.
Step 1. Click on the document you wish to add the signature to.
Step 2. Select the prompt in the document and sign in.
Step 3. Add your preferred electronic signature to the document.
Step 4. Upload the Signature and click "Apply".
2. Can I send someone my electronic signature?
Yes. You can send it to the recipient's email by clicking "Send" on a dedicated e-sign application.
3. Is a PDF signature an electronic signature?
PDF signature can be a digital or electronic signature. With a few clicks, you can create your electronic signature, while a digital signature will require a digital ID or certificate to sign the PDF document.
About the Author

I'm glad you can find my post. I hope my article can help you a lot. If you have any questions, please feel free to contact me!