Top 6 DWG to PDF Converter on Windows/Mac/Online
This post is for you if you are looking for reliable software that can easily convert DWG file format to PDF. DWG (short for "Drawing") is a binary file format for storing 2D and 3D design data. DWG files are CAD drawings that contain vector picture data and metadata encoded in binary code. Most CAD systems, including AutoCAD, use it as their native format.
Sometimes you have to send your work to others who don't install any CAD reprogram on their device, but they will fail in opening the DWG file directly. What would you do to solve that problem? Converting DWG to PDF online or offline might be the best solution. There is no doubt that a capable converting tool is necessary, and that is why this post will focus on the top 6 DWG to PDF converters you can use. Continue reading to find the most suitable one for you.
Related Article: >> How to Convert PDF to Visio
1. Autodesk Viewer
The Autodesk Viewers differs from the others on this list in a few ways. It provides an AutoCAD viewer with built-in converting capabilities rather than a specialized AutoCAD to PDF converter. This tool is an excellent option for anyone who works with DWG and other AutoCAD files regularly because it is free.
To convert DWG files to PDF format, the only operations you need to do are open the Autodesk Viewer file, make any necessary changes, and then click on the export button in the top left-hand menu. In general, these conversions are precise and well-executed. However, it is not beginner-friendly software.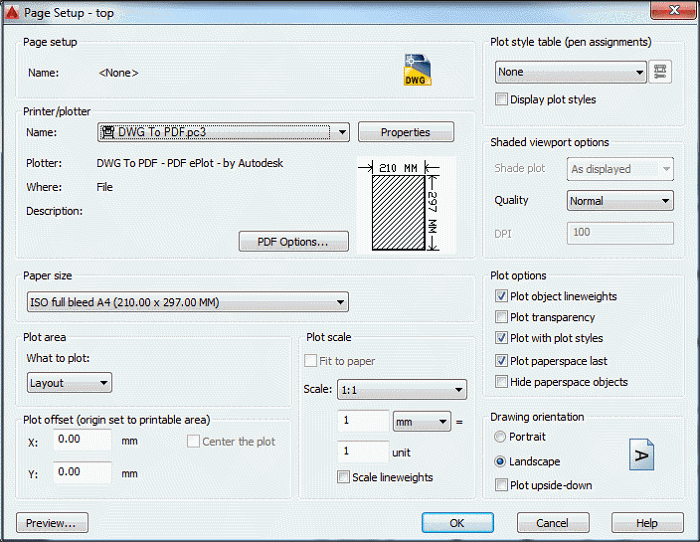 Pros:
Support AutoCAD file editing
Export files as PDF directly
Offer extensive tools for file modifying
Cons:
A bit of a difficult interface
2. DWG to PDF Converter Pro
This is a versatile application that converts DVG, DXF, and DWF files to PDF files. The presence of the supporting program is not required, even though these formats are designed for AutoCAD programs. You may effortlessly convert your AutoCAD project into a PDF file that can be shared easily. 
The output characteristics can also be customized. For example, you can edit the paper size and page orientation, and file quality. You also have the option of filling out a series of target file details, such as the title, author, and subject, as well as entering some keywords. Unfortunately, you will not be able to password-protect the resultant PDF. After you have completed all the settings, you can turn on the conversion.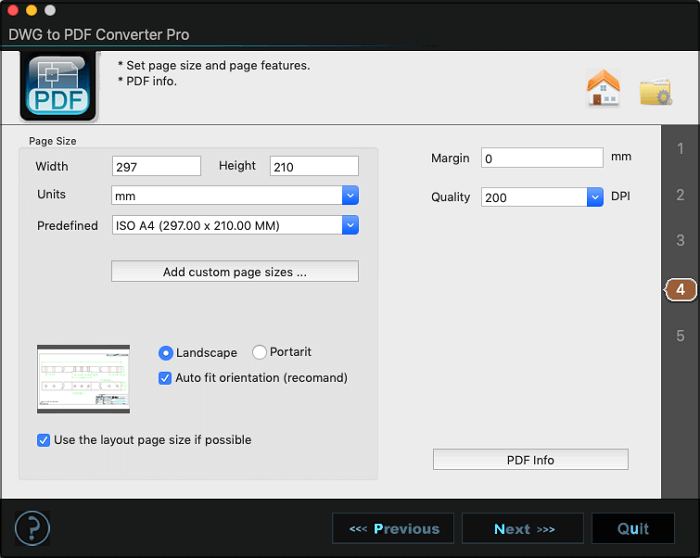 Pros:
Convert DWG, DXF, and DVG to PDF smoothly
Edit paper size, page layout, and title
Convert without damaging the file quality
Cons:
It doesn't support adding a password to the PDF
3. Zamzar
The Zamzar converting tool is a complete AutoCAD to PDF file converter that works with DWG, DXF, and other CAD file types. User accounts are only necessary for high-volume clients, and there is no need to download it as it works online.
You can upgrade to one of the paid subscriptions if you require more than the basic service, such as unlimited file conversions, a larger maximum file size, and online storage. There are also several additional useful file conversion services accessible.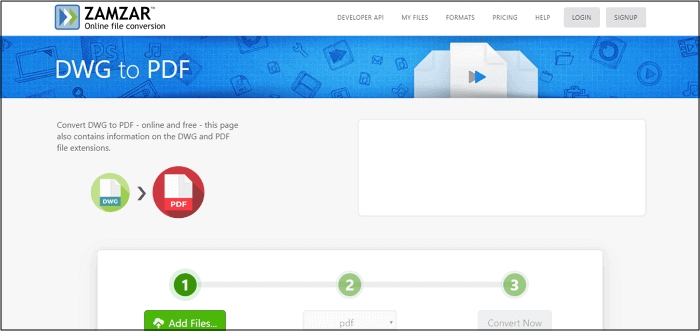 Pros:
Change file format online
Support numerous file formats
Free to use
Cons:
Available only online
Conversion gets slow sometimes
4. CloudConvert
This is a free online converting tool that comes with a lot of useful features. It uses powerful conversion technology, ensuring that the original quality is preserved as much as possible. Moreover, your security and privacy are maintained even when working online with this tool.
Advanced settings are also available, allowing you to modify how the output is given to you. Importing PDF files is possible natively, via a direct URL, or from one of the integrated cloud services, such as OneDrive, Dropbox, or Google Drive.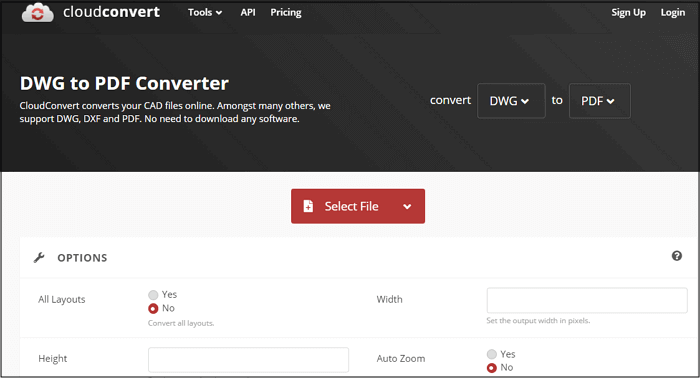 Pros:
Convert files to other formats securely
Edit document with advanced features
Cons:
Some tools are difficult to understand
It messes up files if the file font is not available in this software
5. Allinpdf
If a quick and easy conversion is what you are looking for, Allinpdf can be a good choice. It works online through a user-friendly interface. All you got to do is drag and drop your DWG file to their website with an average internet speed, wait for a few seconds, and get the high-quality converted PDF file.
Amazingly, this online tool supports nearly all website browsers from IE, Chrome, Safari, to Firefox. It is safe to use since it shares your data with no third party. Despite DWG to PDF conversion, Allinpdf provides you with an immense number of different tools that you can use for editing, conversion between PDF and other file formats, and other purposes.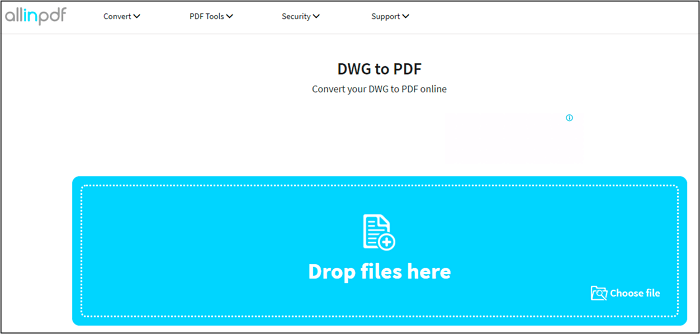 Pros:
Work quickly even on average internet speed
Support all operating systems
Keep your data safe from any third-party access
Cons:
Sometimes the format changes after conversion
It is not recommended for simultaneous modification of huge batches of files
6. AnyConv
AnyConv is a trustworthy online converting tool for conversions between different file formats, including the conversion between DWG and PDF. It is online, yet it works equally fine on all systems from Windows to Mac to Android and iPhone. One of its advantages is that it does not compromise or affect the quality of files while converting.
Additionally, it can support image file formats like JPG and PNG, audio file formats like MP3, video file formats like MOV, and much more.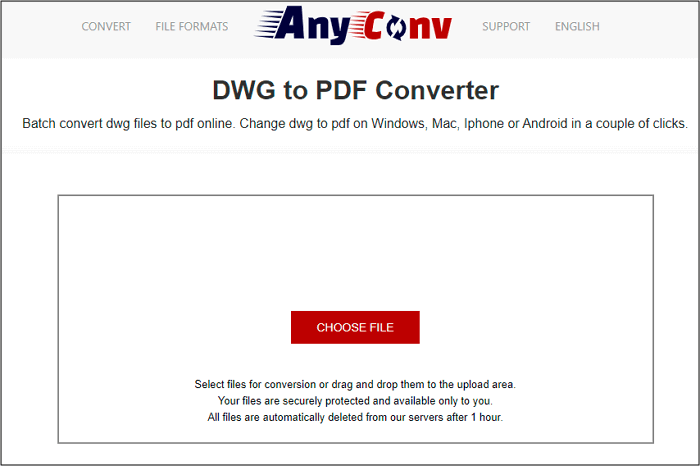 Pros:
Support multiple file formats
Convert DWG files into PDF files in seconds
Work on all systems like Windows, Mac, and Android, etc.
Cons:
Occasionally buggy
Significant batch conversion can be slow sometimes
Bonus Tips: Best PDF Editor to Modify Output PDF
After converting from the source format to PDF, you might find some mistakes on the PDF and want to edit the converted file. On this occasion, EaseUS PDF Editor is a great choice for you to perform the PDF editing tasks and manage the PDFs easily. Having it on your desktop will not take up much space on your device, and it comes with a full set of PDF editing tools you need in modifying the files.
Besides converting file formats, you can use this program to print, read, edit, and protect PDF documents. If the recipient of the converted PDF wants to tell you his/her opinion, it's possible to leave some comments on the PDF file using EaseUS PDF Editor. And this software also supports adding annotations to mark up the PDF contents so that you can mark what needs to be modified with simple clicks.
Notice: EaseUS PDF Editor doesn't support converting DWG to PDF format now. Please look forward to the updates.
EaseUS PDF Editor
Add text, image, and form to PDF
Insert page number and footer & header into PDF
Annotate PDF and leave comments
Print PDF without damaging its quality
About the Author
Melissa is a sophisticated editor for EaseUS in tech blog writing. She is proficient in writing articles related to screen recording, video editing, and PDF file converting.