[Easy Guide] How to Fill Out a W-4 Form in 2022
When you become an employee for the first time, the W-4 form is needed for your employers. After downloading this form from the official website, you need to fill out it. To know how to fill out this W-4 form, look at the below guide. 

Special Considerations Before Filing Form W-4
Here is more information to make you understand this W-4 form more. 
What is a Form W-4 & Purpose of a W-4 Form?
W-4 form, or "Employee's Withholding Certificate" is used by employees to show employers the amount of tax to withhold. According to IRS, employers can withhold tax if they fill out the withholding certificate. So the employer has the right to withhold the federal income tax amount from your pay. As an employee, you need to give this W-4 to your employer. IRS will review your withholding status. 
Who Needs to Fill Out a Form W-4?
In 2020, a new W-4 form is offered by IRS for employees. For an employee who already has a W-4 with employers before 2022, you don't need to fill out a new W-4 form. Also, it's not necessary to fill out a W-4 form each year. So, who needs this form? For people who start a new job or want to adjust withholdings for this existing work. 
What Do You Need in this Form W-4?
Some information is needed in Form W-4. Fristly, basic personal information is required. Then, you need the account for multiple jobs (if you have more than one job). Also, claim dependents of your family. Later, refine withholdings. Finally, you need to sign and date the W-4 form. For the new W-4, the worksheets for multiple jobs and deductions are also required. 
Although it has five steps. only two steps are surely needed for all employees. 
What Changes in New Form W-4?
The new W-4 (introduced in 2020), is no more asking for allowances. Therefore, if you use a new form and want to lower the tax withholding, you need to claim dependents or fill out the deductions worksheets. 
Where to Download Form W-4?
You need to download this form in PDF version from the IRS website "https://www.irs.gov/forms-pubs/about-form-w-4". Under the "Current Revision" tap, you need to click "Form W-4 (PDF)". Here, you get the form W-4 in PDF version.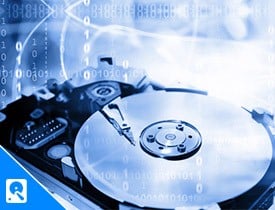 How to Fill Out a W4 - Step by Step
The important thing to fill out this form is to understand it clearly. Below is the guide. 
Prepare to Fill Out the PDF Form
To fill out a form like W-4, you need prepare the PDF form filler. Here, the advised software is EaseUS PDF Editor. You can use it to create, fill out, and even remove the form. Now, download this dedicated PDF editing software on Windows!
Five Steps to Complete the New Form W-4
There are totally five parts to this form. You need to check with them carefully. 
Step 1. Fill Out Personal Information 

Basically, every form will let you fill out basic information and this W-4 form is no exception. Here, you need to fill out your name, address, social security number, code, and tax-filling status. 
Step 2. Multiple Jobs or Spouse Works
According to this form instruction, you only need to fill out steps 2, 3, and 4 if they apply to you. Otherwise, jump into step 5. For the person who has more than one job at this time period or is married filing jointly, you need this part. 
There are three options in this part. So which one to choose?
Step 2(a): If you want maximum accuracy and privacy. A tax withholding estimator is needed. 
Step 2(b): For roughly accurate withholding. You also need its worksheet. 
Step 2(c): This method is accurate for jobs between you and your spouse with similar pay. 

If you are filling out step 2(b), you need to fill out the "Multiple Jobs Worksheet" (on the 3rd page).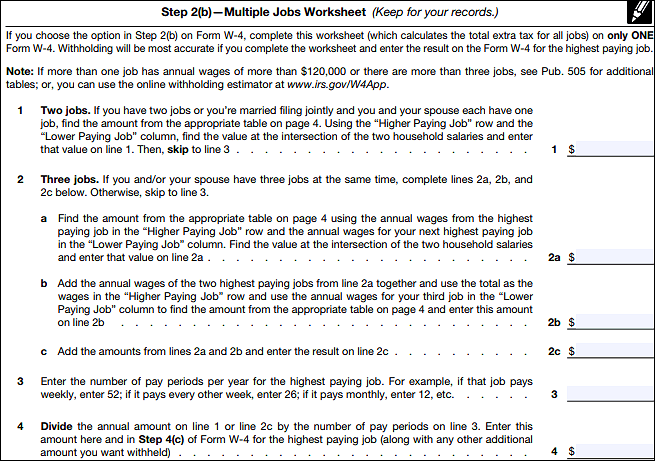 Step 3. Claim Dependents
As it is mentioned, you need to claim dependents like children in this sheet. 

Step 4. Other Adjustments
To increase accuracy in this W-4 form, adjustments are needed. So, the amount of the deduction should be filled in this worksheet. Enter the result in number 5 and in Step 4(b) as well. 

Step 5. Sign and Date W-4 Form
Like other forms, you need to sign your name on this form as the employee. Also, because this form is used as an employee's withholding certificate, the signature of employers is also needed. Meanwhile, record the date for signing. 

Related Article>> How to Fill Out W-9 Form
Conclusion
IRS W-4 is made for employer for having withholding certificate from employees. This guide here introduces how to fill out a W-4 form and also provides more related information about this form. At the same time, one beneficial PDF editing software is offered to you. It is used for filling out the PDF form with various tools. Try it now!
About the Author

Crystal Chen is very interested in technology products. Experiencing many technological applications like video editors, screen recorders, and PDF editors, She is willing to solve users' issues through writing tech-related articles. Through her words, you can find various solutions to solve one problem.