How to Convert OXPS to PDF with Ease
 Update:

Recently, Microsoft is making a change to its Microsoft Office branding. Microsoft Office is being renamed by Microsoft 365. After the official renaming, our article content will be updated accordingly.
Nowadays, more and more people have to work remotely and communicate with their colleagues using online tools, such as sending an email. If you want to send your colleague a document which is needed to be corrected, it's possible to embed it into the email as an attachment. However, the formats the email supports depend on which email address you are using. 
Some of them are only compatible with the most frequently used formats, such as Word, Excel, PDF, etc. What if you have a file in an uncommonly used format like OXPS?File conversion must be the most efficient method. But how to convert OXPS to PDF with simple clicks? This post will answer your question.
What is OXPS?
When it comes to OXPS, XPS has to be mentioned. XPS, also known as XML Paper Specification, is designed by Microsoft. It is usually regarded as the alternative to PDF. Still, there is a difference between those two formats, i.e., XPS doesn't support dynamic capabilities like PDF, which means it cannot contain some dynamic and interactive elements that can be included in PDF files.
OXPS is an open format that is based on XPS. If you want to create a .oxps format, the only software you need is Microsoft WordPad. You can create a file in it and click on "File" > "Print", then select the "Microsoft XPS Document Writer" as the printer and tap the "Print" button. Only a few seconds later, you will get an OXPS file.
But WordPad cannot help you turn OXPS into a universal format like PDF so that when you want to convert OXPS or XPS file into PDF, the first thing you have to do is finding a powerful converting tool that can help. 
How to Convert OXPS to PDF Offline
When you need to convert a file into PDF format on Windows, the most convenient way is to open it in Word, Excel, or other software integrated with the built-in converting tool of Windows OS. Then, the "Print to PDF" function will help you get a PDF file without effort.

This post will guide you to Print DOC, XLS, and PPT files to PDF step by step. Check it now if you are interested.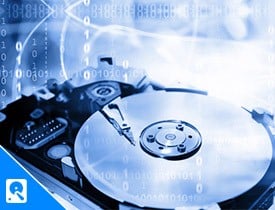 The precondition of "Print to PDF" is that the software should support the source format, and that is why you need to find an XPS viewer to open the OXPS files and print them to PDF. Most Windows users are not aware that there is a built-in XPS viewer on their computers. Starting with Windows 10 v1803, this program will keep disabling by default until you turn it on manually. This part will show you how to turn on that Windows feature and how to do the conversion.
Steps to Enable XPS Viewer and Convert OXPS to PDF Offline:
This tutorial will take Windows 10 Pro v1803 as an example to show you the detailed steps. 
Step 1. Go to the control panel and find the "Windows Settings" interface and select the "Apps" option to continue.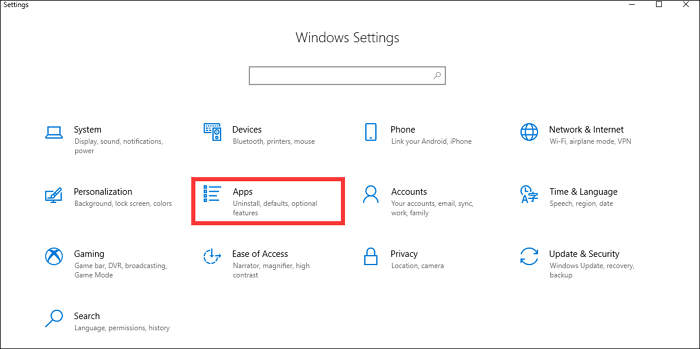 Step 2. Under the "Apps & features" tab, you will find the "Manage optional features" option. Click on it to add the XPS Viewer as the new feature.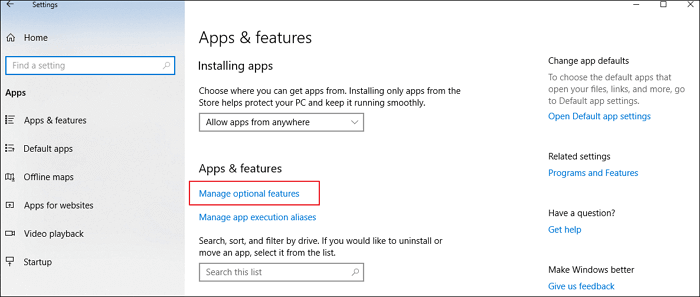 Click on the "+" icon to add a feature and select "XPS Viewer" from the list of features.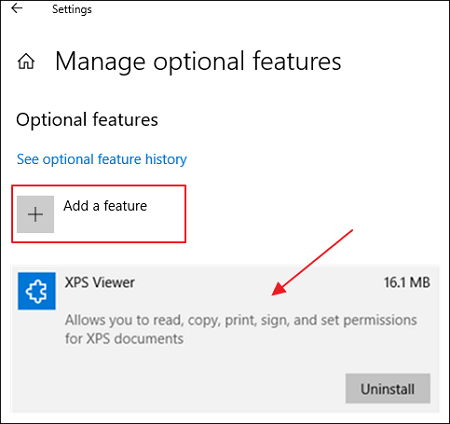 After downloading and installing the XPS Viewer, you can type its name in the Start Search Box to find it and launch it. 
Step 3. Once you start the program, you can click on "File" > "Open" and choose the .oxps file you want to convert and open it.
Step 4. When the file is opened, click on "File" again and select "Print". Choose "Microsoft Print to PDF" as the printer and tap on the "Print" button to start the conversion. Then, you will turn the OXPS file into a PDF and save it to your device.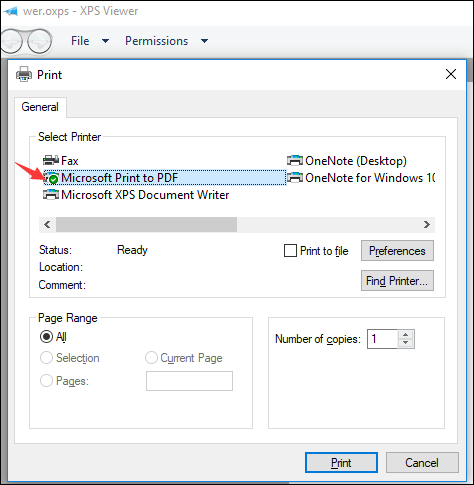 How to Convert OXPS to PDF Online
If you think the steps to convert OXPS to PDF offline with the vendor-supplied software are cumbersome, it's also available to do the conversion with some online tools. One of the advantages of converting format with an online tool is that you don't waste time finding, downloading, and installing the program. Besides that, as the online tool can be used in an Internet browser, it doesn't take up extra storage space for your computer.
Many online converting websites offer you the tool to get the work done, such as Online2PDF. It provides you with some elementary editing tools while other converters only support changing the format. For instance, when you upload the .oxps file to its server, there is an option to rotate the pages of the document, and you can also select the page range, rearrange pages, and split the file with simple clicks.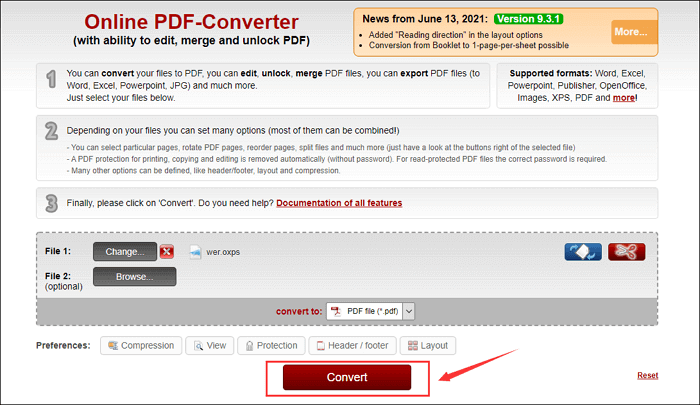 Steps to Convert an OXPS Document into PDF Online:
Step 1. Open the website of the online tool.
Step 2. There will be a "Select files" button, and you can click on it to upload the OXPS file you want to convert. Or you can drag or drop to add the source file. The maximum file size of this online tool is 100 MB, and it supports batch conversion.
Step 3. There is a drop-down menu behind the "convert to", find "PDF file" from it, and select this format as the target format. 
Step 4. Click on the "Convert" button to start the conversion now.
Bonus Tip: How to Edit Converted PDF with Powerful PDF Editor
When the OXPS document is converted into PDF, it's not only more accessible for users, and it can even become more interactive and editable. After exporting the OXPS file from Microsoft WordPad, you can not import it to WordPad again to edit it since the file layout will be distorted, and all you will see are some unreadable codes. But you can easily edit a PDF file as there are a great number of excellent PDF editors on the market.
EaseUS PDF Editor is a great PDF editor for Windows, and this is also a rich-featured program designed for both pros and novices. Sometimes you may find missing information that needs to be added to the PDF, and this software offers you an editing mode to do the modification effortlessly. There are many elements that can be added to the PDF, including text, images, hyperlinks, and header & footer. It also helps you manage the PDF pages with ease, such as rotate, split, and crop a PDF.
Key Features:
Convert PDF to XLSX, DOC, PPT, etc.
Rearrange the PDF pages with the order you like
Add PDF forms to PDF to make it interactive
Add or remove the PDF watermark easily
Add page number and create bookmarks in PDF
This software integrates basic functions and advanced functions at the same time. If you want to edit a PDF file now, don't hesitate to click on this button and download it.    
Steps to Edit a PDF with EaseUS PDF Editor:
Step 1. Launch EaseUS PDF Editor and import the PDF file you want to edit. You can click on the "Open Files..." button to do that.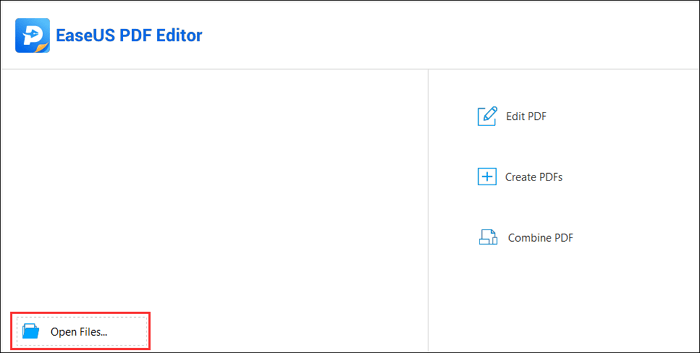 Step 2. If you want to edit the text and images in the PDF, click on the "Edit" button, and there are many options for you. It allows you to insert or remove the words and pictures freely, and you can also adjust the font, size, color of the PDF text.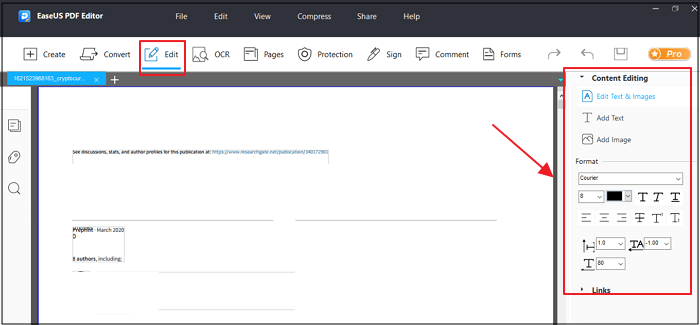 Step 3. More tools are available under the "Pages" option. This versatile software supports deleting, extracting, cropping, rotating the pages with ease. You can add many elements to the PDF, including header & footer, background, watermark, etc.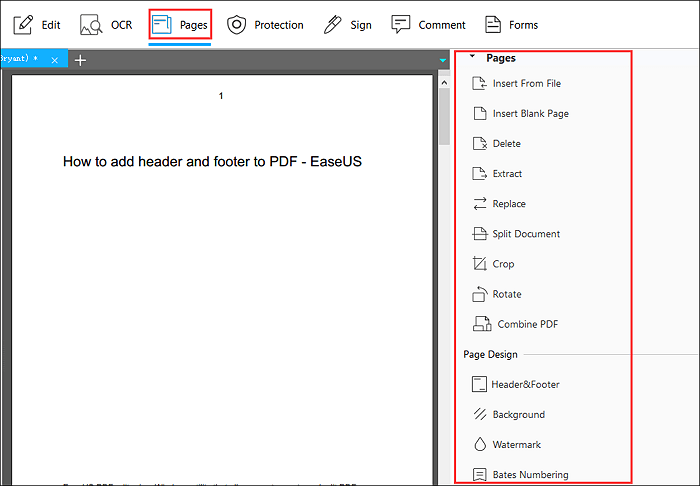 Step 4. After editing, you can choose to encrypt the PDF with a password, sign the PDF with an e-signature, or add comments to it. Then, click on the "File" button and select "Save" or "Save As" to preserve the changes you made to the PDF.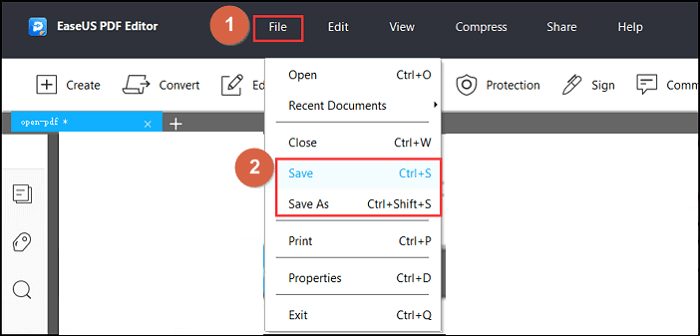 Conclusion
Although most Windows users consider converting OXPS to PDF is a troublesome task, it turns out to be as easy as converting other universal formats to PDF. All you need to do is enable the XPS Viewer on your computer, open the OXPS file in it, and print it to PDF. Online tools are even more convenient to use, and this post also teaches how to use the online tools to do the conversion.
After converted to PDF, you can edit the file effortlessly as there are enough PDF editors, including EaseUS PDF Editor. This PDF editing software helps you manage, edit, and protect the PDFs without hassle.
About the Author
Melissa is a sophisticated editor for EaseUS in tech blog writing. She is proficient in writing articles related to screen recording, video editing, and PDF file converting.