How to Convert Visio to PDF Online & Offline
 Update:

Recently, Microsoft is making a change to its Microsoft Office branding. Microsoft Office is being renamed by Microsoft 365. After the official renaming, our article content will be updated accordingly.
So you used Microsoft Visio to create an advanced vector graphic, diagram, or drawing, and now you want to convert the file to a PDF? PDF's come with the added benefit of greater portability, security, and better editing features, and support for more Operating Systems. So, how do you convert a VSD (the extension used for Visio Files) to a PDF easily and quickly? This article is all about that! We'll show you how to accomplish this task with both desktop software and online tools! Let's get started!
How to Convert Visio to PDF Online
Online tools come with the added benefit of being able to complete tasks in a quick and efficient manner. These tools will help you convert your files with just an internet connection and a browser. Plus, these work on all operating systems, be it Mac, Windows, or Linux!
There are many tools for VSD to PDF conversion like CloudConvert, Zamzar, GroupDocs Apps, etc...
The tool that we will be using today for the conversion process is called CloudConvert. It's a completely free tool (although you will have to make a free account if your file size is too big) that allows for the conversion of various file types into different formats. You can convert documents, PPT's, PDFs, VSDs, and lots more. It can convert every file type under the sun. So the steps are:
Step 1. Go to this webpage: cloudconvert.com/vsd-to-pdf. Now click on the 'Select File' button and upload or drag and drop a file from your computer.
Apart from your in-built storage, you can also upload files from other services like Google Drive, Dropbox, By URL, or Microsoft OneDrive. 

Step 2. Once the file is uploaded, you can click on the 'Tool' icon and access a setting to convert the texts in your VSD file to paths for greater font accuracy. Once you adjust that, click on the button which says 'Convert'.

Now CloudConvert will process your file, and once it's done, the file will be ready for download. 
So that was for the online tool. The downside of using this website is that it doesn't have many features for adjusting the conversion. You only get a single setting. 
How to Change Visio into PDF Offline Free
If the above online tool doesn't suit you as it is too basic or because you will have to create an account if you have a large file, then offline software is the best.
The one which we will be using today is called NovaPDF. It is a powerful PDF editing tool with lots of features like PDF encryption, Universal Conversion to pretty much every file format, watermarking, etc. There is a free 30-day trial available for you to use the software, and the pricing for the paid version starts at $29.99. The steps are as follows:
Step 1. Download and install the tool. Once the tool is downloaded, novaPDF will get installed as a virtual printer on your device. With this virtual printer, you will be able to print a lot of file formats into PDF. It's very much like how to 'Save to PDF' works on Windows devices. 
Step 2. Go to Microsoft Visio and open the Visio document you want to convert to PDF. Then go to File > Print and select NovaPDF as the printer.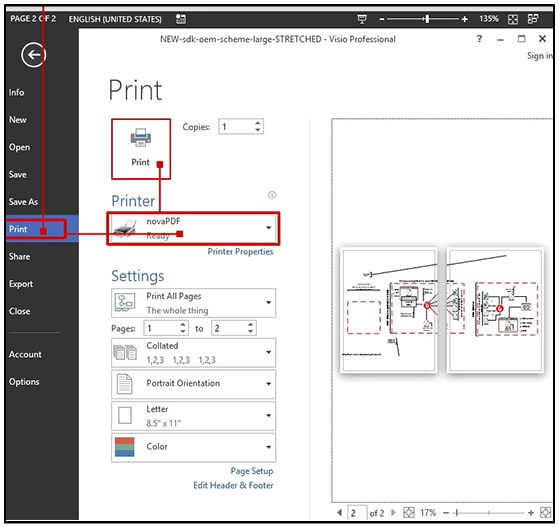 You can adjust some settings before the conversion. Now, click on the 'Print' button to convert the file. 
See, that's so easy! You shall be able to convert your Visio files this way very easily! The downside to this program is that this tool is only available for Windows users, and there is no forever free version. 
Recommend - Best PDF Converter for Windows 10/8.1/8/7
All of the above tools we mentioned are good. But they have some big cons. CloudConvert being an online tool, doesn't have many customization options. And NovaPDF is only a converter, and that too doesn't have many good editing features. The solution? EaseUS PDF Editor!
It is a very versatile, easy-to-use, beginner-friendly, and feature-packed PDF editor. This Windows PDF editor has everything you would expect from a worthy PDF maker. It comes with a beautiful interface and has industry-leading tools for compression, conversion, editing, splitting, collaboration, etc...
Its conversion tools allow for conversion to and from many formats like Word, PPT, JPG, and it is very fast. Your files will get converted within seconds. As one of the best PDF converter software, it also has many editing features for converted files too. However, it doesn't support Visio to PDF conversion as of now, but soon more features will get introduced!
An All-in-One PDF Editor
Lots of editing tools like adding and modifying text, images, etc.
Create fillable PDF forms with checkbox, radio box, and more
Compress PDF files to decrease their file size
OCR allows for accurate conversion of scanned PDFs to editable format
The Bottom Line
So you now know how to convert your Visio drawing and diagrams to PDF files very easily. It's important to convert Visio diagrams to PDFs so that more people can access your files even if they don't have MS Visio on their computer. We hope that this article helped you complete your task easily!
About the Author

Crystal Chen is very interested in technology products. Experiencing many technological applications like video editors, screen recorders, and PDF editors, She is willing to solve users' issues through writing tech-related articles. Through her words, you can find various solutions to solve one problem.