How to Convert Webarchive to PDF
A Webarchive file format is suitable for saving the complete web pages, including the images, videos, linked pages, CSS, Javascript, and almost everything, using the Safari browser. Since the browser is primarily available for macOS now, the Webarchive files are also for that system. However, the outdated versions might be available on Windows.
These web pages can be saved and viewed offline, so you won't have to do the copying and pasting to save the file. Moreover, you can't share these files with others because of compatibility issues. That's why converting them into a standard format like PDF is a solution.
However, an excellent Webarchive to PDF converter is required for the best and most efficient results.
PAGE CONTENT:
Convert Webarchive to PDF
In this part, we will show you how to convert Webarchive to PDF with two useful programs. Let's dive deep into the details of the top ways to convert Webarchive to PDF!
Tool 1. Online-Convert
Online-Convert is a remarkable and credible tool that assists you in converting Webarchive to PDF. It offers you the conversion of several file types, including documents, eBooks, and more. Here, you have the accessibility to upload PDFs from the cloud such as Google Drive, Dropbox, and even URL.
Along with that, the option to convert the scanned PDF files is also available. You can even convert the large files, but sometimes it takes too much time. A Google Chrome extension is also being offered. Moreover, you can download the converted PDF as a zip file using this online tool.
Let's move forward towards Webarchive to PDF conversion using Online-Convert:
Step 1. Open the website of Online-Convert via the provided link. Now click "Tools" > "Document Converter" > "Convert to PDF".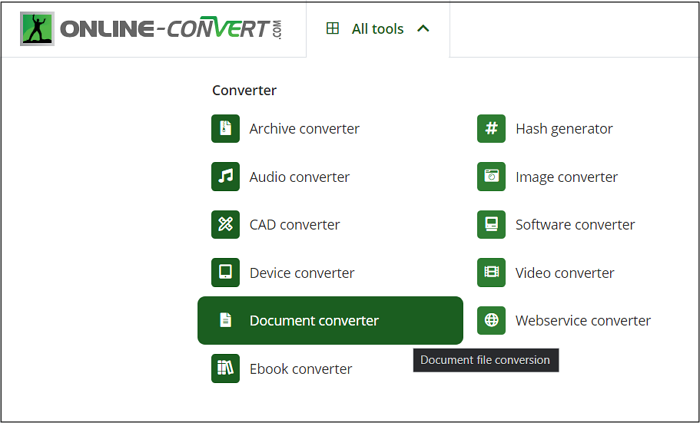 Step 2. Next, click "Choose File" to upload the Webarchive file you need to convert. After uploading, press the "Start" button.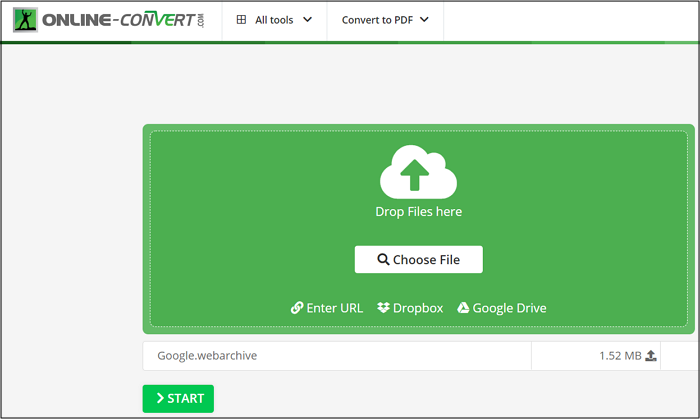 Step 3. After getting to the new interface, hit the "Download" tab, and you are all done!
Tool 2. Webarchive Viewer
Besides Online-Convert, Webarchive Viewer and Convert to PDF is another tool to help you convert Webarchive to PDF. This secure online tool allows you to view the Webarchive files on any device, irrespective of the system. Supporting Google Cloud and Chrome extension, you can perform the required task easily and quickly.
Despite conversion, the tool offers the Toggle Toolbar feature where you can select a single page and save it if required. Furthermore, the option to Zoom in and out is also at your fingertips. Even you can print the document or download your files as a PDF. However, it lets you make only one conversion per day.
Here is a tutorial to convert Webarchive to PDF through Webarchive Viewer and Convert to PDF:
Step 1. In the first step, you need to open the website using the given URL.

Step 2. Secondly, you need to drag and drop your Webarchive file in the specified section.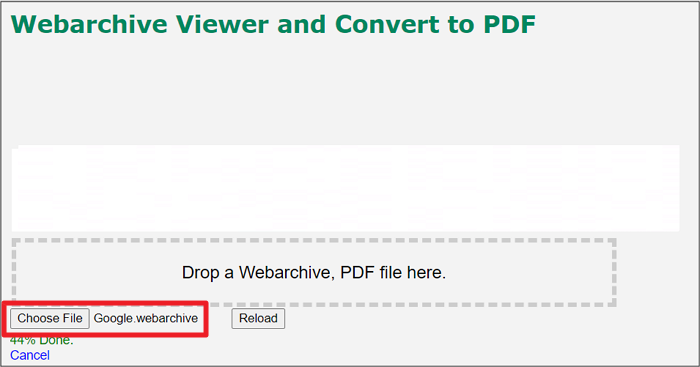 Step 3. In the last step, press the "Download" icon from the top right side, and you are all done!
A PDF Converter You Can Never Miss
After choosing and converting files into PDFs by using any of the two ways above, you might need to edit or view them. Let's look at the details of a suggestion below!
EaseUS PDF Editor
Whatever PDF task you need to perform, EaseUS PDF Editor comes in handy. The software must be your way to go from creating PDFs to converting and from better viewing to editing. You can easily convert your PDFs to the formats like PPT, HTML, PNG, GIFF, JPG, TIFF, and more. The conversion is done at a faster rate, along with retaining the document quality over conversion. Also, it lets you do all-in-all content editing, including the text format.
Adding or removing pages, images, text, and even links is at your fingertips. Moreover, you can encrypt the PDF before sharing it if it contains any sensitive information. Combining multiple PDF files into a single one is all in your control. Also, the software allows you to do compression by optimizing your document. Even it is possible to share PDFs via email.
Features:
Convert PDF to formats like Docx, PPT, BMP, etc.
Edit text and images in a PDF
Add drawing markups and annotations
Support OCR technology to scan your files
Hide/show navigation panels easily
Conclusion
The suitable converter assists you in easy and efficient Webarchive to PDF conversion. In the above article, you have found the best two ways to convert Webarchive to PDF along with an efficient PDF editor. Once you are done with the conversion, you may need to edit PDFs or later convert them into another format. For this purpose, you have the top recommendation of EaseUS PDF Editor. It lets you edit the PDF at a basic and advanced level, along with many other unique features.
About the Author
Melissa is a sophisticated editor for EaseUS in tech blog writing. She is proficient in writing articles related to screen recording, video editing, and PDF file converting.