How to Sync PDF iBooks on Mac and iOS Device
With the technological advancements, printed books have been turned into digital ones, eBooks. From biographies and fiction to history and business books, all are easier to grab by the e-readers.
Also, they are accessible anywhere, thus offering the convenience of reading. However, people face difficulty finding the exact book page where they left off while opening the same book on a new device. So it is wise to sync eBooks on multiple devices to overcome this issue.
And yes, it is possible to sync PDF iBooks on Mac and iOS devices, but how? This article entails an efficient way to do along with fixing the issue when your iBook isn't syncing. Let us take a plunge into the details!
How to Sync PDF iBooks across Mac and iOS Devices
Adobe Acrobat is the standard application for satisfying all your PDF-related needs. It can be used as a PDF viewer, converter, compressor, and even a basic editor. Besides all, it is also easier to sync PDF iBooks through this application. You can take it as an iCloud. Keep in mind that the account must be the same on all devices.
Moreover, syncing is extremely simple that even the naive user can handle. Even if you need to do any editing or other relevant task, you can complete and then keep them in the application, which can be accessed on any device.
Here is how to sync PDF iBooks across Mac and iOS devices using Adobe Acrobat:
Step 1. First of all, download and install Adobe Acrobat on your Mac. Now, open the Adobe Reader on your Mac and then the Book. Next, click File > Save to Acrobat.com…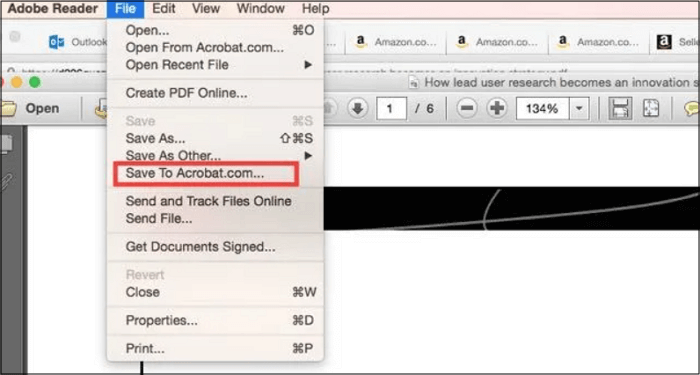 Step 2. Secondly, download and launch the app on your iOS device, iPad. Now, open the same Acrobat.com account used on Mac and turn on the Mobile link. Press Acrobat.com from the upper left-side Menu. You will see all the PDF iBooks here.
Step 3. Finally, you can manage the files as per your requirements. It is easy to upload, move, and delete PDFs. 
How to Fix iBook Not Syncing
iBooks got rebranded and came in the form of macOS Mojave and iOS 12. It is complete software for either you need to read & store the PDF books or play audiobooks.
With the same Apple ID on Mac and iOS devices, all the data gets synced automatically without hassle. But what to do when you face issues of not getting your iBooks synced? So, there are many methods to use, depending upon the situation when your iBook is not syncing over Mac and iOS devices. Let's look into each situation one by one.
Situation 1. Sync PDF on iPhone
You must ensure that the iBooks sync is turned on in this scenario. For this, open the "Settings" on iPhone, then "iBooks," and turn it on if it's not. Also, turn on the option "Sync Bookmarks and Notes" and "Sync Collections."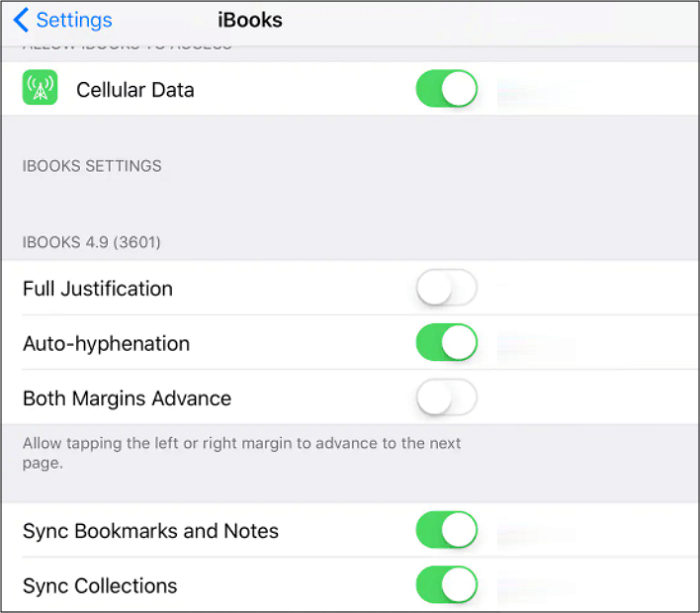 Situation 2. Sync Preferences on Mac
To set the check preference on Mac, you need to open the iBooks app on Mac. From Menu, click iBooks > Preferences > General and then checkmark "Sync bookmarks, highlights, and collections across devices.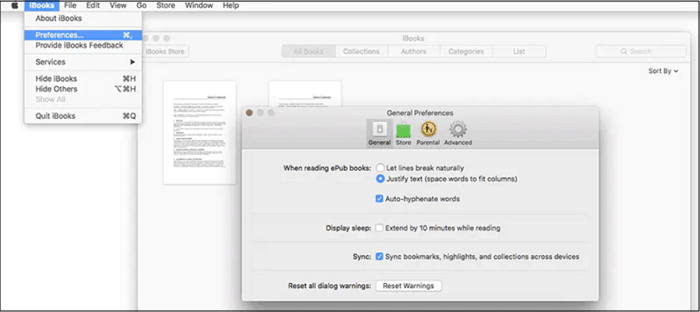 Situation 3. Sync PDF iBooks on Mac
If you want to sync PDF iBooks on Mac, open iBooks and click File > Move Books from iTunes. You are done!

Situation 4. Manually Sync the iBooks across iOS Device
Step 1. First of all, you need to connect devices like your Mac with the iPhone using WiFi or a USB cable. Now, select the device you want to connect from the Mac Finder app.
Step 2. Next, press the "Books" button on the Menu. Checkmark the "Sync Books onto iPhone" option to turn the books sync on.

Step 3. Finally, choose the "All Books" option here or "Selected Books" if you require to sync a particular book selection. After finalizing, hit the "Apply" button, and that's all!
Best Free PDF Editor and Reader for Windows
PDF is the most common eBook format. Therefore, people convert iBooks format to PDF for easy accessibility for non-Apple users. How to convert iBooks to PDF? Now, how to do the advanced editing if required? A PDF program will be helpful so let's know about the EaseUS PDF Editor!
If you are a Windows user and looking for a comprehensive solution to your PDF-related tasks, EaseUS PDF Editor must be your way. It allows you to handle the PDFs from all perspectives, i.e., conversion, editing, and protection. No matter if you need to create a PDF file from a file or convert it at ease, you can do that. It supports formats like Word, PPT, Excel, HTML, and others for conversion.
Furthermore, the software offers advanced editing, such as adding text and images along with the rectangle links. Extracting, adding, and removing pages from a PDF is easier than ever. Even you can password protect PDF if it contains any sensitive information. Last but not least, it is easy and quick to use Page Display, Page Navigation, Automatic Scrolling, and Zoom function.
EaseUS PDF Editor
Quick and lossless conversion
Compress PDF by optimizing document
Add various types of forms for data collection
Offer annotations and drawing markups
Support OCR technology
The Bottom Line
Since it is essential to sync PDF iBooks on Mac & iOS devices, the above content helped you know how to sync correctly and resolve the issue if your iBook isn't syncing. However, what to do if you require the editing of the PDF books? Also, how to convert this PDF to another compatible format? For these, you have the recommendation of EaseUS PDF Editor. It allows you to finish the required tasks at ease. Moreover, you can get a fast conversion without losing the PDF iBook quality.
Sync PDF iBooks FAQs
1. How do I sync my Apple Books with PDF?
It is challenging to sync Apple Books with PDF, but here is the tutorial. After launching the iBooks on Mac, click the "All Books" category, and upload PDFs from iCloud to All Books. Connect the Mac with iPhone to display Mac items on phones.
Now, open iTunes on Mac, and iBooks will display on the phone. Select the Books section from the right column, add it to PDF, and then click PDF for syncing purposes that will move PDF to iPhone.
2. How do I get PDFs from iBooks?
Apple Books exist mainly in iBooks or EPUB format. To make these accessible on all devices, they must be converted into PDF files which can be done quickly using an online converter. For example, open the Convertio website, and click "Choose Files" to import. Now, press the "Convert" and then "Download."
3. Can you put PDF in iBooks?
 Yes, it is possible to make PDF books a part of the iBooks. However, they will also get synced on Mac as the iBooks with the simple process. You need to upload the PDF files on iCloud and import that PDF into the iBooks program. That's all!
About the Author

Jane is an experienced editor for EaseUS focused on tech blog writing. Familiar with all kinds of video/PDF editing and screen recording software on the market, she specializes in composing posts about recording and editing videos. All the topics she chooses are aimed at providing more instructive information to users.