How to Tag a PDF in Adobe and Its Alternatives
Tagging your PDF documents is counted among the most critical steps of making a document accessible. Tags define a hidden and logical structure of a file for how the PDF will be textually presented to the screen readers via assistive technology. Also, people find it beneficial to screen-read the documents with inserted tags.
As the tags feature makes the PDFs accessible, it also proves handy for those with impaired vision. Also, keeping the accuracy of tags in mind is essential. Otherwise, they will distract people. So finding a reliable method for how to tag a PDF for accessibility is crucial, either with auto or manual process.
The article offers how to tag PDFs with or without Adobe. Also, you will get a bonus tip from an ideal PDF editor in the end.
What is a Tagged PDF?
A tagged PDF is preferred over simple ones in any situation, yet you will find no visual changes in any PDF with or without tags. The primary purpose of tagging a PDF is to improve document accessibility. That's why if your PDF does not include tags, it's necessary to add them for smooth structure and a comfortable reading experience.
The tagged PDF offers people a logical document structure that will be followed while presenting documents using assistive technology. These tags are like the HTML codes behind each heading, text, image, graph, or other document element, thus creating the PDF hierarchy. This way, it will be accessible to everyone, even the disabled ones.
Furthermore, AT tools like screen readers take the PDF information from these tags. Even the proper PDFs would be good to read on small devices like mobile phones. 
How to Tag a PDF with Adobe
Adobe Acrobat comes in handy whenever you want to perform various PDF functions efficiently. It provides you with a wide variety of editing and viewing tools so your PDF documents can undergo all the required changes without any hassle. Tagging is one of its most important tools because you can go for the automatic PDF tagger feature and make the document accessible in seconds.
Moreover, it allows you to even edit these tags as per your choices. You can check the document accessibility by full check or individual check function before applying the tags. It's because the file may also have the tags, and you don't need to do it all again besides some editing.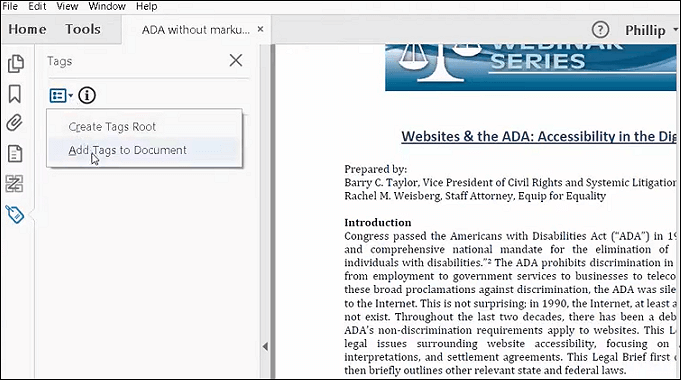 Let's move forward to the step-by-step procedure for how to tag PDFs with Adobe:
Step 1. Download and launch the Adobe Acrobat Reader on your system. Now, you need to open the PDF that needs to be tagged. Now, click the "Tag" icon from the sidebar.
Step 2. Next, open the clipboard-like icon and choose "Add Tags to Document". After processing, the "Recognition Report" option will appear on the left-hand side column.
Step 3. Finally, you need again to click the "Tags" icon from the bar, and it will display the tags there. You can manually edit them if required. Then, save the PDF because you are all done.
How to Tag a PDF without Adobe
Tagging a PDF without Adobe is also possible with another PDF Editor via a manual process. Let's look at its details!
Foxit PDF Editor
Foxit PDF Editor is another famous name in the industry of efficient, secure, and stable PDF software. You can edit PDFs like a pro by using all its basic and advanced PDF-related features like other PDF editors, including the PDF tagging task. Its assistive technology allows making the documents accessible easily.
Furthermore, this PDF tagger provides you with the OCR and scanning properties which can turn your document into a digital copy by turning the selectable text into editable. Along with that, you can create, organize, and export PDFs quickly.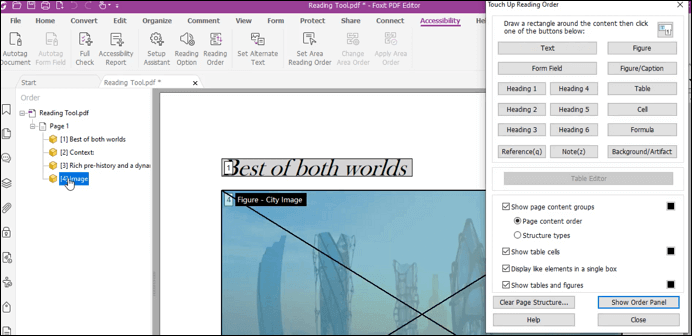 Here is a tutorial on how to tag PDFs for accessibility with Foxit PDF Editor:
Step 1. Firstly, you have to download, install, and open the Foxit PDF Editor. Now, click "File" > "Open" to upload the PDF to add tags. Click "Accessibility" > "Full Check". Start Checking to begin. You will see the results in the left-hand side column.
Step 2. Open the "Document" here, and it will display whether the tagged PDF is passed or failed. Now, click the "Tag" icon from the sidebar menu to open the new column. Now, click "Accessibility" > "Reading Order" to open a pop-up menu.
Step 3. Finally, you need to select the text, images, graphs, and more to assign tags to each one like Heading 1, 2, etc. After tagging, you will see all the tags in the tag section. Close the menu and save the PDF.
Bonus Tips: Best PDF Editor on Windows PC
When using PDFs becomes routine, finding a credible, coherent, and efficient PDF Editor becomes inevitable. You will need to do basic or advanced editing in various circumstances. Let's know a bonus tip of the best PDF editor below.
EaseUS PDF Editor
EaseUS PDF Editor is popular among users because of its effectiveness in performing PDF tasks efficiently. The simplest of functions it can perform is to add/remove the images or text quickly. While adding hyperlinks, inserting/extracting pages from PDFs, or whatever you want to do, this complete all-in-one software proves to be of great help. Even you can combine multiple PDFs into one if required.
Adding passwords to increase the protection of your documents is at your fingertips, along with removing passwords. Even you can add/remove the watermarks or bates numbering in PDFs as per the situation.
Furthermore, you can enjoy the reading mode or full-screen mode in both single/two-page view functions. After making all the necessary changes, this software allows you to convert the PDF into Word, PPT, and other formats. 
Features:
Add annotations or drawing markups
Offer visible and invisible certifying the PDFs
Print PDF without margin on Windows PC
Share PDFs via email easily
Now, download this PDF editor on Windows PC! No registration is needed. 
FAQs About How to Tag a PDF
Some questions gathered from the public are listed here. 
1. What does it mean to tag a PDF?
Adding tags to a PDF means defining a hidden structure of that PDF by using the title, headings, images, and text tag. A tagged PDF is considered accessible when compared with a non-tagged document. It means that tagging a PDF will be an excellent step for people with disabilities.
2. How do I tag a PDF in pages?
If your PDF does not have tags already, you can use software like Adobe Acrobat to tag a PDF in pages. The procedure is simple, involving the steps to open PDF, choose Tools, click Accessibility, and then Add Tags to Document. Now, you can adjust the following settings as per your demands to add tags to the specific pages. In the end, you will save the document.
About the Author

Crystal Chen is very interested in technology products. Experiencing many technological applications like video editors, screen recorders, and PDF editors, She is willing to solve users' issues through writing tech-related articles. Through her words, you can find various solutions to solve one problem.