[2022 Updated] How to Write Resignation Letter Template Easily
Changing a job is not an unusual thing. Thus, learning about how to write a resignation letter is important. To write the resignation letter, ensure you know how to reasonably include the content like the reason, data, and other essential information. Also, because you need to end a relationship in law (labor relations), be careful to avoid using some sensitive words. You must realize that the main purpose of the resignation letter is to inform your boss that you are leaving. 
This tutorial here shows you the most suitable resignation letter template in PDF version, including the file format of it, content structure, the place to sign your name, etc. Now, look at the below part to learn how to write it. 
How to Write Resignation Letter
It's not easy to start your career and it's also not an easy task to end the labor relationship. 
Be careful when you write a resignation letter
The very first thing about this letter is that you are writing a "Notice" instead of "Ask". Therefore, you can write like "I am providing my notice of resignation effective as of (here, you need to include the leave date)".
Mentioning who you are and which department you come from is important, as this letter could be transferred to other leaders that may don't know you well. So this letter should contain your name and the position you had. 
Also, share the reason for your leaving. Maybe the reason is not good, but here, you'd better to keep the reason professional and respectful. You can write the reason objectively. 
Meanwhile, thank your company for the opportunity. Simply saying that you are grateful for the job opportunities. Showing gratitude for the job you had is important in your career.
In the end, sign your name and date. For each formal file, you need to add your signature and the date to leave the position. 
For more labor relationship information, please go to website "https://www.dol.gov/general/topic/termination". 
Resignation Letter Templates - PDF Version
Based on the above information, you can write a formal resignation letter as followed.
                                                                  Notice Letter of Resignation
Dear (Manager's First Name).
My name is XXX, and from which department. Thank you for giving me the chance to work in this position for the (duration of your role). I have thoroughly enjoyed this position here and appreciate all the chances you have given me. 
Please accept this letter as formal notice of my resignation from the current position. However, because of XXX , I have decided to leave the position. 
I'd like to do anything I can to help with the job transition, including transferring my work to other team members. 
Thank you again for this opportunity, and I wish (Company name) all the best in the future. 
Yours sincerely,
(Your Name)
(Date to Resignate)
In most cases, the letter of resignation is in PDF format, and you can write it in formats like Word, and then convert it with PDF converters like EaseUS PDF Editor. If you want to use this PDF converter to convert Word to PDF or PDF to Word, download it! There is no registration needed here to try this software. 
Also, here is a resignation letter template in PDF version that you can check with.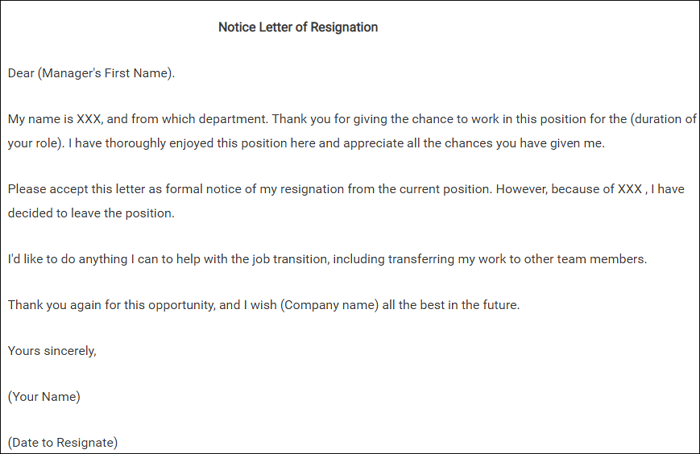 Bonus Tips: Best PDF Editor on Windows
PDF is a file format which can not be edited easily on Windows PC. If you want to edit the PDF file in a simple way, try PDF editing software like EaseUS PDF Editor. It can modify the text, images, form, and many other content in PDF pages. Also, you are able to manage the PDF pages like inserting blank PDF pages, extracting PDF pages, and even deleting PDF pages. 
Not only is it a PDF editor, but it is also a PDF optimizer as you can compress PDF to the desired size, in order to submit the PDF file to a required place effectively. A PDF file in a qualified size is easy to be shared in the workplace. Also, this PDF editing software is a form filler that can be used to edit, create, and fill out the forms in PDF pages. 
Besides that, it is also a PDF converter which can be used to convert PDF to Word, Excel, PPT, and images files. 
Key Features:
Edit the text, images, and forms in PDF pages
Create forms like tax form in a simple clicks
Print PDF without margins with ease
Make PDF editable, searchable, and convertible
Now, catch this chance to download this PDF editing software with No registration!
FAQs About How to Write a Resignation Letter Template
Some related issues gathered from the public are listed here. You can look at the below part for useful information about the resignation letter. Knowing more information about the resignation letter is useful in your work career. 
1. How do I write a short resignation letter?
To make your resignation letter clear and short, you need to know the purpose of the resignation letter. Therefore, you don't need to contain too much information in the resignation letter, while it's suitable to contain several information like the reason, date, and your thank for the company. You can go to the Part 1 to look for the short resignation letter. 
2. How do you write a gracefully resignation letter?
To end a labor relationship, you need to write the resignation letter respectively and objectively. No matter what reason makes you to leave the position, you need to end the relationship decently. 
3. How do you politely resign?
Don't write the reasons for telling bad words about your company for resigning position. You can tell the reasons respectively. Also, it is a polite behavior to explain your thanks for the company. 
4. Do you need to write a reason for resignation?
Yes, you need. For resonating a job, you are supposed to write the suitable reason in the letter. You can contain the reason like you are going to continue your study, you are going to work abroad, etc. 
5. What should you not say in a resignation letter?
Don't say any bad words about your leader or company. The world is small, and you can not promise that you won't see the company again. So, make it respectively, and you just need to say some good words about your job. 
About the Author

Crystal Chen is very interested in technology products. Experiencing many technological applications like video editors, screen recorders, and PDF editors, She is willing to solve users' issues through writing tech-related articles. Through her words, you can find various solutions to solve one problem.