Free | How to Remove Metadata from PDF Easily
PDF metadata always contains lots of information about you or the document, including the date of creation, title, author name, subject data, modification date, or other information that was used to create the file. Sometimes, you may want to remove PDF metadata to protect privacy and confidential items. However, most of you don't know how to access the metadata information from the PDF files, let alone remove it. 
Given that, this post comes in handy. Here we will share some best PDF metadata remover software, and offer a step-by-step guide to help you get rid of the PDF metadata. Just scroll down to learn the effective methods.
How to Remove PDF Metadata with Nitro
Nitro PDF is a fantastic program that can help you get rid of the metadata in your PDF files, and you just need to take 3 simple steps. If needed, you can use it to remove fillable fields in PDF to flatten it.
More than that, this software performs perfectly in PDF editing. You can use it to create a PDF, compare multiple PDF files, and even redact confidential information in your documents. It can also be used as a PDF converter for different conversion tasks if needed.
Step 1. Open the PDF file that you want to remove its metadata with Nitro Pro.
Step 2. Navigate to the Protect tab, and choose "Remove Metadata" under the Redact section.

Step 3. Then a confirmation will appear, and you just hit the "OK" option. Finally, Nitro will remove the metadata contained within your PDF document.
How to Remove Metadata from PDF in Adobe Acrobat DC
Adobe Acrobat is the software for you if you are seeking a powerful PDF metadata remover. It provides a set of toolkits for the hidden information. Using this software, you can easily view, delete, and edit PDF metadata. In addition, like other professional PDF programs, it also lets you modify the content, password protects the file, or even print according to your needs.
Step 1. Launch Adobe Acrobat, and open your PDF document with this program.
Step 2. Click "File" > "Properties" to open the Document Properties window, where you can view all the metadata information.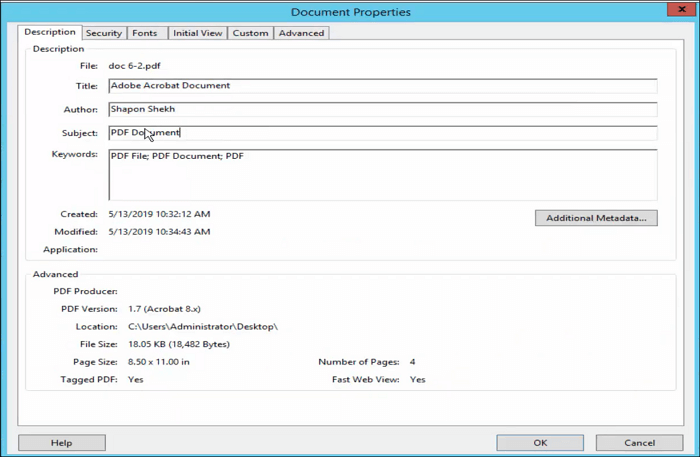 Step 3. Go back to the main interface, and click "Protect". Next, choose the "Remove Hidden Information" from the second toolbar.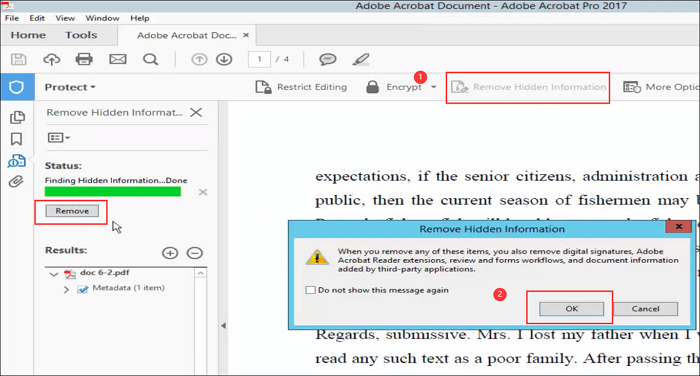 Step 4. Click on the "Remove" button on the left panel. Once done, save your edited PDF file. 
How to Remove Metadata from PDF File with Foxit
As an Adobe Acrobat alternative, Foxit also does well in PDF editing and managing. This program makes it extremely easy to view, edit, and remove the metadata like below:
Step 1. Download and install Foxit PhantomPDF on your computer, then open your PDF file with it.
Step 2. Click "File" > "Properties" > "Description" to view the existing metadata.
Step 3. To remove the metadata or hidden information, click "Protect" > "Hidden Data" > "Remove Hidden Information".

Step 4. In the pop-up dialog box, select the document information that you want to delete. For removing metadata, you just need to tick the "Metadata" box, and then hit the "OK" button.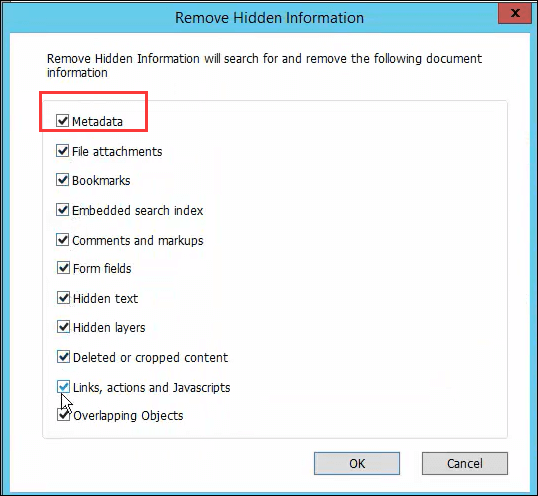 Step 5. Once done, you can save the edited PDF file, which contains no metadata information.
How to Delete PDF Metadata Online for Free
If you are a one-time user and don't like to install third-party on your computer, you can try the online PDF metadata remover. Here we take PDFYeah as an example.
This tool works online from any popular web browser, including Google, Firefox, etc. It aims to help with your everyday PDF tasks, making it easy to compress, edit, and convert PDF files. One of its highlights is that this online service will automatically delete your uploaded files after a few hours. Now let's check how it works for removing PDF metadata:
Step 1. Go to PDFYeah's official website, and click "Browse" to upload your PDF document.
Step 2. Once the file is imported, click the "Remove PDF Metadata" button to start the task.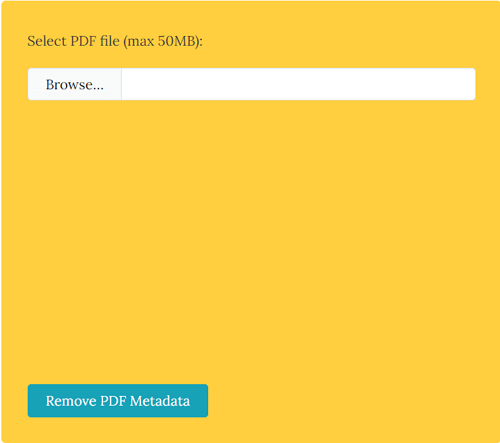 Step 3. At last, click the Download File to save it back to your local folder. Or you can send the file via email to save it.
Best PDF Reader, Editor, and Converter for Windows
Whether in work or study, you might usually deal with PDF documents. Apart from viewing and deleting PDF metadata, you probably often need to edit, annotate, and manage your PDF files. At that time, a versatile PDF editing software like EaseUS PDF Editor is helpful.
This program provides numerous tools to make editing and creating a PDF easy. With its help, you are able to add/delete text, insert images, or annotate PDF with highlighting, commenting, adding arrows, etc. If there are many pages in your PDF document, you can use this software to manage the PDFs with simple clicks. This PDF software allows you to add passwords to protect your privacy for some confidential documents.
EaseUS PDF Editor
Let view the PDF metadata with one click
Help you make interactive PDF files or fillable PDF forms easily
Convert to or from PDF in a snap
Support OCR technology
Final Thoughts
On this page, you can learn some easy-to-use PDF metadata remover software, and a detailed tutorial to get rid of PDF metadata. Which one do you prefer? Whatever you choose, make sure that it can satisfy your needs.
About the Author

Jane is an experienced editor for EaseUS focused on tech blog writing. Familiar with all kinds of video/PDF editing and screen recording software on the market, she specializes in composing posts about recording and editing videos. All the topics she chooses are aimed at providing more instructive information to users.