How to Convert PDF to MOBI Online and Offline in 2022
Kindle is a favorite ebook device due to its lightweight and unique appearance that somehow retains physical books online. MOBI and Kindle are related to each other because MOBI is only accessible using Kindle. 
Although other ebook formats are accessible on Kindle, MOBI remains a favorite due to the exclusive feeling it gives. Moreover, many MOBI ebooks have been shaped in such a way to the point where readers can enjoy them as if they are reading a physical book. No wonder many Kindle owners prefer to convert their ebook files to MOBI!
If you are here to search the methods for converting PDF to MOBI, worry not because this article will list the converters that work.
PAGE CONTENT:
Convert PDF to MOBI with Online Tools
This article will provide PDF to MOBI converts on all devices. Mac, Windows, and online converters will be covered here. First, let's go through the online converters.
1. Pdf2mobi (Online)
As its name states, Pdf2mobi is an online converter that converts the PDF to MOBI quickly and straightforwardly. The only thing the user needs to do is upload the PDF files and wait for the conversion to finish. Once the conversion is done, users can download the file right away.
The perk of this online converter is its ability to let users convert multiple files and combine them. Users can also drag and drop the files according to the order of the conversion they want. 

Here are the steps to convert PDF to MOBI using Pdf2mobi:
Step 1. Go to the website and upload the files.
Step 2. Wait for the upload to finish.
Step 3. You can tweak the order of the files if you want to change the conversion order.
Step 4. Click "Download" or "Download All".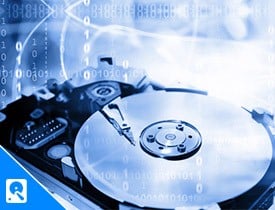 2. Zamzar
Zamzar is an online conversion that offers an endless amount of conversions, and one of them is PDF to MOBI conversion. Zamzar does its job well, as the conversion never takes more than one minute (unless the file size is big). The website also has the instruction on the same page as the conversion, allowing users to see the conversion instruction.   
Those who want to upload bigger files can do so, but they will have to subscribe to the premium plan for it. The premium plan also offers other features, such as online storage and priority conversion.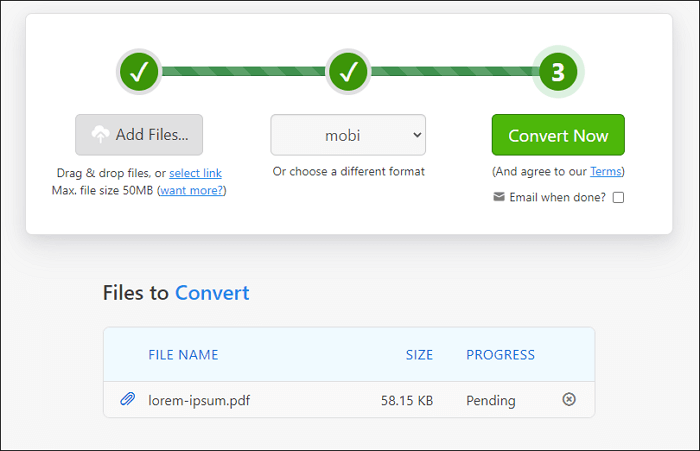 Here are the steps to convert PDF to MOBI using Zamzar:
Step 1. Upload the file on the website.
Step 2. Choose mobi as the output.
Step 3. Click "Convert Now" and wait for the conversion to finish.
Step 4. Once the conversion is finished, download the file.
Convert PDF Files to MOBI Using Desktop Software
There are times when some users are reluctant to convert files online due to privacy preferences, leaving them no choice but to install the PDF to MOBI conversion on their desktop. Here are some converters that have been proven to be effective.
1. Filestar (Windows and Mac)
Filestar can convert files online, but we can bring its online converter to our desktop. All we need to do is install Filestar's software on our device, be it Mac or Windows.
Filestar's main highlight is its ability to convert PDF to many files (more than hundreds of them), but it can do more than that. The software also offers the option to split, merge, compress, protect PDF files, and many more. It even has the encryption feature!  From its features, it can be concluded that Filestar is a one-stop PDF software many people can use.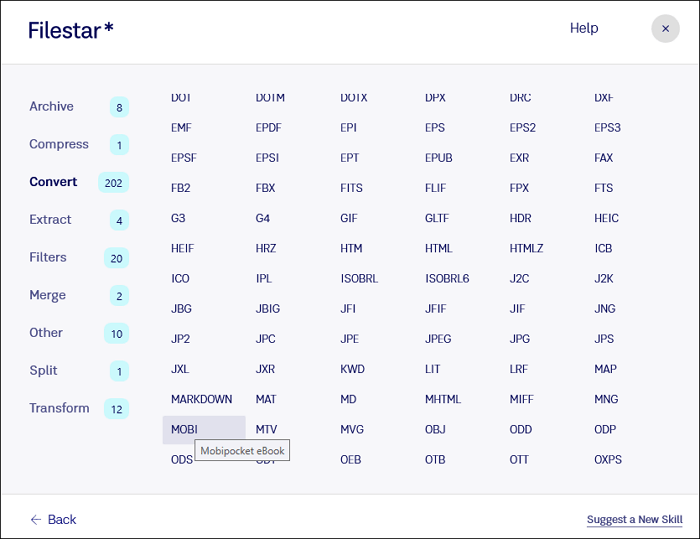 Here are the steps to convert PDF to MOBI using Filestar:
Step 1. Upload the file on Filestar.
Step 2. Type PDF to MOBI and let the system "install" the conversion.
Step 3. If step two does not work, go to "See all xxx .pdf skills", choose "Convert" and "MOBI".
Step 4. Click "Convert" and let Filestar convert the file smoothly.
2. Calibre (Mac and Windows)
Calibre is an all-in-one eBook management program that converts between multiple formats. Calibre converts files and serves as a library, allowing users to edit them and readily share them with others. You may also use it to replace Kindle as an eBook reader. You may download magazines to Calibre too if they are available online.
The size of the download is one issue that users should consider. The larger the file size is, the longer it will take to convert it. The software is also prone to crashing if you convert large files. Therefore users should be cautious.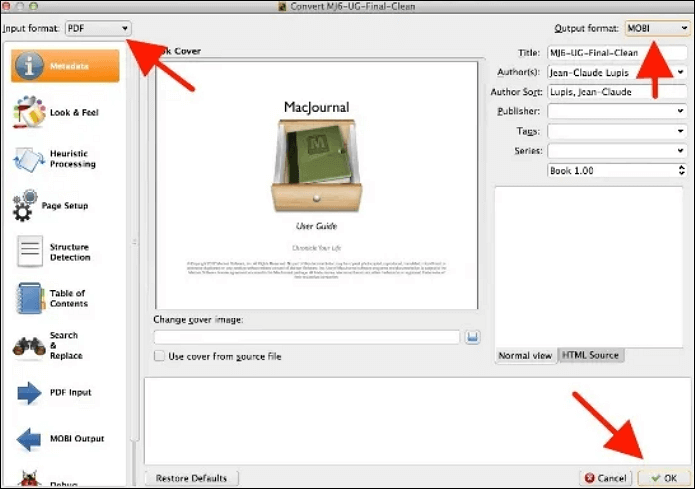 Here are the steps to convert PDF to MOBI using Calibre:
Step 1. Find your PDF in Calibre's library.
Step 2. Look at the top of the software and click "Convert" on its toolbar. 
Step 3. Pick MOBI as its output, and click "Ok". The conversion is done!
Recommendation: An All-in-One PDF Converter/Editor on Windows
Before converting a PDF file to MOBI, users can edit it with EaseUS PDF Editor. As its name states, EaseUS PDF Editor is an editor with multiple functions. From editing PDFs to adding new elements, all are there. What makes it better, the process done on the software won't make the output lose its original quality. 
The functions of EaseUS PDF Editor are varied. It supports the conversion from and to PDF. For instance, if can help you convert PDF to Word, convert Excel to PDF, etc. Before converting, users can tweak the PDF by adding new images, text, and even digital signatures. If you're worried that someone might see the file, don't worry because you can lock the file with a password. This will prevent others from seeing it.
Some features of EaseUS PDF Editor:
The ability to create a new PDF file from scratch
Precise OCR scanning
Freedom to edit PDF file pages
Feature for adding new element forms on existing PDF
Comments and bookmarks
Conclusion
In a word, converting PDF to MOBI is not as difficult as you thought if you have found a proper tool. To make more editing on your PDF file, you may download and use EaseUS PDF Editor.
About the Author
Melissa is a sophisticated editor for EaseUS in tech blog writing. She is proficient in writing articles related to screen recording, video editing, and PDF file converting.