Best 5 Free PDF to AI Converter in 2022
The Portable Document Format is suitable for files, especially when you don't have to make any alterations. On the other hand, AI stands for Adobe Illustrator Artwork file type, present in graphic vector format. People have important images with a high resolution, like logos in this format.
Sometimes, your PDF contains Adobe Illustrator graphics that you need to edit further. So, you have to convert PDF to another format, and it could be none other than AI because of being universal and its property to undergo extensive editing functions.
Not all software can convert PDF to AI, so there is a requirement for an ideal PDF to AI Converter. Here is a list of the top 5 PDF to AI converters, along with the best Windows PDF editor!
Tool 1. Adobe Illustrator
Compatibility: Windows and macOS
It is no doubt that the market offers different PDF to AI Converters, but the best one to use is Adobe Illustrator. The reason lies in the fact that the AI file format is actually the product of this software. It is a vector graphics editor program that also assists in converting PDF to AI. And after that, you can edit the files as per your needs. Besides conversion, it can help you create any graphics such as logos, icons, illustrations, and much more.
Pros:
Superb advanced design features
Efficient file recovery system
Good customer support
Cons:
Take extra storage space
Require some software training
Here is the procedure to convert PDF files to AI format by using Adobe Illustrator:
Step 1. First of all, you need to download the program from Adobe's official website. You can purchase or use the trial version. Now, you can launch it on your PC or Mac.
Step 2. Click "File" from the menu and press "Open." Now, select the specific PDF to open in the program.
Step 3. Lastly, click again the "File"> "Save As," choose "AI" from various options in the "Save As Type," and hit the "Save" tab. The file format will automatically change from PDF to AI.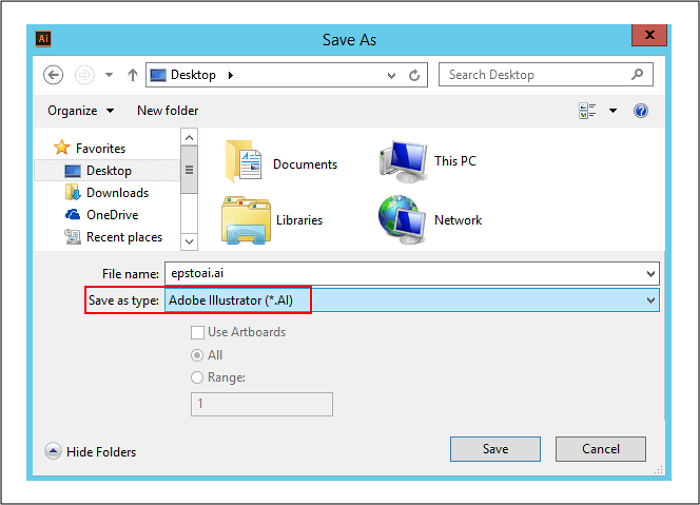 Tool 2. Filestar
Compatibility: Windows
Filestar is an excellent software for Windows users that not only lets you convert PDF to AI but also many formats. These include PNG, GIF, PPT, HTML, etc. You can also convert between multiple file types such as documents, audio, video, and more using this file manager. Despite conversion, the software also offers managing, reading, and compressing documents to save your time.
Pros:
Intuitive interface
Support almost 800+ file types
Save storage space
Cons:
Arouse bug issues while merging
All features aren't displayed on the website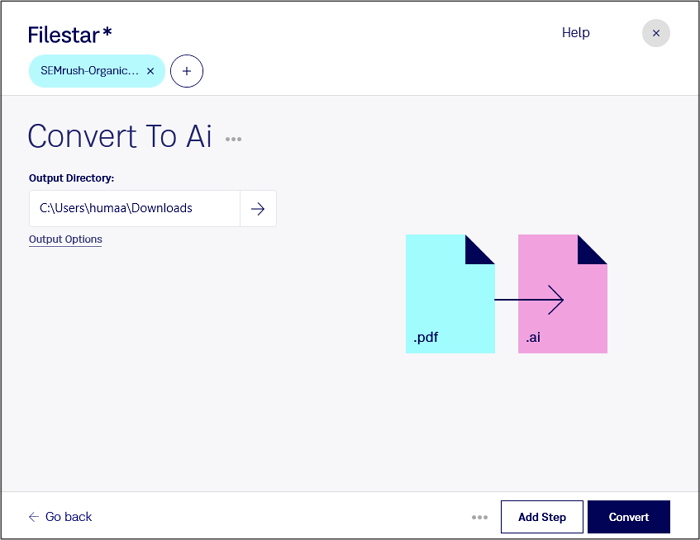 Tool 3. ImageConvert
Compatibility: Online
ImageConvert is an online converter that serves you to convert PDF to AI, ICO, SVG, ART, and others. It allows you to use around 50 conversion tools like GIF, WEBP, IMAGE, SVG, etc. You can simply use the drag & drop feature to upload your files and complete the conversion task. Also, you will get the same file quality as uploaded. Along with that, you can also compress, crop, and resize your files as per your requirements.
Pros:
Simple to use interface
Allow sketch image conversion
Delete files after 1 hour of conversion
Cons:
The interface gives a non-professional look
Slow down for large size conversions

Tool 4. FileZigZag
Compatibility: Online
FileZigZag is counted among the leading free online tools that can help you convert PDF to AI file format and several others. It is not even difficult to make conversions between different file types. Also, it guarantees the best output quality with the ideal conversion algorithm. You will get a faster speed than other online tools because of its leading CPUs. Furthermore, the free tool deletes your files within 24 hours for security reasons.
Pros:
Support 180+ formats, including PSD, AMR, RAR, etc.
Save your CPU power
Free of any malicious activity
Cons:
Subscription required for premium features
Limitation of 10 files conversion per day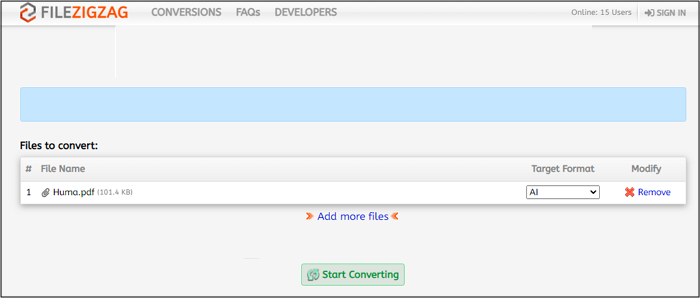 Tool 5. Converter365
Compatibility: Online
Converter365 is a free online PDF to AI Converter that offers almost 1000+ file formats to make conversions in between. Since it supports different file types and formats, it is considered an all-in-one or universal tool. It assures you to complete your conversion process quickly and in only three steps. Moreover, you can use its bulk conversion feature to save time and effort, but the maximum files limit is ten.
Pros:
Convert audio, video, documents, etc.
Chrome extension for easy accessibility
Safe and secure online tool
Cons:
Take more time for large file conversions
Display a lot of ads

A Versatile PDF Converter and Editor for Windows
Despite using all the above PDF to AI converters, Windows users can also benefit from many other converting and editing functions by using EaseUS PDF Editor.
Although it's considered an editor because of the name, it helps people create PDFs or convert them to different formats like Word, Excel, PPT, PNG, etc. You can effortlessly do all this without compromising on data protection and layout. Moreover, adding or erasing text, inserting or removing images, and deleting pages are just a few clicks away.
The software also allows you to use the protection, signature, and watermark features if required. Besides converting and editing, you can compress the documents to reduce their file size. But don't forget to optimize your document before compression.
EaseUS PDF Editor
Create a PDF from a blank document or file
Convert PDFs to PNG, JPG, GIF, Bitmap
Annotate documents in a snap
Offer bookmarks function for easy readability
Note: EaseUS PDF Editor does not support converting PDF to AI yet, but surely after the update!
The Bottom Line
Now when you are well aware of all the PDF to AI converters, the decision of choosing the one is totally up to you. Each tool will carry out your task in the best possible way. Furthermore, you have a bonus tip of getting a versatile PDF converter and editor for Windows, EaseUS PDF Editor. The reason for its popularity is its efficient and coherent functioning at a quick rate. With this software, you can convert or alter your document as per your requirements.
About the Author

Jane is an experienced editor for EaseUS focused on tech blog writing. Familiar with all kinds of video/PDF editing and screen recording software on the market, she specializes in composing posts about recording and editing videos. All the topics she chooses are aimed at providing more instructive information to users.