How to Convert INDD to PDF for Free
Are you struggling with the INDD or InDesign Files while opening? This file format is suitable for publishing on desktops, but one must have InDesign installed on the system to open such files; however, this requirement leads to various issues. Not everyone would like to install the software only for file viewing purposes. Therefore, designers mostly choose PDFs to save them. PDF is a universal format, so it is good to go if you want to make INDD files viewable and shareable.
While facing such issues, you can either convert INDD to PDF via InDesign or any other offline/online tool. Here is a list of INDD to PDF converters, along with their step-by-step procedure. Also, there is a bonus tip of an efficient PDF Editor in the end!
Related post: How to Convert PDF to Indesign
How to Convert INDD to PDF using InDesign
The process of converting InDesign to PDF becomes straightforward if you have InDesign installed on your system. You can work on various document pages by adding artwork, text, and images to create new ones. Moreover, it allows you to add bookmarks, hyperlinks, references, page transitions, and more to create and export separate PDFs or book files.
Editing is also not a challenging task with InDesign anymore. The reason lies in the availability of many formatting functions like setting page sizes, grids, layout, sections, chapters, and many more. Text Frame Fitting and Digital Publishing are other features that make it a unique software for designers.
Let's know how to convert the INDD file to PDF using InDesign:
Step 1. You have to download and launch InDesign on your system in the first step. Now, click File > Open to upload your INDD file.
Step 2. Here, you need to press File > Packages which will open a pop-up window where you have to click "Package" again. A new window will appear.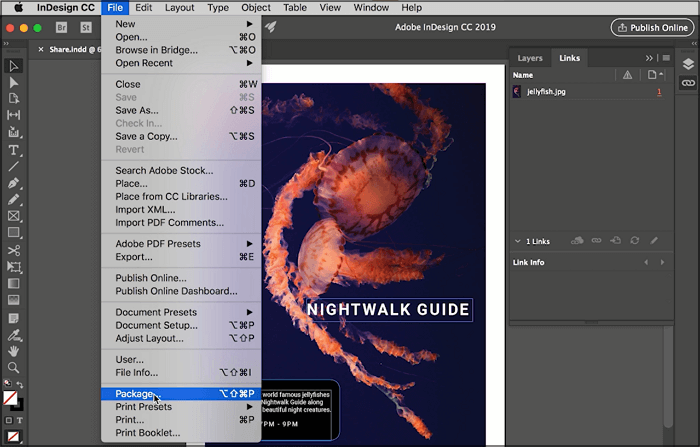 Step 3. Finally, rename the file from "Save As" and checkmark the option of "Include PDF (Print)." Now, again click the "Package," and all is done!
How to Convert InDesign File to PDF with Adobe Acrobat
Adobe Acrobat is a universal PDF files organizer because Portable Document Format is officially developed by Adobe. It aids you in the opening, viewing, and editing of PDFs effortlessly. You can carry out many functions through its multiple excellent tools, including creating, annotating, signing, printing, and others. Even the software allows you to redact, scan, print, and combine several PDFs into one.
Furthermore, this program is considered a standard for viewing and commenting on PDFs along with inserting text/images. Not only does it lets you compress/reduce your file size, but it also converts file format into Docx., PPT, JPG, BMP, etc. Despite everything, you can enjoy the feature to Read Out Loud.
Here are the simplest steps to Converting InDesign files to PDF via Adobe Acrobat:
Step 1. First of all, you need to launch Adobe Acrobat. Now, select "Tools" from the above menu. Select the "Create PDF" tool.
Step 2. Here you need to choose the conversion type, either go for "Single File" or "Multiple Files."
Step 3. Lastly, drag & drop your specific InDesign files to convert. Start "Conversion," and rename your PDF file, if required. That's all!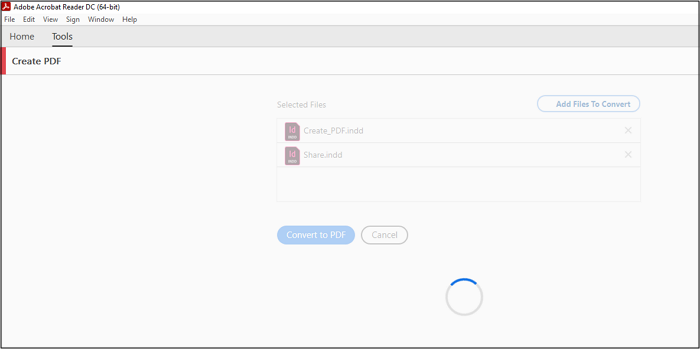 How to Convert INDD to PDF Online for Free
When it comes to online converting INDD to PDF Online, Convertio can assist you ideally as it supports several file types like documents, eBooks, Audio, etc. Also, you can convert between multiple formats such as JPG, MOV, BMP, etc. Even this online tool allows you to open your INDD files from Google Drive and Dropbox. However, the upload file size limit is a maximum of 100MB.
Its OCR function helps you convert scanned documents and images in a snap. Moreover, adding and converting several files at once is also at your fingertips. Also, it respects your data privacy, so your files get deleted after 24 hours.
Let's move forward toward the steps of converting INDD to PDF online:
Step 1. Firstly, open the website of Convertio via the provided link. Click "Choose Files" to upload your InDesign file.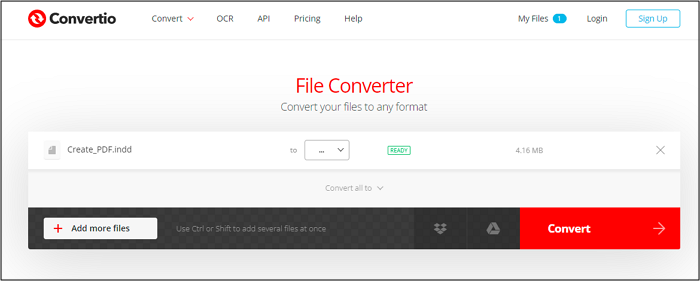 Step 2. Now, open the "to..." drop-down menu for selecting the "PDF" as the output format.
Step 3. Lastly, click "Convert" and then "Download." You are all done!
A Versatile PDF Converter and Editor for Windows
After converting INDD to PDF, one has to manage PDFs correctly, like opening, viewing, editing, and converting PDFs if required. Therefore, an ideal PDF manager is needed, which could be none other than EaseUS PDF Editor. Let's know why!
Whenever there is a need to do any PDF-related function, EaseUS PDF Editor proves to be a complete solution. It supports multiple popular formats to convert and edit your files effortlessly. You can easily use PDF features like editing and changing the text or images. Clicking the edit option will bring several images and text tools to help you edit according to your preferences.
Along with that, you can use the page display function to enable single or double-page scrolling, which will make the scrolling easier. Last but not least, you can add watermarks, signatures, and passwords for security purposes.
EaseUS PDF Editor
Create bookmarks in PDF
Offer Page Navigation feature
Support optimized compression
Combine multiple PDFs into a single one
The Bottom Line
You all know that one must convert InDesign Files to PDF for easy sharing and processing of files. Now, you have to decide which INDD to PDF converter is best suitable for your system and how to perform this conversion rightly. It can be either InDesign, Adobe Acrobat, or Convertio, the one that best suits your system. Here, you will also need an excellent PDF Editor like EaseUS PDF Editor to convert or alter files per your requirements.
About the Author

Jane is an experienced editor for EaseUS focused on tech blog writing. Familiar with all kinds of video/PDF editing and screen recording software on the market, she specializes in composing posts about recording and editing videos. All the topics she chooses are aimed at providing more instructive information to users.