Top 5 Pages to Word Converter [New in 2022]
 Update:

Recently, Microsoft is making a change to its Microsoft Office branding. Microsoft Office is being renamed by Microsoft 365. After the official renaming, our article content will be updated accordingly.
PAGE CONTENT:
Converting a document from any format to another can be easy, depending on your file converter. While some file converters are online, some can be accessed offline. A very important factor in the conversion is that the quality of the file must be maintained, whether a document, graphic file, ebook, or website service.
Pages is a word processing software on the Mac Operating System, just like Microsoft Word on Windows. And just in case you want to access a Page document on a Windows-based PC, you will have to convert Pages to Docx which is compatible with Windows. This article explains the top five Pages to Word converter,  highlighting their pros and cons.
Top 1. Zamzar
Zamzar online file conversion is an online file format converter that can convert Pages to PDF, Doc, Docx, EPUB, Pages09, TXT, and Word formats. It also supports and converts PDFs into formats like PSD, JPG, EPUB, ZIP, TIFF, PNG, CAD, WAV, MIDI, and many more for free.
One can easily harness its services: ebooks converters, archives converters, image converters, and video converters for free. Its efficiency has made it suitable for use by reputable organizations such as New York Times, Dupont, Princeton University, and Daimler.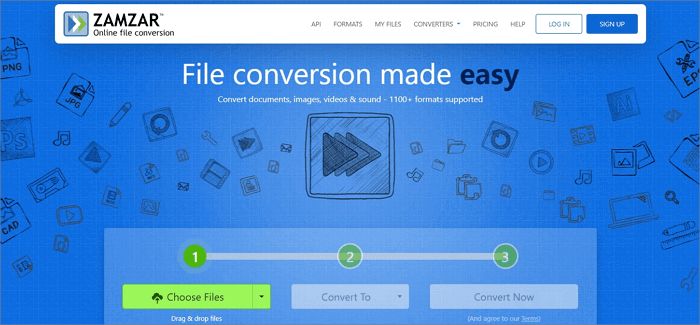 Pros:
Zamzar converts audio files to and from MP3, WAV, OGG, FLAC, and MIDI
It can convert PDF to Word, PPT, and Excel
Zamzar converts image files from and to SVG, JPG, GIF, PNG, HEIC, WEBP, DNG, and CR2
Converts videos to and from MP4, FLV, AVI, 3GP, MOV, and WebM
Cons:
Only downloads in ZIP format
Top 2. Online-convert
Online-convert is an online file converter website that converts an extensive array of file formats from one to another. It enables you to convert high-quality files from Pages to Word. It supports a wide range of file formats, including Docx, PDF, XLSX, PPT, and many others.
It also converts audio, document, PDF, software ebook, and image file formats. Additionally, it generates hashes online with tools.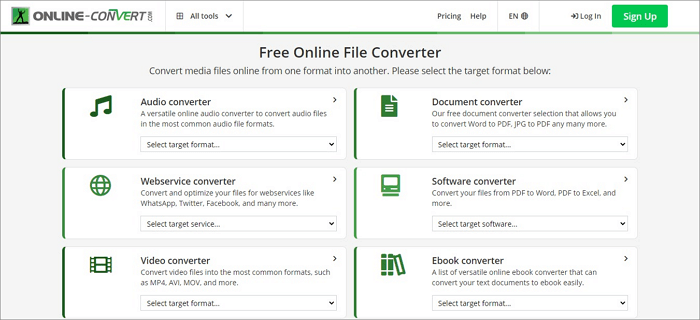 Pros:
It can convert from one audio file to other formats
It also optimizes files for web services
It can convert HTML to PDF and other file formats
It can convert the image from one format to another
Cons:
It doesn't update newer file formats
Top 3. File-converter-online.com
File-converter-online.com is another efficient and accessible online file converter that aids in converting Pages files to  Doc, PDF, XLS, PPT, and many more for free. It can convert audio, video, image, office, and other files.
It only takes three steps to accomplish this: first, use the "Choose file" button to select your input file. In the second step, you may pick the desired output format. The third and last step is to click "Start Converting". And your download will begin immediately on the following page.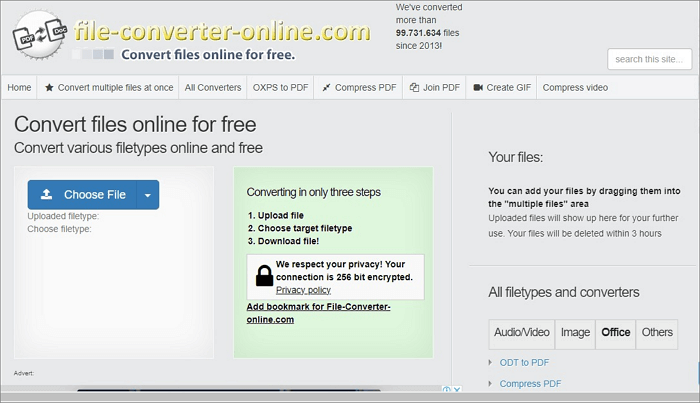 Pros:
It can convert to and from a large variety of audio formats 
It also converts image file formats from PPTX to PDF, CR2 to JPG, and CXF to JPG
It can translate up to 16 languages
File-converter-online can combine multiple documents like XLS, PPTX, JPG, and Doc
Cons:
The conversion of files on this platform doesn't guarantee 100% quality
Top 4. Vertopal
Vertopal is an online file converter that eliminates any third-party application to convert any document or file to another format. It converts Pages to Word formats such as Doc, Docx, TXT, and DOTX smoothly and easily. 
The conversion rate of Vertopal software is kept at an excellent level. This online file converter can also be used for optimizing and making spreadsheets, editing, and converting images.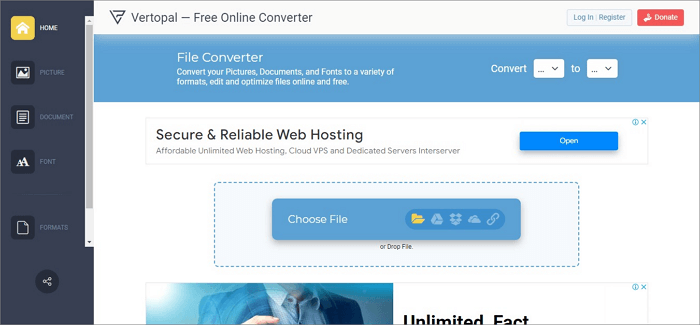 Pros:
Vertopal provides options to edit and customize files like NEF, SURF, CR3, and YAML
It keeps adding formats to the already-existing format on the platform
It is very fast and can convert and edit files as quickly as possible
It works across different platforms
Cons:
It stores files for too long before deleting them
Top 5. CDKM
CDKM is an online file converter designed with open-source projects dedicated to effortlessly converting files. It offers high-quality transformation of Page files to Word format in the safest means in just a simple three-step process.
Uploads, conversions, and downloads of converted formats are completed in only one webpage, no matter the file format; all these are for free.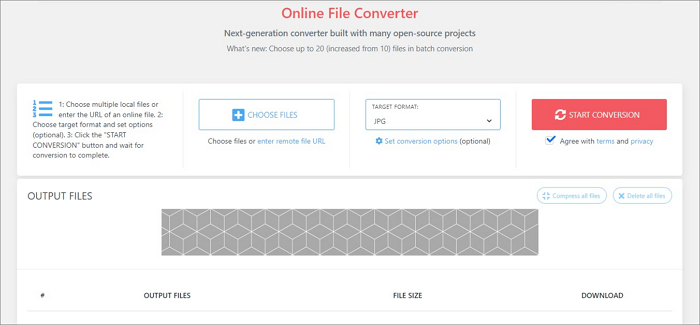 Pros:
It gives 100% excellent service delivery for commercial and personal use 
A user can upload multiple files of limited sizes
It supports any device with the following OS: Windows, Linux, Mac, Android, or IOS
It secures files
Cons:
File conversion takes up to 10 minutes to complete
Bonus Tip: An All-In-One PDF Converter
EaseUS PDF Editor is a powerful PC-only PDF creator, reader, converter, and editor. With EaseUS PDF Editor, you can convert PDF to an array of business file formats such as Excel, Word, HTML, and Powerpoint. 
Additionally, It is important to note that none of the converted files will lose any quality following conversion. Now click here and download it.
Features:
It can encrypt and remove password from PDF files
It has a wide variety of tools
It makes it possible to edit scanned PDF files and sign them digitally
It can interpret up to 29 languages like English, French, German, Japanese, and Italian
It can convert PDF to PPTX, Excel, images, or vice-versa
Here are steps to convert PDF to Word with EaseUS PDF Editor:
Step 1. Download and launch EaseUS PDF converter, then click "Open" followed by "File" to import the file that you want to turn into Word.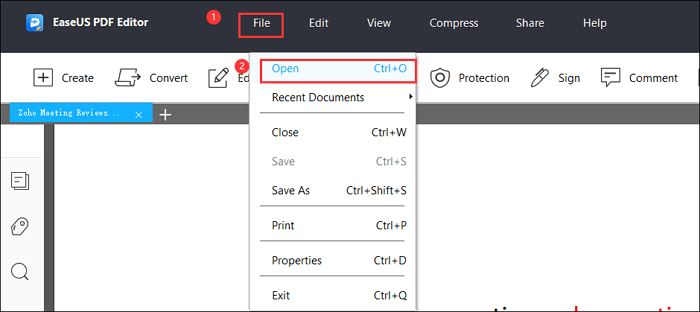 Step 2. Next, click on "Convert" in the top left toolbar, and choose "To Word" in the drop-down menu.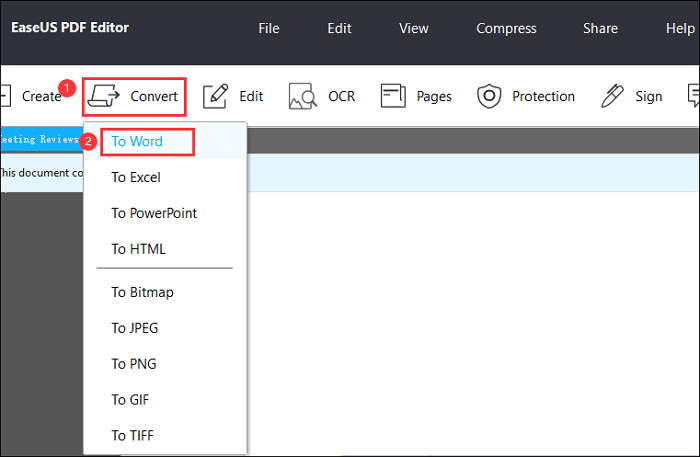 Step 3. Wait for the end of the process. Once done, the converted file will be saved automatically on your computer.
Conclusion
There are many file converters; some online, some offline, others online and offline. While some require a new user in the same vine, many do not. The above-mentioned online file converters are the top five reputable file-converting platforms with excellent service delivery. 
In addition, EaseUS PDF Editor is a great PDF converter that you should never miss as it has powerful functions and will help you finish your work more efficiently.
FAQ Pages on Word Converter
Do you still have more questions about Pages to Word converter, check out these FAQs.
1. Can Apple Pages save as Docx?
Yes! It depends on the file converter you intend to use, which is why this article recommends EaseUS PDF Editor.
2. How do I combine Pages Online?
Pages can be combined online via all-in-one PDF platforms like EaseUS PDF Editor and PDF Filler through a step-by-step guide. Again, it proves why EaseUS PDF Editor is reliable and used across several industries.
3. Can Microsoft open a Pages File?
Pages file is the Apple version of Microsoft Word, and unfortunately, trying to open a Pages file on a Windows 10 computer directly won't work. To open a Pages file and actually be able to edit it on your Windows 10 computer, you'll need to use a third-party app like GoogleDrive or CloudConvert to convert it.
About the Author

I'm glad you can find my post. I hope my article can help you a lot. If you have any questions, please feel free to contact me!