[Free] How to Open PDF in Word Easily in 2022
 Update:

Recently, Microsoft is making a change to its Microsoft Office branding. Microsoft Office is being renamed by Microsoft 365. After the official renaming, our article content will be updated accordingly.
If you can't open a PDF file and you only have Microsoft Word installed on your computer, how can you open the PDF file in Word? Some versions of Word can open a PDF file directly, all you need to do is to download the specific version of Word and you can open your PDF files with it.
Also, you can convert the PDF file to a Word document first, say docx. or doc. After conversion, you can open the docx. or doc. document in Word just as normal files. And after conversion, you can easily edit the PDF file content. Anyway, you may start by following this tutorial now.
Open PDF in Word with Microsoft Word 2013
Microsoft Word 2013 is the first version of Microsoft Word that allows you to open and edit PDF files in Word. Therefore, if you are using Microsoft Word 2013, the process will be fairly simple. If not, you will need to use additional software to convert the PDF file to Word documents first. Now, let's see how to open PDF in Word with it.
Step 1. Open Microsoft Word 2013 and press the "Windows" key, type "word" then press "enter".
Step 2. Click on the "blank document" option to open a blank document.
Step 3. When the blank document is opened, click on the "File" tab in the upper-left corner of the window. This will open up a menu on the left side of the window with a few different choices.
Step 4. Click on "Open", find, and click on the "Open" option. Then an additional menu will pop up, listing sources from which you can open a document.
Step 5. If the PDF file is on your computer, click on "Computer". If not, click on the devices or platforms that save your PDF file. Then, select the PDF document and open it in Word.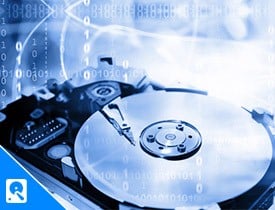 Convert PDF to Word with Adobe Acrobat
If the Word on your computer can't open a PDF file, then you may convert the PDF files to a Word file first. Then, you will need a PDF editor. There are online services that will convert your file, but it is difficult to verify the security of those sites. In other words, these online converters may leak your file content. Therefore, we recommend you to use an offline tool - Adobe Acrobat.
It provides features for editing, protecting, and converting PDF files. This tool is known by many people because it is safe and stable in PDF file editing. Now, you may follow the steps to use the program.
Step 1. Install and open Adobe Acrobat Reader on your computer. The process is slightly different depending on if you are using a Mac or Windows PC.
For PC users: Click the Windows key, type "Acrobat Reader", then press "Enter" to open it.
For Mac users: Open "Finder" from your dashboard and search for "Acrobat Reader" in the search box, then click on the program to open it.
Step 2. Upload a document. On the left side of the window, find and click on "Computer" under the "Storage" header. Then, click on the "Browse" button, find and open the PDF file you want to convert.
Step 3. Convert the document. You may do as follows:
Option 1. Click "File" in the upper-left of the window. Then, click "Save as Other" from the dropdown menu. Finally, click on "Word or Excel Online". From the new page, choose "Convert to" and "Document Language" options to make sure you are converting the PDF file to your version of Word and you are using your preferred language. Then, click the "Export to Word" button to save it as a Word document.
Option 2. Click on the "Export PDF" button, choose your version of Word, then click the blue "Convert" button.
Step 4. Open your new Word document in Word, and you can edit it as you like.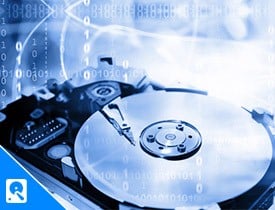 Convert PDF to Word with EaseUS PDF Editor
There is another PDF editing tool that can convert a PDF file to a Word file. It is called EaseUS PDF Editor. As is designed for non-professionals, this tool is quite easy to use. However, it doesn't mean that its function isn't impressive. With this software, you can convert Word files to PDF, convert Excel to PDF, and convert PPT to PDF with one click. And converting from PDF to other formats is also simple enough. Moreover, with EaseUS PDF Editor, you can create a PDF file from scratch. Editing the content of PDF is also a piece of cake. What are you waiting for? Just download EaseUS PDF Editor and start converting your PDF files to Word documents.
Step 1. Download and launch EaseUS PDF converter, then click "Open" followed by "File" to import the file that you want to turn into Word.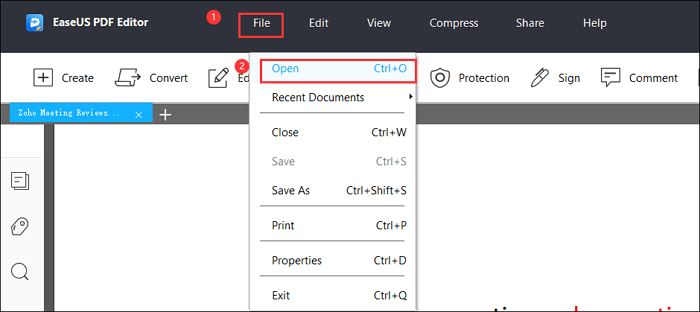 Step 2. Next, click on "Convert" in the top left toolbar, and choose "To Word" in the drop-down menu.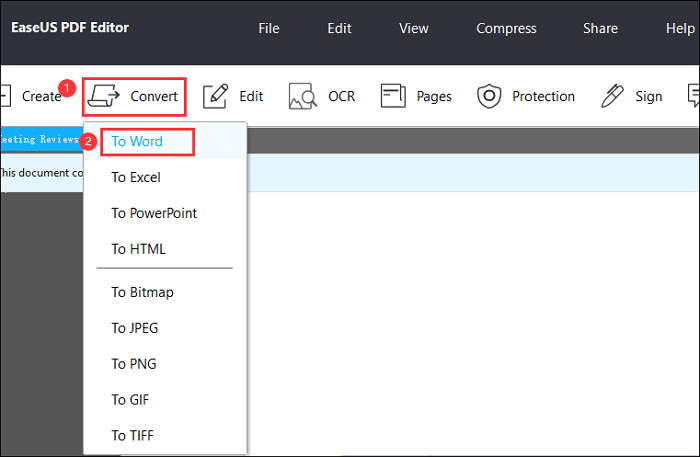 Step 3. Wait for the end of the process. Once done, the converted file will be saved automatically on your computer.
Now that the PDF file has been converted to a Word document, you may open it in Word easily.
Conclusion
Some people think it is impossible to open a PDF file in Word. But in this article, we have shown you how to do so in two ways with two PDF editors. If you follow the steps we offer you, it is simple to open PDF files in Word. For most novices, we suggest you download and use EaseUS PDF Editor as it is very easy to use yet capable.
About the Author
Melissa is a sophisticated editor for EaseUS in tech blog writing. She is proficient in writing articles related to screen recording, video editing, and PDF file converting.