Best 7 PDF Stamp Creators for Mac/Windows/Online
 Update:

Recently, Microsoft is making a change to its Microsoft Office branding. Microsoft Office is being renamed by Microsoft 365. After the official renaming, our article content will be updated accordingly.
A PDF stamp is a markup annotation that effectively accompanies you in your workflow process. When many colleagues work on the same file, stamping a PDF document helps you convey specific details quickly. It's an excellent way to add information without altering the PDF content itself.
For example, an APPROVED stamp will let your project members know that the document is passed, so no more changes are required. Moreover, PDF stamps creation is necessary because it distinguishes your office work from others and secures your personal documents. 
This article will demonstrate how to choose PDF Stamp Creator according to your device type. Let us dive into it.
1. PDF Architect
PDF Architect is not an old software yet. It has established a strong reputation, and it is famous for being more stable and affordable than other well-known tools. Using this software, you can protect PDF files from infringements. This software helps you add stamps by creating them from your signature, and it's also able to fill out already available stamp templates.
Moreover, it allows you to convert other file formats into PDFs with some clicks. You get all that one wants from a good PDF editor, like adding comments to a file, converting scanned photos to text, and using a variety of other general functions.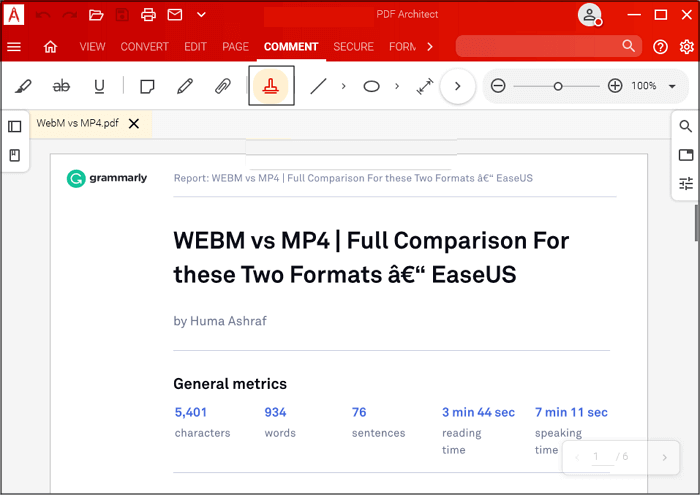 Pros:
Easy-to-use application
Customizable tools are available
Powerful reviewing module
Cons:
The free version is ineffectual
Self-promotion in pop-up ads
2. Nitro Pro
Nitro Pro is the most acceptable PDF editor since it is a full creator, reader, signer, editor, and converter. Thanks to the intuitive MS Office alike interface that requires no learning time, this program can largely boost your productivity. 
Moreover, it offers PDF stamp templates, or you can type your text to create a stamp using the custom feature. The best thing is its ability to use images as stamps in your PDF files so that you can get many creative PDF stamps. Moreover, all those stamps can be stored in the "Annotation" layer for easy access if you want to use them in the future.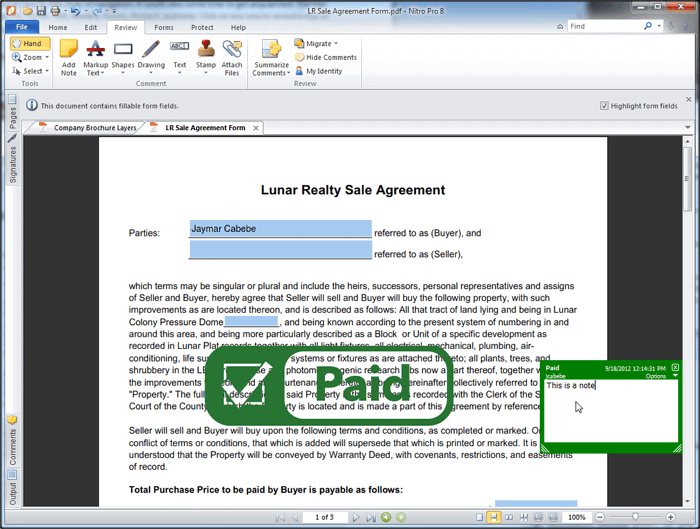 Pros:
Microsoft Office-style interface
Integrated with Nitro Cloud for more straightforward collaboration
Better document conversion
Cons:
No dedicated mobile app
Get stuck for heavy documents
3. PDF Annotator
PDF Annotator is a robust tool that lets you annotate PDF files in various ways. The numerous features and user-friendly design make it an excellent pick. The customizable tools provide access to nearly all PDF-related functions. If you want to pass on specific information with whom you share documents, this software will do it more efficiently by adding stamps.
Having this tool, you can either design your stamp or use already available PDF stamp templates. And you can even customize stamp templates to make them exactly meet your needs. PDF Annotator validates a document's origins while ensuring that the right person has access to it. In a word, this software will help you work better, whether with stamps, comments, signatures, or images in your PDFs.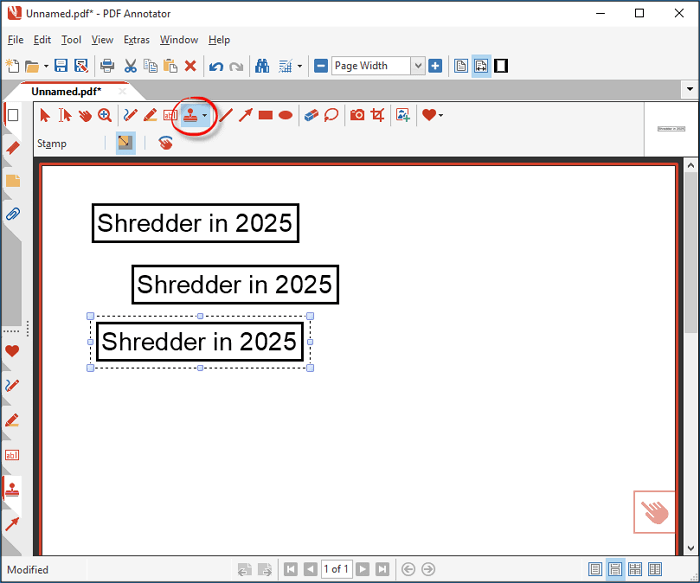 Pros:
Provide a free version with a lot of features
Assign the tasks readily to team members
The drag-and-drop function makes task management simple
Cons:
No color-adding feature for annotation
Get slow for heavy files
4. Preview
Preview is a default Apple software that allows you to view any PDF file and annotate directly on its pages. You can annotate with any color and various pen widths. This app comes in handy when you have a long PDF file to edit before sending the final version. It allows you to color-code portions and highlights the most critical areas. This app gives you the best way to organize your files and make them easy to go through.
Moreover, it allows you to create your stamp and add it to files before sending them out. If you want a smooth workflow and secure your documents, adding PDF stamps with Preview would be of great help.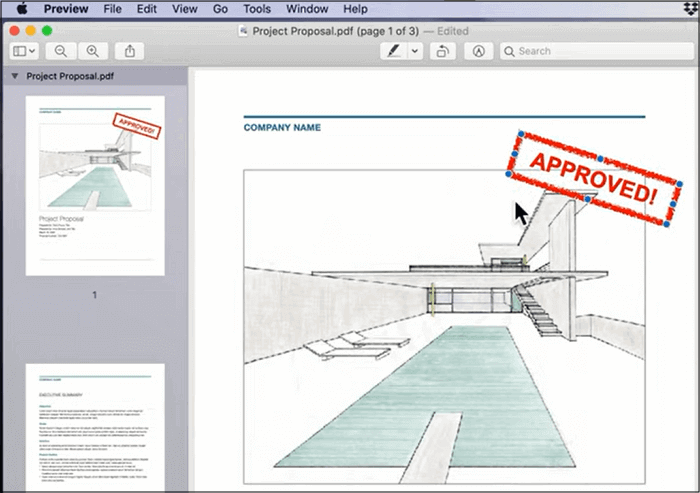 Pros:
Fast in responsiveness
Practical toolkit
Offer a wide range of features
Cons:
Overwhelming interface
It doesn't work for some formats
5. Adobe Acrobat DC
It is right to say that the popularity of Adobe Acrobat is justified. It can view, print, save, send files, and get forms signed electronically. Adobe Acrobat also helps you add stamps to protect the copyright of your PDF files so that you can share the file with others without worrying about many issues.
The stamps appear in many formats and designs, and you can choose whatever suits you and customize it. The stamps you designed are saved in the toolbar for later use. You can delete custom-made stamps, but deleting pre-defined ones is impossible.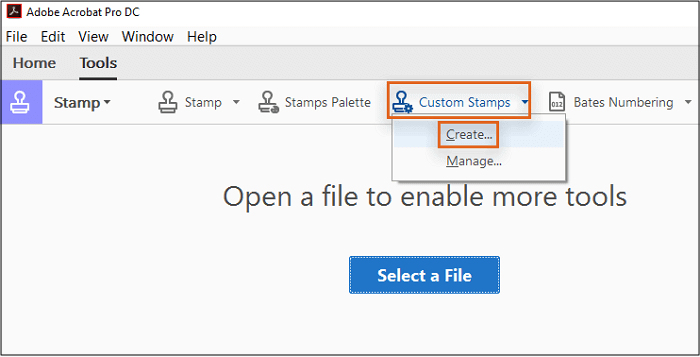 Pros:
The tabbed interface is user-friendly
Full PDF editing features
Offer a complete of PDF editing tools
Cons:
A rich feature set can be overwhelming for new users
Quite expensive
6. VeryPDF
VeryPDF is a web-based tool that combines an editor, stamp creator, and fillable form builder into one. You can get PDF forms filled, business documents edited, and much more using this. Stamping PDF documents online is the highlight of this tool, and this feature will ensure an ideal collaboration by adding stamp information that cannot be edited.
Also, you can obtain data from completed and stamp-marked PDF forms and save it to an Excel file for future use. Moreover, it offers email synchronization to share documents on social media platforms or websites.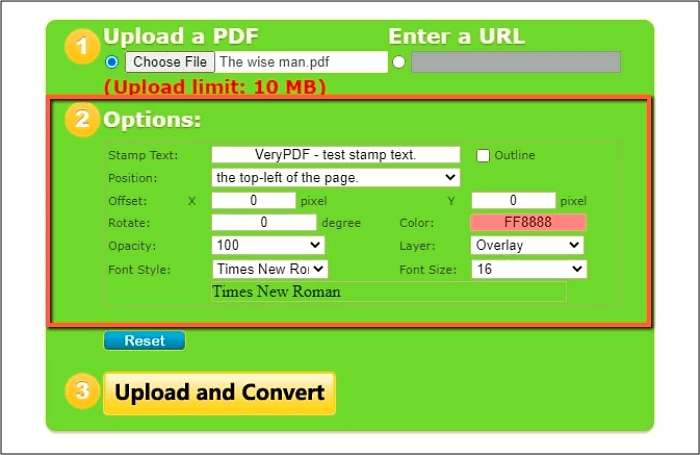 Pros:
Offer spell checks/grammar check
Efficient signature feature
Work like a Word document in terms of setting bold fonts
Cons:
Double-clicking on an area will decrease the size of the font in that area
Hard to edit document titles
7. Soda PDF
The finest tool for online PDF editing is Soda PDF. It is easy to do anything from adding comments and writing down notes to adding stamps to PDFs. With this online tool, you can't only collaborate with other people smoothly but also ensure your data security. Yes, Soda PDF offers great stamp templates that you can use as it is or customize them.
Soda PDF can work with various cloud storage services such as Dropbox, Google Drive, and more. Also, it allows you to convert PDF format files to other formats like Microsoft Word, Excel, etc.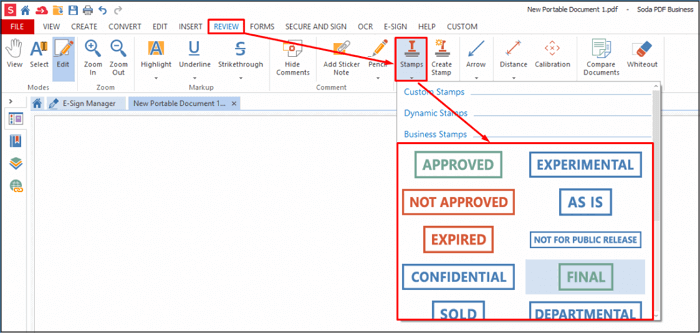 Pros:
No downloading or installation requirement
Good PDF compression
Free to use
Cons:
Has a file size limit
Limited functionality for PDF editing
Special Recommendation: EaseUS PDF Editor
EaseUS has released a completely new PDF editing software suite called EaseUS PDF Editor, which offers users many tools for PDF editing, converting, printing, and protecting. The built-in OCR recognition technology is what makes it unique, and that makes it possible to turn a scanned PDF to editable. And it also helps you secure your documents' copyright with e-signature, encryption, and watermarking.
When it comes to PDF editing, this software offers you tools for managing the PDF content and pages with ease. For instance, you can add or delete the text and images in the PDF with simple clicks, as well as crop, rotate, merge, or split PDF pages. It's also able to convert PDF to many other formats, including Word, Excel, PowerPoint, and JPG. 
EaseUS PDF Editor
Offer PDFs conversion to numerous formats
Crop, rotate, merge, split, and compress PDFs
Support adding page numbers, dates, and annotations to PDFs
Allow scanned documents to be editable with OCR technology
About the Author
Melissa is a sophisticated editor for EaseUS in tech blog writing. She is proficient in writing articles related to screen recording, video editing, and PDF file converting.