Export PDF Form Data to Excel Easily
PDF forms are of great importance when collecting data from the audience. People are required to fill out the PDF forms in a quick manner; however, you have to organize the data for analysis purposes after getting the forms filled.
Though PDF forms are suitable to be shared for getting feedback, Excel sheets are the top choice for data handling. Moreover, you may also need to combine the data from different forms into one. So, exporting PDF form data to excel is a daily task for those whose duty is to analyze the data.
In this write-up, you will learn about the ideal ways for exporting PDF form data to excel. Let's move forward!
Export PDF Form Data to Excel with Adobe Acrobat
Adobe Acrobat is a complete solution to manage your PDFs efficiently. Using the unique tools offered by this application, you will be able to do all the PDF tasks one can think of. After clicking the more tab in the Prepare Form Menu tool, you will even get the option to merge data files into a spreadsheet easily.
Moreover, you can easily create the forms using the "Prepare Form" tool. It allows you to create, scan, distribute, and then get the forms to collect all the required data. Even adding rich media, eSigns, comments, stamps, and much more are some other functions of this application.
Features:
Offer accessibility feature to add tags
Compare PDFs to identify the primary mistakes
Support scanning and the OCR function
Offer the compression and protection function
Here is the detailed guide for how to export form data to excel using Adobe Acrobat:
Step 1. First of all, you have to download, install, and open the application on your system. Now, open the PDF form data file. After that, select all the data that you want to export.

Step 2. Click the "Export" icon in the second step and then press the "Export Selected". It will open up the save file menu.

Step 3. Finally, choose the destination folder, rename the file, select the file format, and hit the "Save" button. That's all!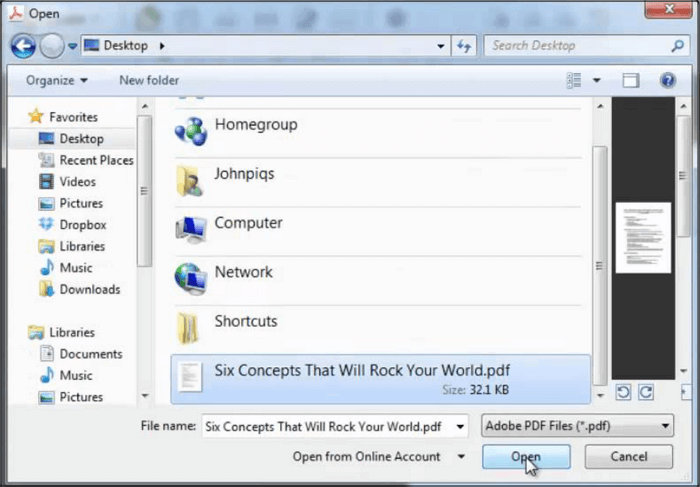 Export PDF Form Data to Excel with SodaPDF
SodaPDF is a free online tool; however, it can help you export PDF to Excel easily. It lets you complete all the usual tasks such as conversion, editing, adding comments, and others. Along with that, you can add links, add page marks, and also ensign the document if required. It is even possible to batch convert your files if you have less time.
Moreover, the Form section of this tool has various options, including the form field, form data, and button. Filling out forms and signing PDFs become an easier task to do. Even you can send the final document to Evernote as per your requirements.
Features:
Merge multiple PDFs into one
Support zoom in or out function
Offer select and redact feature
Add or remove bates numbering
Let's know the steps for how to export PDF form data to Excel easily!
Step 1. Firstly, you need to open the website of sodaPDF via the given URL. Now click Convert > Choose File to upload PDF that you need to convert.

Step 2. Secondly, click on "Export" and "PDF to Excel". However, it will bring you to a new window.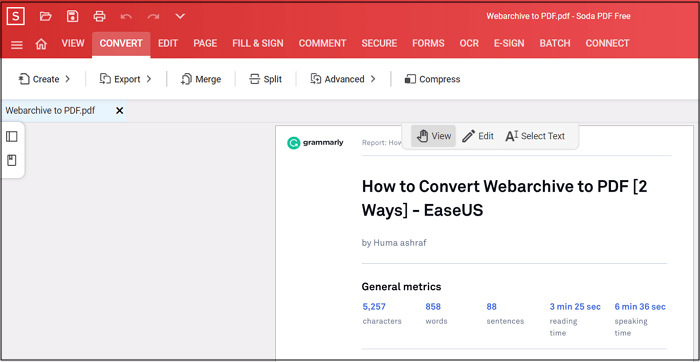 Step 3. Lastly, press the "Convert" button, and then you have to perform the task as per your requirements.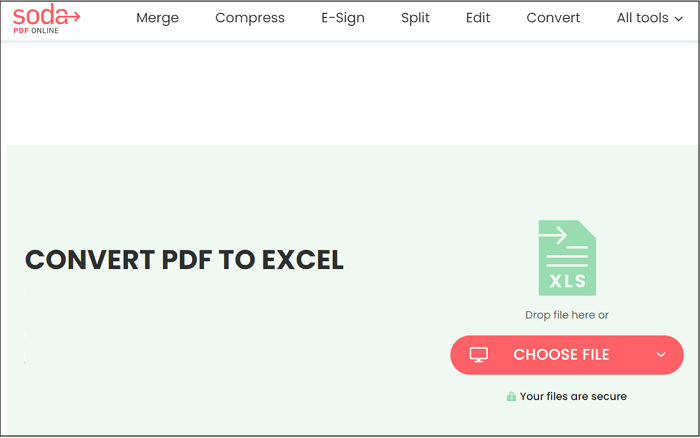 A PDF Editor Worth Trying
EaseUS PDF Editor is a fantastic all-in-one software that aids you in PDF Editing and conversion. Here, the supported formats to convert PDFs include BMP, PPT, PNG, etc. Besides conversion, you can add different forms such as combo boxes, list boxes, checkboxes, pushbuttons, text fields, and many others.
Furthermore, it is all your control to add data to the PDFs. The simplest process is to create PDF from a blank page, add forms, and then import data to organize data. After that, you can export the PDF as an Excel file for later use. Even in the end, you can share PDFs via Email if required.
Features:
Conclusion
You may get into situations where you need to export PDF form data to Excel. After knowing all about the reasons and the best ways to export the data, you can select the one that best suits your needs. However, you can avail the offer of using the EaseUS PDF editor before carrying out the required task of exporting. The software brings about several excellent features to utilize and convert PDFs into Excel. You must try it once to get the PDF conversion and editing experience.
About the Author
Melissa is a sophisticated editor for EaseUS in tech blog writing. She is proficient in writing articles related to screen recording, video editing, and PDF file converting.