[Free] Employee Evaluation Form in PDF
The aim of the employee review form is to review and record employee performance, which is an indicator in human resources decision-making. It also partially reflects the company's overall performance. Thus, it's important in all industries as it builds a way for employers and employees to communicate together.
There are different types of evaluation forms. Depending on the organization types, we have forms such as construction, veterinary, and restaurant forms in PDF. In this post, you will look at some templates of forms. Also, you will learn the effective way to create a custom employee evaluation form PDF.
What is the Employee Review Form
Almost every company has its employee evaluation procedure. It builds a clear communication chance between employee and employer. An employee review form indicates areas of weakness for the workers and helps set goals to improve work quality and efficiency.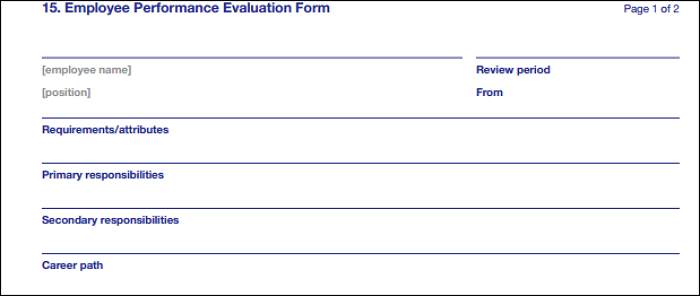 The above image is a part of the sample form. You have to fill in your name, position, and work duties of the employee in it. A complete evaluation form will also have an area for written comments. It may also involve self-evaluation in this form.
Generally, the employer will require the workers to record their strengths, weakness, and even ongoing goals. And then, the employer will make corresponding decisions. With the evaluation form, the company will have a method to communicate with workers to know what they need and want, instead of simple work performance.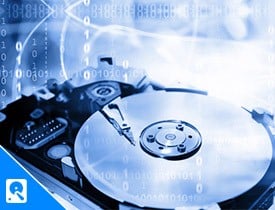 Templates of Employee Review Form
According to industry types, you will have different employee evaluation templates in PDF. Here, we show you some kinds of forms with corresponding templates.
Construction Employee Review Form
In this form, you may be required to fill in your project's design and construction aspects, which will be the key in this assessment. The benefits of using this form are obvious. For example, if the worker has some issues with this project, then supervisors will write down his suggestion on this form. Here we show you one sample template for this form.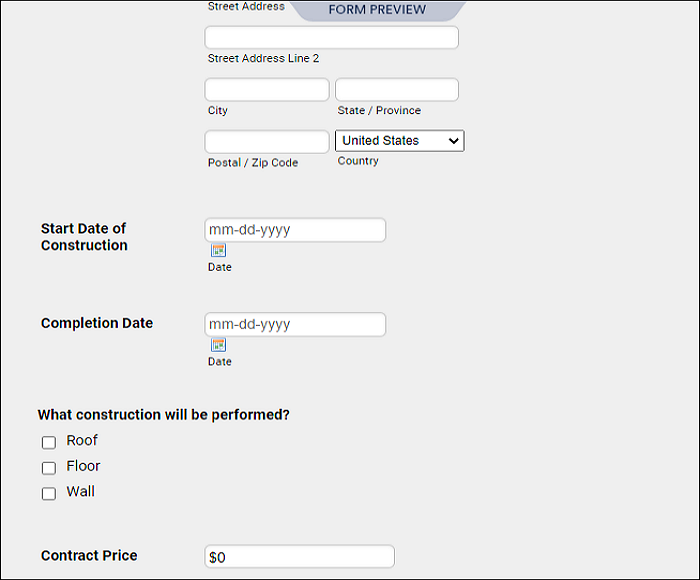 (Image credit: www.jotform.com)
Restaurant Employee Review Form
This kind of form is an excellent way to measure your restaurant performance. A customer focus can be emphasized in it. For example, the feedback from customers is an essential indicator in this evaluation. If the employee has positive feedback from the customer, then the evaluation result will be good. Here is one sample for this form.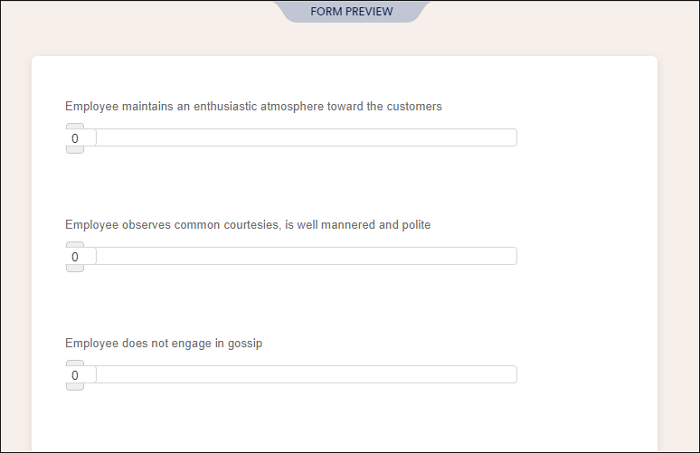 (Image credit: www.jotform.com)
Here, if you have already got your evaluation template in PDF format, you can fill it with an effective PDF editor for free.

How to Fill Out a PDF Form on Windows/Mac/Online
This post will guide you on how to fill out PDF forms with helpful editors easily. It can help you save time and increase work efficiency.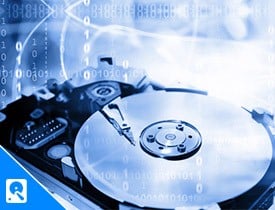 How to Create an Employee Evaluation Form on Windows
If you an employer and you don't have any templates for evaluation purposes. Actually, you can create it yourself! Just know what information should be included in this form, and you can use the PDF editor to make your wanted review form. EaseUS PDF Editor is a well-known and efficient tool in public. This powerful PDF editing software makes your evaluation form become printable, editable in PDF format.
In addition, you can use this tool for more editing functions, and you can also convert files to common formats like Word, Excel, PowerPoint, etc. It's proven to be an all-in-one editor and converter to help PDF users bring more convenience.
Main Features:
Create a fillable PDF availably
Change the color of the background
Add different shapes to PDF
Use a password to protect the PDF document
Now, using the effective editor to create an evaluation form.
Using the employee review form can establish good communication with your employer. Some templates from the online market may not include all information you want to have. Why not create an employee evaluation form in PDF yourself?
To create a fillable PDF form, you can read this related article to guide you. With an effective editor like Acrobat, you can make it efficiently. However, some people might think Acrobat is not cheap. Here, more helpful editors will be recommended to you.
Related Article: >> How to Make a Fillable PDF Form Without Acrobat
FAQs About Employee Review Form
If you have some doubts about this form, these FAQs will be useful.
1. How do you write the employee review form?
Generally, you need to gather basic information first and then list the employees' duties. Then, it has a measurement to identify the workers' performance. Besides, for employers to have a better result from this form, it can also include the guidelines for feedback. The feedback can be positive or negative based on the workers' performance.
2. What questions might be asked in an employee evaluation form?
A question like what achievement recently are you most proud of? Or what stimulate you to work harder? Also, you will see a question like what is your ideal working condition with most productivity. Basically, those questions are related to your work performance and your working status.
About the Author

Crystal Chen is very interested in technology products. Experiencing many technological applications like video editors, screen recorders, and PDF editors, She is willing to solve users' issues through writing tech-related articles. Through her words, you can find various solutions to solve one problem.