Best Software to Convert VCE to PDF Free of 2022
VCE file is an exam created with Visual CertExam Suite, which includes both Visual CertExam Designer and Visual CertExam Manager, and it is used for creating IT certification courses and certification exam preparation. You can easily open this kind of file with Visual CertExam Suite, but if you don't have such a VCE player, you might fail to open it, as only a few programs can open it.
So, if you want to open VCE files easily and quickly, it is an excellent option to convert VCE to PDF, which can be open on most devices. In this post, we will walk you through a detailed guide to converting PDF from VCE.
How to Convert VCE to PDF with DoPDF Offline
DoPDF is a virtual PDF printer driver that lets you create PDF files with one click, once you install it on your computer. With its help, you can print almost any file to PDF, including DOCX, PPTX, PUBX, HTML, TXT, VCE, etc. To preserve the original design of the document to be converted, you can also embed all used fonts flexibly. 
However, while speaking of the VCE to PDF conversion, you also need another program called VCE Designer. This software lets you view, create, and edit your VCE practice exams. Using these two programs, you are able to complete the VCE to PDF conversion tasks within 3 simple steps like below:
Step 1. Download and install DoPDF and VCE Designer on your computer.
Step 2. Find the VCE file that you want to convert to PDF, and open it with VCE Designer. Next, click "File" > "Print", and select the doPDF virtual printer.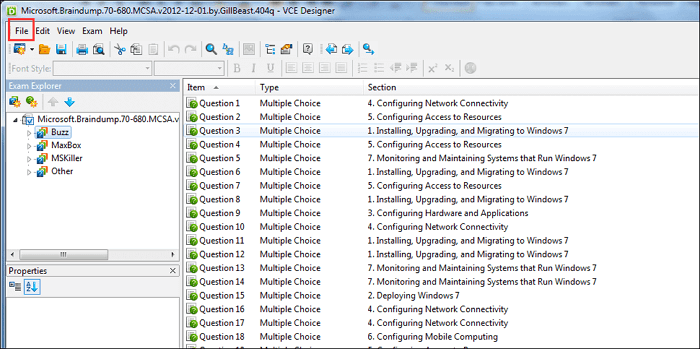 Step 3. At last, follow further on-screen instructions, and you will get the PDF file converted from your VCE file later.
Read also: How to convert PDF to VCE
How to Change VCE to PDF with CutePDF Writer
Another VCE to PDF converter is CutePDF Writer, which works similarly to DoPDF. It is much simple and compatible with all Windows OS (Windows Vistal/7/8/8.1/10/11), and lets you convert your VCE file to PDF via the Print option. One of its highlights is that it is small in size and does not use a lot of resources. Moreover, it supports many other languages, except for English.
Next, we will show you how to convert PDF from a VCE file using CutePDF Writer:
Step 1. Launch VCE Designer, and open your target VCE file with it.
Step 2. Select the CutePDF Writer as your default printer in the printer section. Then click "Print" in the Print dialog box. A few seconds later, you will get your desired PDF file.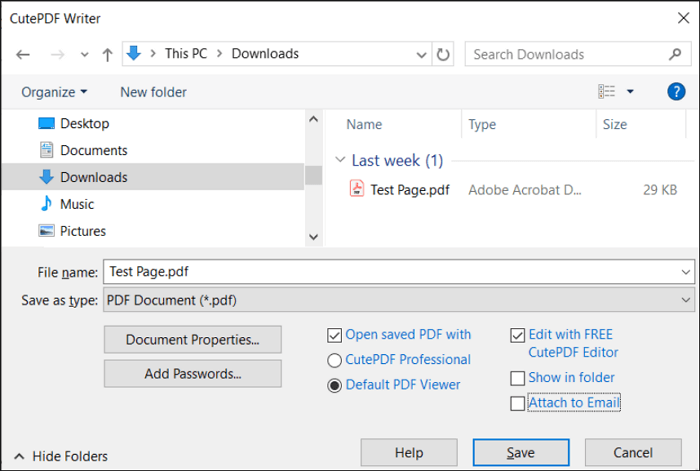 Best Free PDF Editor and Converter for Windows
We have introduced 2 easy yet powerful VCE to PDF converters above, and you can easily get the VCE to PDF conversion tasks done. Once you get the PDF file, you might want to edit the PDF document as you want. At that time, look no more than EaseUS PDF Editor!
As its name indicates, it is an easy-to-use PDF editing program, offering a wide range of tools to modify PDFs. You can use it to create outlines for your PDF documents, highlight text to mark key points or add watermark to PDF files to protect them from unauthorized copying and use. If many pages are out of order in your PDF file, EaseUS PDF Editor can also provide a solution to manage the PDF pages.
Apart from being a Windows PDF editor, this software also functions in format conversion. You are able to deal with simple and common PDF conversion tasks, including PDF to Word, PDF to JPG, PDF to HTML, or vice versa, without compromising quality.
EaseUS PDF Editor
Neat interface and intuitive workflow
Provide different reading modes for viewing PDF documents
Password protect PDF files with simple clicks
Compress PDF file size for later sharing
FAQs About VCE to PDF Conversion
Check the frequently asked questions related to this topic below.
1. What program can I use to open VCE files?
Most people Visual CertExam Suite to open VCE files. This software is used for creating and delivering tests for IT certification and can also open VCE files.
2. Is there a free VCE player?
Yes, there are some free VCE players, like Avanset Examsnap, VCE Designer, etc. For more free VCE players, you can search the keywords "free VCE player" on Google.
3. What are VCE files?
A VCE file is an exam created with Visual CertExam Suite, including Visual CertExam Designer and Visual CertExam Manager. It contains a list of questions and answers possibilities that can be compiled into a certification exam.
The Bottom Line
On this page, you can learn the detailed tutorials to convert VCE to PDF for free. Moreover, at the end of the post, we also share an excellent PDF editor and converter in case you need PDF editing. Now, just pick one VCE to PDF converter to start converting VCE files.
About the Author

Jane is an experienced editor for EaseUS focused on tech blog writing. Familiar with all kinds of video/PDF editing and screen recording software on the market, she specializes in composing posts about recording and editing videos. All the topics she chooses are aimed at providing more instructive information to users.