How to Convert PDF to InDesign With/Without Plugin
Adobe InDesign is the well-known desktop software used to create digital materials like ebooks, presentations, etc. With an editable .indd or .indt file, you are able to develop efficient work by modifying the text, images, and other adjustments. Converting your files like PDF to InDesign helps enrich the content and enhances your workflow automation. Here, in this post, several effective methods are introduced to you on how to convert PDF to InDesign.
Here is a short guide on converting PDF to InDesign:
| Workable Solutions | Step-by-step Troubleshooting |
| --- | --- |
| Convert PDF to InDesign with Plugin | Choose a plugin, PDF2DTP or PDF2ID. Open Adobe with the plugin. Next, you need to click... More details |
| Import PDF into InDesign without Plugin | Click "File" > "Place". When you see a dialog window, you can click the "Show Import Options" option... More details |
Are you looking for an excellent way to save .indd or .indt file as a PDF? Have a look at the below tutorial!

Related Article: >> How to Save InDesign as PDF 
How to Convert PDF to InDesign with Plugin
To open PDFs in InDesign, apply the extension tool on your Adobe design software. PDF2DTP and PDF2ID are both helpful. Add one of these plugins to your InDesign CC.
Tool 1. PDF2DTP
To get an editable InDesign file from a PDF, it's necessary to have an effective plug-in like PDF2DTP. This tool allows making an effective conversion, creating a new INDD or INDT file with the original information over from PDF. Also, one incredible feature is that it can handle multiple PDF pages, saving you much time. This plug-in is helpful as it is compatible with InDesign CC 2020, CC 2019, and other older versions on Windows and Mac.
Compatibility of PDF2DTP:
Windows: Can be used on Windows XP or above
Mac: For macOS X 10.6 or higher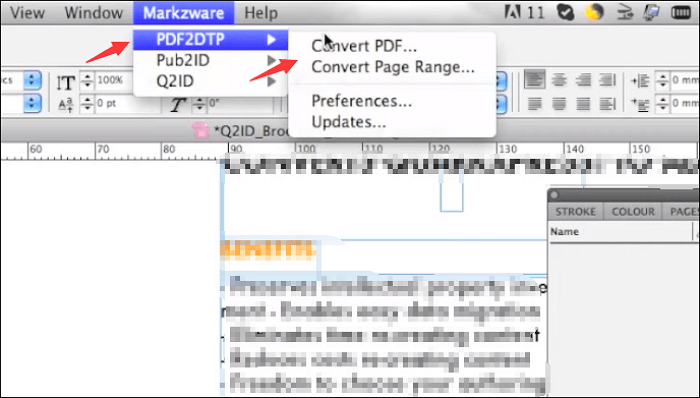 Followed is a list of simple steps to obtain INDD and INDT files from PDFs, with PDF2DTP:
Step 1. Open the Adobe software with this plugin. Click "Markzware" > "PDF2DTP" > "Convert PDF...". Before conversion, you can choose to convert all PDFs or certain pages by clicking "Preferences". 
Step 2. Now, choose your target PDF from your computer and click "Open".
Step 3. After that, wait for the processing dialog window, and you can save the new file in a few seconds.
You may also be interested in>>[PDF vs PDF/A] What's the Difference and How to Convert
Tool 2. PDF2ID
Another solution to get an editable InDesign file from PDF is using the PDF2ID plug-in, providing accurate transformation for all documental elements. With it, you don't need to paste the content into InDesign manually. Meanwhile, you have options to convert the whole PDF file or some part of the PDF. It's a good option to reset the file's layout by forming some elements. 
PDF2ID operates with Adobe InDesign CC 2022, CC 2020, and other versions on Windows and Mac. 
Compatibility of PDF2ID:
PC: Above Windows XP
macOS: Mac OS X and other versions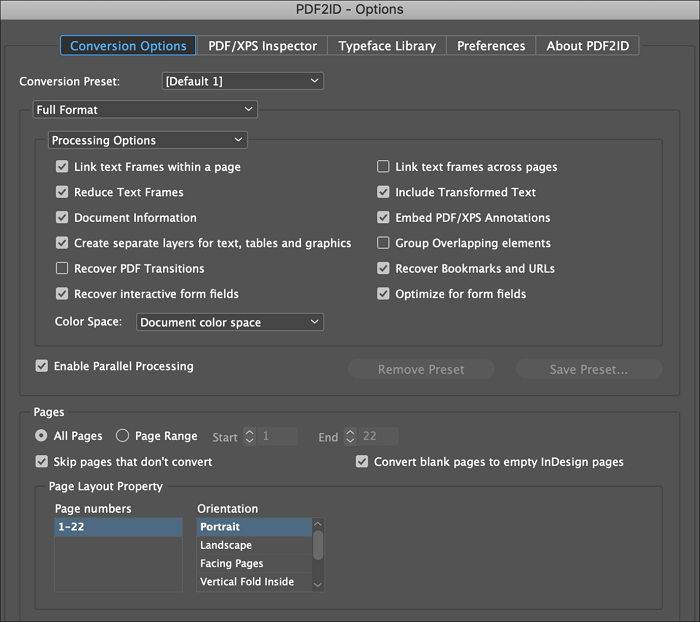 How to convert PDF to INDD using this PDF to InDesign plugin:
Step 1. Firstly, click "Recosoft" in Adobe InDesign and select "PDF2ID". Followed, choose "Convert PDF/XPS File".
Step 2. This plugin allows customizing the task. Based on your needs, you have more options in the "Preferences".
Step 3. To finish it, click "OK" and wait for a while. Then, you get a satisfying INDD file with the original content.
How to Import PDF to InDesign Without Plugin
When converting PDF, the above techniques provide you with advanced settings in their Preferences. Here, this method guides you on importing PDFs into InDesign directly. Although it may not have more advanced settings as a plugin, it's enough for basic needs. Without installing any plugin, you can convert PDF to InDesign efficiently.
Followed is a list of simple steps for opening PDFs in Adobe InDesign:
Step 1. Set up a new .indd document in this software and ensure the number of pages is the same as your PDF.
Step 2. Click "File" > "Place". When a dialog window appears, choose "Show Import Options".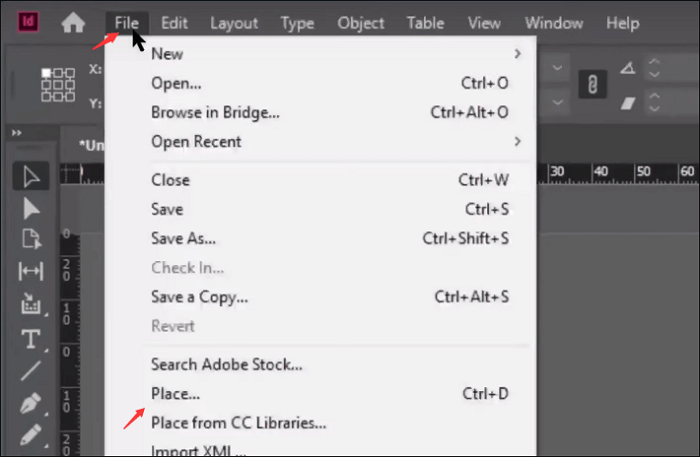 Step 3. Select the PDF you want to import. Finally, click "OK" to operate it.
Why You Need to Convert PDF to InDesign
It's not easy to edit documents like PDFs. Therefore, this Adobe design software becomes useful as it has various features to help you edit content over from these files. Before editing, you should get a .indd or .indt file on this software. There, conversion for PDF is a necessity if you want to enrich your project layouts and create extensive digital projects. 
Bonus Tips: How to Edit a PDF on Windows 10
We have shown you two solutions to convert PDF to InDesign and one method to import PDF on it. Each method provides you with an editable .indd or .indt file. However, one limitation for .indd or .indt files is that you cannot simply share them with most devices. You have to output the files again, which increases cumbersome work.
To edit a PDF on Windows, EaseUS PDF Editor is a good helper. Without complex steps, you can directly edit your PDF and then save it on PC. This PDF editor for Windows allows versatile features, such as highlighting a PDF, extracting images from PDF, reducing the size of files, etc.
Now, try it for free! In the trial version, you don't need to register an account. 
Main features of this functional PDF editing software:
Add a header or footer to PDF quickly
Change font size in PDF without losing quality
Create, crop, merge, rotate, and split PDF
Effectively black out selected text
Unlike most designing software that specializes in editing, this tool is also the best PDF converter that helps you get more types of files. You can convert PDF into various formats like Word, Excel, image, PowerPoint, or vice versa.
FAQs About PDF to InDesign Conversion
To solve some frequently asked issues, the following are related answers for your convenience.
1. How to convert PDF to InDesign online free?
Few PDF to InDesign online converters are supported in the market. There are only online ebook converters like ebook2pdf. While it may not support the INDD format. Therefore, you can follow the above guide to apply offline tools.
2. How to make an editable PDF in InDesign?
Firstly, use the plugins mentioned in this post to make the conversion, which gives you a new type of editable file. The file contains your original content. Or you can choose to import your PDF directly into Adobe InDesign. Go "File" > "Place", and select "Show Import Options". Choose PDF as the option. Then, you can use editing tools on InDesign to help edit. 
About the Author

Crystal Chen is very interested in technology products. Experiencing many technological applications like video editors, screen recorders, and PDF editors, She is willing to solve users' issues through writing tech-related articles. Through her words, you can find various solutions to solve one problem.