[Free] Convert DjVu to PDF Online/Offline | How-to Tutoiral
 Update:

Recently, Microsoft is making a change to its Microsoft Office branding. Microsoft Office is being renamed by Microsoft 365. After the official renaming, our article content will be updated accordingly.
DjVu is one of the most widely used graphic file formats, which is used by people to save scanned documents containing graphics, images, photographs, text, drawings, etc. The limitations are that DjVu does not offer versatile features of sharing, viewing, and storing as other formats as PDF does. That's why you convert DjVu to PDF. Here, this post demonstrates top DjVu to PDF converters online and offline for Windows and Mac.
How to Save DjVu as PDF Online
For making this conversion online, Zamzar is a beneficial solution. Without installation, it works perfectly and also supports hundreds of formats. All you need to do is uploading your file on its website and select the output file format. Besides, you can use this online converter on Windows or Mac.
After getting a PDF, you can easily edit it with functional PDF editors. Easily modify it like highlight PDF or other features.

How to save a DjVu file as a PDF with this online tool:
Step 1. Go to Zamzar for DjVu to PDF conversion. Click "Add Files". Another way is to drag or drop the file into the box.
Step 2. Choose "PDF" as the saved format. After that, select "Convert Now".
Step 3. Depending on the file size, it takes a while, and you will get the converted PDF. Then, you can save it.
How to Convert DjVu to PDF Offline
For frequent use, you need dedicated software for this conversion. You can use it without the Internet. For windows, novaPDF is an appropriate option. Choose Calibre converter if you are a Mac user. Both tools are simple and beneficial.
Save DjVu as a PDF on Windows
novaPDF is a powerful PDF helper. Not only DjVu, but it also saves other files as a PDF. It has an intuitive interface that works fine for beginners. Being user-friendly, it does not disappoint in a single feature for potential users as well.
Also, when getting a converted PDF, use Windows 10 best free PDF editor to enrich it.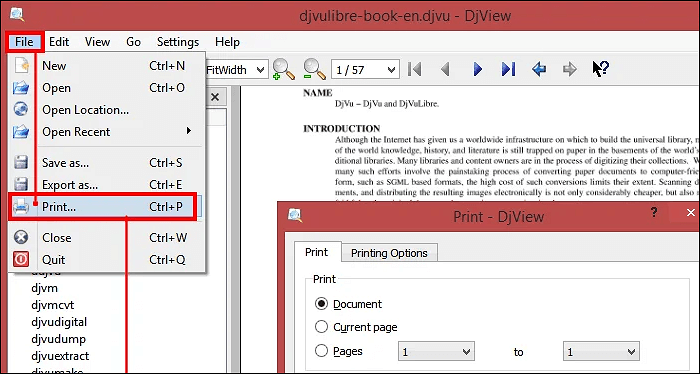 Here is a demonstration of how to convert DjVu to PDF with novaPDF:
Step 1. Download this tool. Click "File" and select "Open". Then choose the target DjVu you want to convert.
Step 2. After that, click "File" and select "Print". When a window appears, choose the Printer's section. Adjust printing options and settings as your requirements in the Properties section.
Step 3. Click "Print" and set the location where you want to save the converted PDF.
Make DjVu to PDF Conversion on Mac
Calibre is efficient software to manage eBooks and other documents, including DjVu file format. It lets you view and share files. When it comes to DjVu to PDF conversion, it allows both individual file and batches conversion. As this tool allows various conversions, you can also use it to deal with more formats such as AZW, etc. For example, convert AZW to PDF.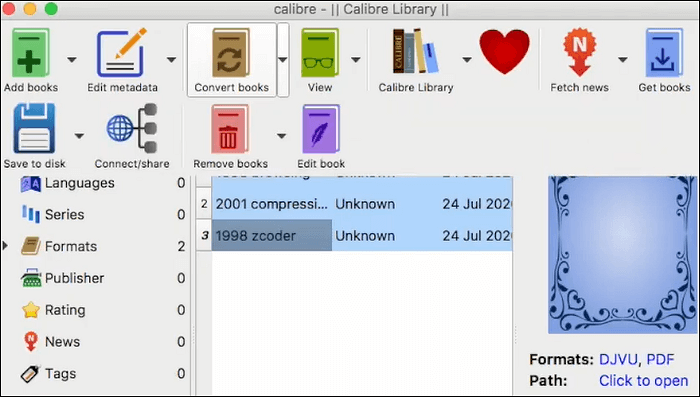 Here is a brief tutorial on how you can do it with Calibre on Mac:
Step 1. Download and install this tool on your Mac. Then, open the DjVu file in it.
Step 2. In the Output Format, choose "PDF". After that, click "OK". It starts the conversion. 
Step 3. The PDF file is saved in the Calibre Library. You can view and save it.
Bonus Tip: Convert Common File Formats to/from PDF on Windows
Despite its widespread use, DjVu can disappoint you sometimes, either in image quality or its dependability. That's why you switch to other file formats like PDF to avoid such restrictions.
Also, you can make conversions for PDF with common file formats like Microsoft Word, PowerPoint, Excel, and many other file formats. An efficient converter like EaseUS PDF Editor can best serve you in this regard.
Although this tool cannot deal with DjVu format, you can convert popular file formats to PDF or vice versa. Moreover, its multiple editing tools can enrich a PDF. Such as adding text, images, forms to PDFs. Below are its key functions.
Main features of this all-in-one PDF editor and converter:
Merge PDF to manage files in a more efficient way
Compress PDF without losing quality
Edit the text, images, and forms of a PDF
Add a watermark in PDF to increase the visual effect
There are many more features that you can explore yourself after downloading it!
Also, here is an example of converting Word to PDF using this tool:
Step 1. First of all, launch EaseUS PDF Editor. There are three options on the right side of the main interface, and you need to select the second option, "Create PDFs".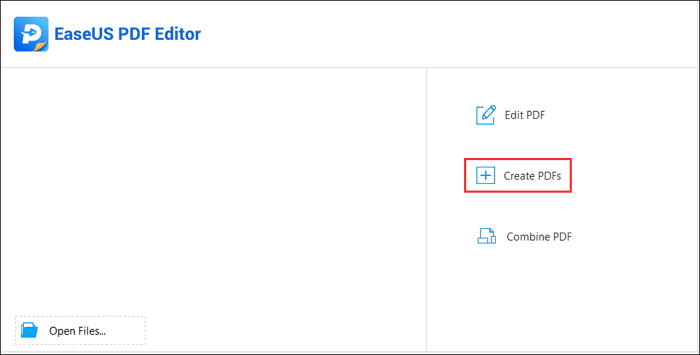 You can also click on the "Create" button at the top left and select "From File..." to import the Word document.

Step 2. Select the Word document you want to convert from the folder, and click on the "Open" button to move on to the next screen.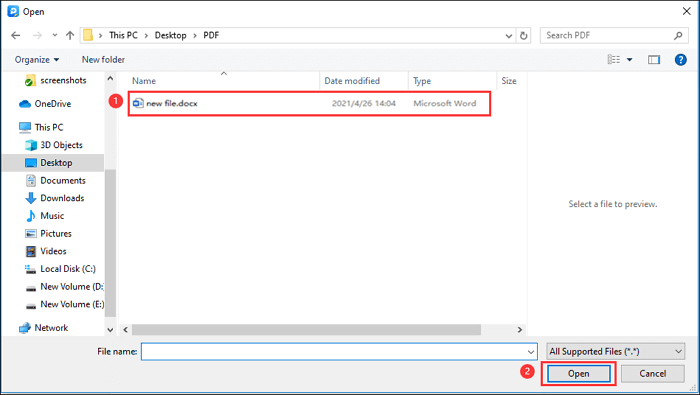 Step 3. Now, you only need to click on the "File" button and select "Save" or "Save As" from the drop-down menu.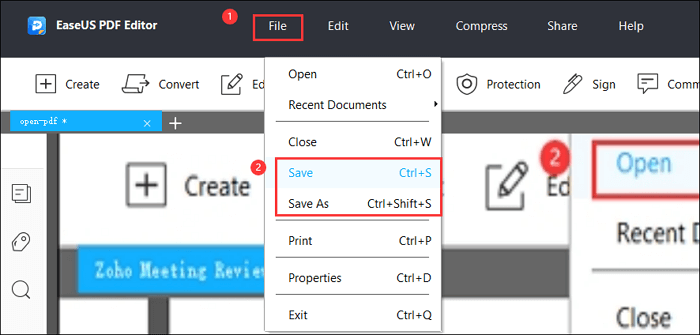 Step 4. Choose the target folder where you want to save the PDF file, and click on the "Save" button to convert the Word document to PDF format.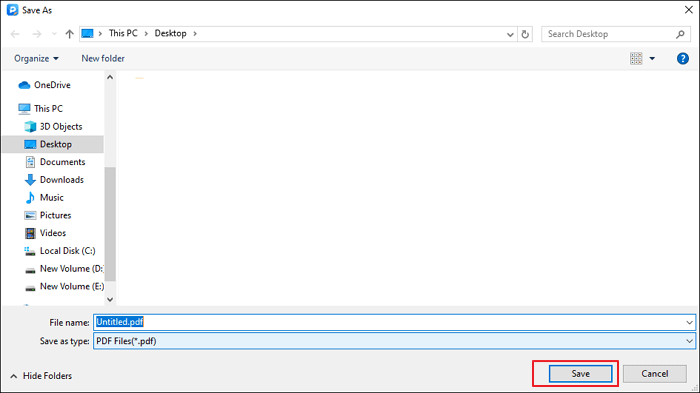 Conclusion
You can convert DjVu to PDF using dedicated software. Meanwhile, converting PDF to other popular file formats is simple when choosing a helpful tool like EaseUS PDF Editor. It is an excellent utility that allows editing and format conversion based on your needs. Just download it to apply all conversions and editing functions in a few simple clicks!
About the Author

Crystal Chen is very interested in technology products. Experiencing many technological applications like video editors, screen recorders, and PDF editors, She is willing to solve users' issues through writing tech-related articles. Through her words, you can find various solutions to solve one problem.