How to Share PDF Files Easily in 2022
PDF is a standardized document format for both personal and professional usage. It helps you to retain file quality even after sharing many times. Moreover, they are really portable and secure. PDF sharing got so popular that many programs are specifically designed for their management.
It is no doubt that you can find many software/tools to perform the PDF sharing task; however, not all of them are good to go. Wondering how you will choose the tools/applications that are high-performing and credible enough to be used? If yes, here is the guidance.
This article will make you learn about some ideal ways to share PDFs. Also, there is PDF editing software in order to edit them before finalizing and sharing.
How to Share PDF Files with Adobe Acrobat
Adobe Acrobat is a remarkable application in the PDF managers' market. You can do every PDF-related task that hits your mind. Everything is possible, from creating PDFs to protecting and reading documents to PDF sharing with others via email. Even you can checkmark the option of allowing comments to get the feedback/review from your friends or colleagues.
Moreover, you can insert internal links and create PDF forms by using this application. Even it lets you add signs and watermarks or even password encryption before sharing to protect sensitive information in PDFs. Despite everything, you can check and fix accessibility issues accordingly if you have to share the document with disabled persons.
Let's go towards the steps for PDF sharing through Adobe Acrobat:
Step 1. After downloading and launching the application on your system, open the PDF, you need to share.
Step 2. Now, click on "Tools" from the above menu and select the "Share" tool to proceed further. It will open a pop-up menu with the title "Share with Others."
Step 3. Lastly, enter the email address you want to send and hit the "Send" button. That's all!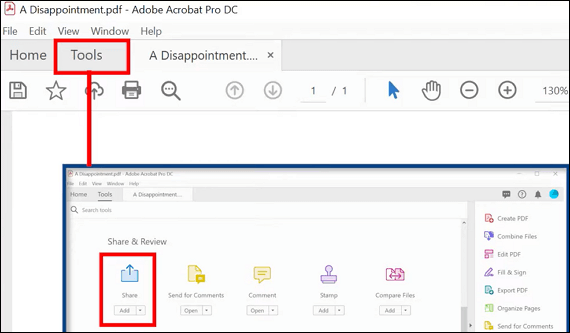 How to Share PDF Files with Google Drive
Google Drive is a popular name for storing data in the form of documents, videos, images, or whatsoever. Also, it is good to go for PDF sharing more easily and proves to be excellent where you can upload the documents and then download them as PDF files. Also, it assists you in publishing PDFs online and then sharing them with as many audiences as you want. Even you can control the audience's access to your PDFs easily.
Moreover, you can also embed the PDF on your website. And editing the original document leads to changes in the published one. Also, converting your various file types to PDF before sharing is all in your control.
Here is a step-by-step tutorial for how to do PDF sharing by using Google Drive:
Step 1. Open the Google Drive program if it's already installed on your system, or you can also open it using any browser like Google Chrome. Here, you need to upload or select the already uploaded PDF for sharing purposes.
Step 2. Now, click "Share" and enter the email addresses of the people you want your PDF to share with.
Step 3. Finally, you have to select the permission level from View, Edit, and Comment. Press the "Send" tab, and you are all done!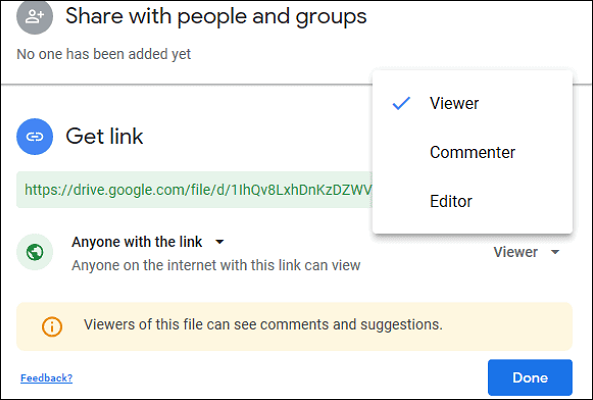 How to Share PDF Files with Email
Just like PDF is the universal document format, emails are the standard for PDF sharing, either professional or personal. The email could be sent using Gmail, Outlook, Hotmail, and similar options. Since Gmail comes under the free email service offered by Google, people mostly go for it. It assists you in sharing PDFs, but the sending file size limit is a maximum of 25MB.
Furthermore, if you don't prefer attachments, you can send a PDF using its link, either a Google Drive link or alike. Also, it allows you to turn on the Toggle Confidential mode, where you can set an expiry date of the PDF and the option to set a passcode or not. The purpose is to make the document safe if it is something confidential.
Let us know how to share PDF files with Gmail (Email):
Step 1. Open your Gmail account on the browser and click "Compose" present on the left-hand side. It will open a pop-up window.
Step 2. Now, press the "Attach Files" icon to open the documents folder to choose the PDF, and click "Open."
Step 3. In the last step, you need to add the recipients, the subject, and the message. Now, hit the "Send" button, and that's all!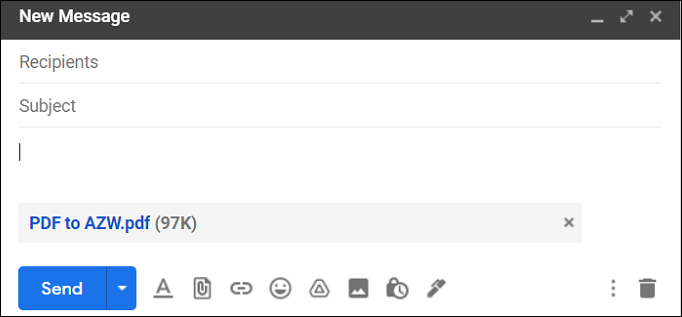 Bonus Tip. How to Edit PDF Before Sharing
It's understandable that you often need to alter the PDFs according to your demands. So, there is a requirement for an efficient PDF editor to use before PDF sharing to make changes accordingly. Here is the best one recommended; let's look at the details!
EaseUS PDF Editor
Considering the top-class features and stability of the software, EaseUS PDF Editor paves the way for some proficient and popular PDF editors. Not only does it help you in converting the PDFs into JPG, PNG, Word, etc., but it also edits on three different levels. These include Content Editing, Pages, and Protection. Adding or removing any piece of content in PDF files is easier than ever.
Using EaseUS PDF Editor, you can easily print out and share PDFs via Email. It is also possible to split documents or combine PDFs into one. Even you can protect your PDF file before sharing it if it contains any sensitive information. Last but not least, the signing and certifying feature is also available.
Features:
Add/remove images, text, and pages to PDFs
Compress PDFs after document optimization
Support OCR function in many languages
Add annotations and drawing markups
Change the PDFs background
Now, you may download EaseUS PDF Editor and follow the steps below to start.
Step 1. Launch this software, and click "File" > "Open" to import your target PDF files. Or you can hit the "Ctrl + O" on the keyboard to upload your PDF document.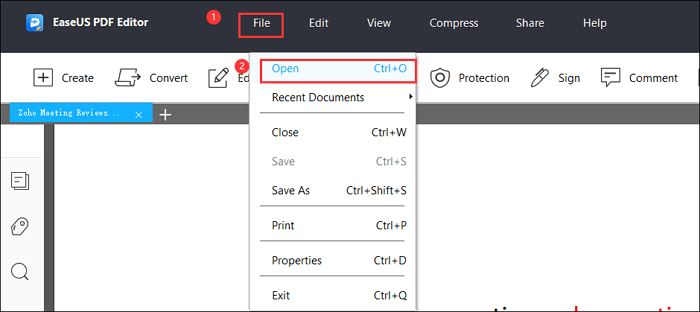 Step 2. You can make some adjustments to the PDF file in EaseUS PDF Editor, such as edit text, manage pages, add passwords, add comments, and so on.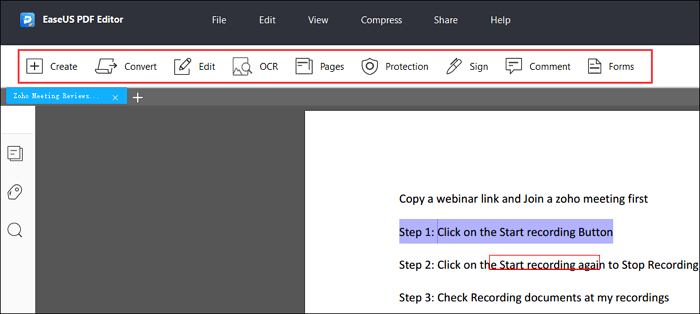 Step 3. After you finish your editing, click "Share" in the top menu bar, and next select the "E-mail PDF".

Step 4. Then the file will automatically be attached as a new PDF file to your default MAPI e-mail client. Here you can enter the subject and some other information.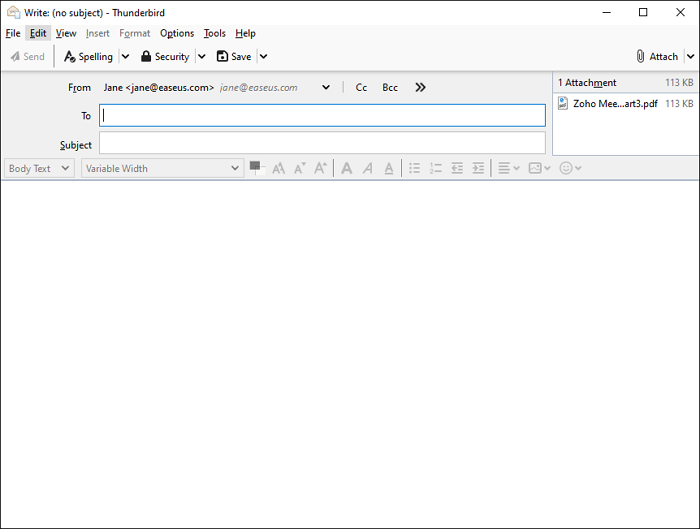 Conclusion
Many situations demand you to share PDFs safely in your personal and professional life. Considering no one wants to go through the challenges of finding the process of PDF sharing with easy-to-use applications, the article proves to be of much help. You can choose any of the three ways to complete the required task without hassle. Moreover, when you need an editor to make alterations before PDFs sharing, EaseUS PDF Editor proves to be the top choice because of its extensive variety of features, from basic to advanced.
About the Author
Melissa is a sophisticated editor for EaseUS in tech blog writing. She is proficient in writing articles related to screen recording, video editing, and PDF file converting.