Free Download | How to Edit PDF Vehicle Bill of Sale
When you want to sell a car or a truck to someone else, it's necessary to fill out a vehicle bill of sale to detail the terms of the sale and testify the transfer of property ownership. This legal document can protect both your and the buyer's benefit if there is any conflict of interest.
You can easily find and download a template from the internet, but it is usually in PDF format. Filling out a PDF form is not a simple task unless you get a powerful PDF editor. This post will guide you through editing a PDF bill of sale for vehicles with different devices.
What Should Be Included in Vehicle Bill of Sale
In some states, the bill of sale vehicle will become a legal document after been notarized. That is why you need to pay a lot of attention to the content in this bill of sale. The more detailed information it contains, the more secured your property will be. Check if those elements are included in your statement of sale for the vehicle.
Vehicle Details: Make sure those details in the bill of sale can describe your car exactly. For instance, the brand, model, color, service time, and other information should be mentioned. Current mileage and license plate number are also needed.
Vehicle Identification Number: This is a code that exclusively belongs to one car, and those 17 characters can identify your vehicle precisely, just like the function of fingerprints.
Terms of the Deal: Remember to specify the selling price of the car and some related requirements. For example, the buyer should pay a lump sum or pay in monthly installments.
Personal Details: You and the buyer are supposed to record your full name, address, and contact details in this document. Then, the signatures of you two parties should be attached.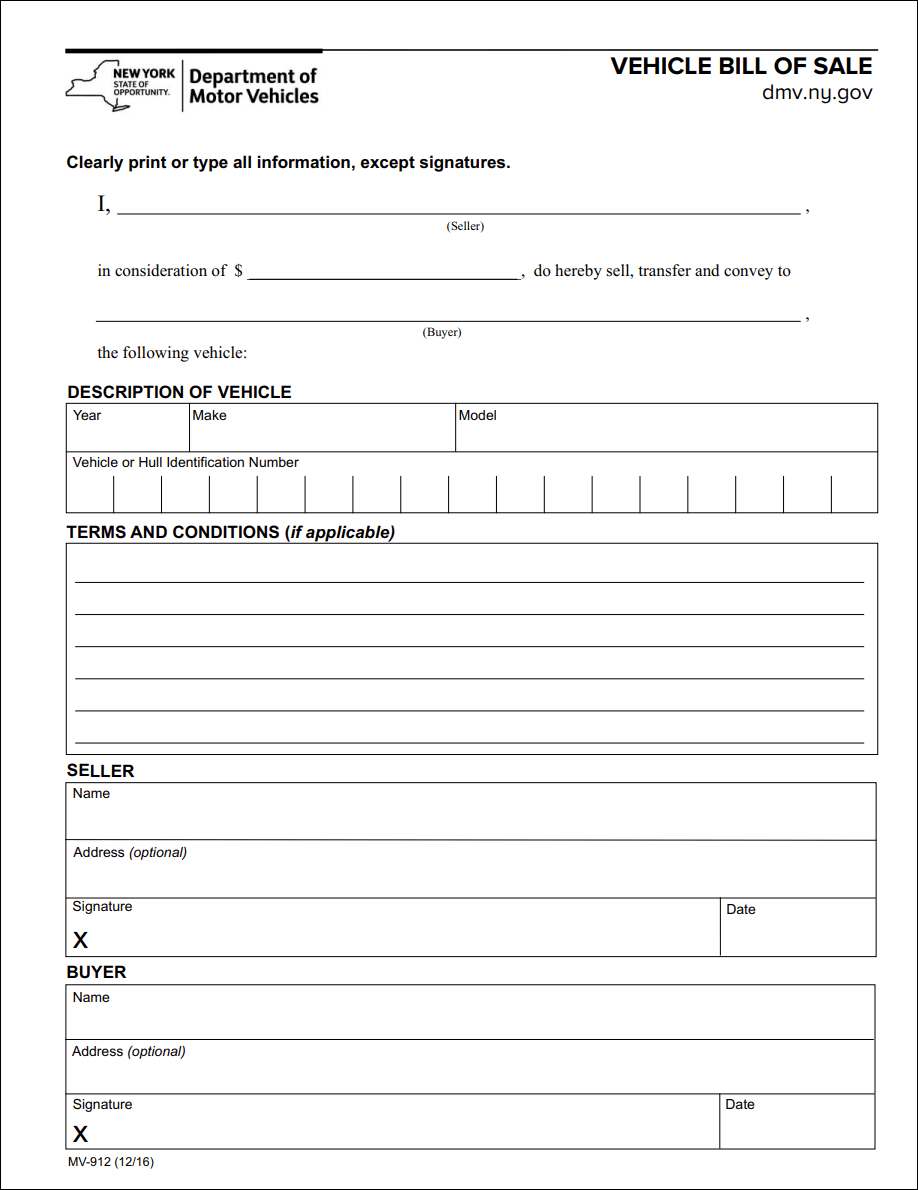 Copyright: dmv.ny.gov
How to Edit Vehicle Bill of Sale on Windows
Sometimes you only get a vehicle bill of sale template in PDF format or even in image formats like JPG and PNG, and files in those formats are usually unfillable. This part will focus on offering you a detailed tutorial on editing a PDF bill of sale on your PC.
First of all, you need to download editing software which helps you write effortlessly on PDF. EaseUS PDF Editor is a lightweight but versatile PDF editor for Windows. You don't need to worry that it will slow down the speed of your Windows laptop or desktop computer, and you can write anything on a non-editable PDF with no lag. 
If you find the items on the template are not sufficient, you can freely add whatever you want to it, including text and images. It's convenient to insert a picture of your handwriting signature into the bill of sale. This PDF editor also offers you an e-signature tool, and you are able to create a new e-signature that contains your personal information and insert it into the PDF with only a few steps. Likewise, you can also remove signature from PDF. Besides that, adding a password to the PDF is also useful for you to protect your privacy.
Key Features:
Add text, images, and forms to PDF
Support signing PDF with an e-signature
Annotate PDF with various elements
With the help of this great PDF editor, you can easily make a bill of sale for a vehicle by yourself. Click on the button below to download this software for free.
Steps to Fill Out a Bill of Sale Vehicle:
Step 1. Download EaseUS PDF Editor and launch it, then import your PDF file by clicking "Open Files…"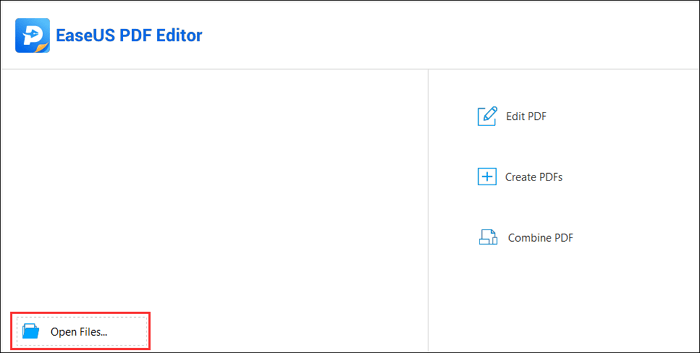 Step 2. When the PDF is imported, click "Edit" > "Add Text".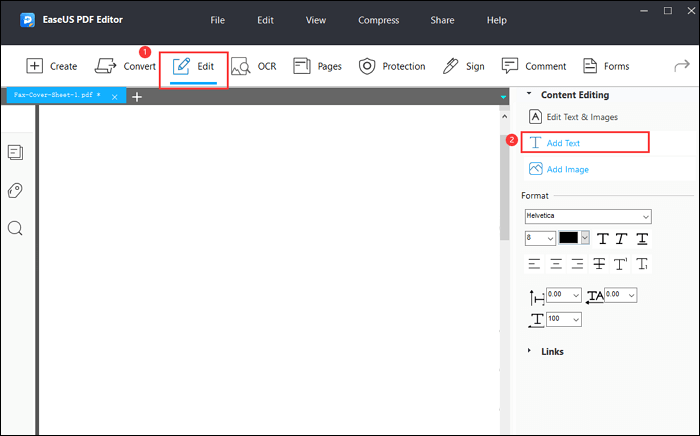 Step 3. Use your mouse to choose the area where you'd like to insert the text into. You can customize the text fonts, color, and more on the right sidebar.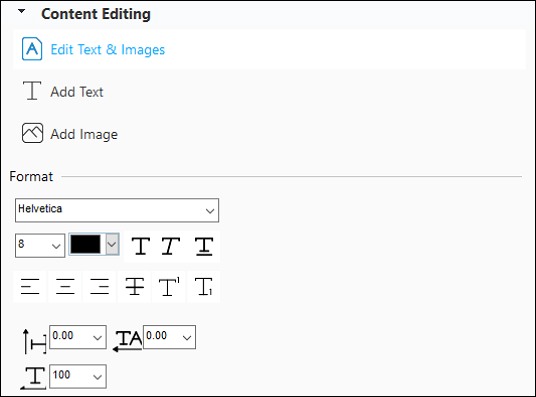 Step 4. When you finish the editing, click "File" > "Save" to save the PDF file on your computer.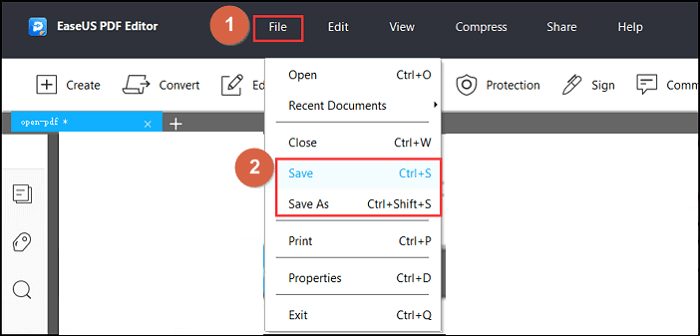 Convert JPG to PDF
When you get a template in image formats, such as JPG, it's advisable to convert it to PDF and then edit it using the method above.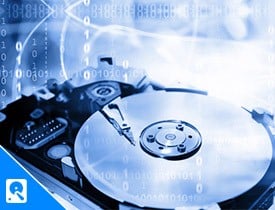 How to Edit Bill of Sale PDF Template Online
Filling out a non-editable PDF bill of sale with an online tool is a straightforward method, especially for those who don't want to download desktop software. But online tools have some inevitable disadvantages, such as the lack of advanced features. Despite that, it's helpful to edit a bill of sale for a vehicle in PDF format.
Sejda PDF Editor is a reliable online tool that provides you with more optional functions than many other alternatives. You only need to upload the PDF to its server, and then it will lead you to the editing interface, where you can find many kinds of tools on the toolbar. It has a unique feature: you can create your own stamp and add it to the PDF using the "Image" tool.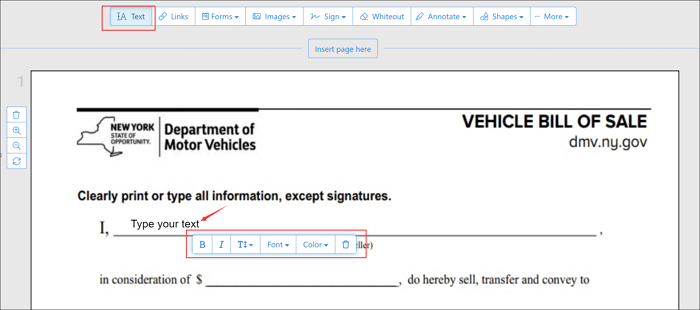 Features:
White out PDF to remove unnecessary words
Draw on the PDF using annotation tools
Add different shapes to PDF
Search specific terms in PDF and replace them
Steps to Add Text to PDF Online:
Step 1. Go to the home page of Sejda PDF Editor.
Step 2. Click on the "Upload PDF file" button and select your template to upload it to the server.
Step 3. Select the "Text" option in the toolbar, then click on where you want to add text on the PDF. 
Step 4. Click on "Apply changes" at the bottom of the page. When the "Download" button appears, click on it to save the edited PDF to your PC.
Conclusion
A vehicle bill of sale is an important document in buying and selling a car, and it can ensure property security as it's a legal file. How to edit the PDF template you download from the internet? A powerful PDF editing program, like EaseUS PDF Editor, can help you do that effortlessly and even encrypt the file with a password. Although the online tools are also workable, desktop software can offer you more advanced functions. Download it and have a try. 
About the Author
Melissa is a sophisticated editor for EaseUS in tech blog writing. She is proficient in writing articles related to screen recording, video editing, and PDF file converting.