How to Edit PDF on iPad/iPhone/Android
The tech industry has advanced to help us deal with PDFs on mobile devices. Hence, files can now be viewed with mobile apps on iOS and Android. With the help of these applications, you can easily modify files. In this article, we mention several applications which can help you modify the file, including highlighting text, filling out forms, inserting new images, etc. Here, a list of simple steps is given to you on how to edit PDF on iPad, iPhone, and Android. 
How to Edit PDF on iPad/iPhone
PDF Viewer Annotation Expert is a functional application that features a simple interface with useful annotation options. This app can be used on iOS devices like iPad and iPhone. When you select the Annotation mode, you can modify font, images, spaces, etc. You can even use it to highlight and add text to PDF.
Additionally, this application makes your PDF fillable as it allows easily filling out forms by inserting text into the fields. Also, if you have a need for signing, this application can help you add an e-signature to any form. After that, you can even flatten the document to make sure the text and images won't be distorted when sharing.
Thanks to the powerful interconnection for the iOS operating system, you can store your files on iCloud, which saves your mobile storage a lot. Another best part is that you can fully use the Apple Pencil to help make changes in PDFs with ease.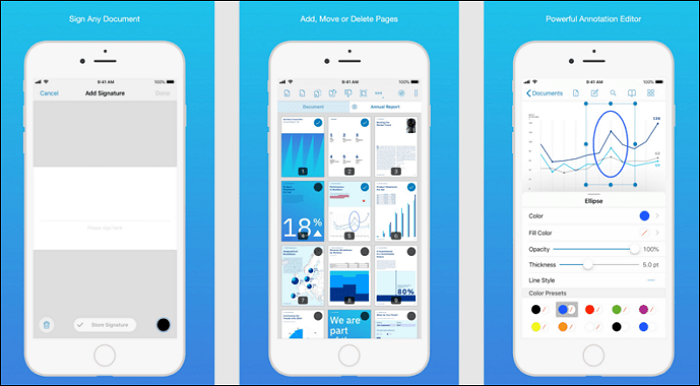 (Credit from: https://apps.apple.com)
Followed is a list of steps on how to edit PDF on iPad/iPhone:
Step 1. Go to the "Files" and select your targeted document. Then, send the file to this app.
Step 2. After the file is opened, you should select the editing tool from the top toolbar. Then, you can start the task.
Step 3. Once you are satisfied with the modified document, just save it.
Once you get the edited PDF, you can use the View tool to help you read a PDF.
How to Modify PDF on Android
Do you want to edit a PDF on Android? Foxit PDF Reader is an easy-to-use tool that provides with you various features on Android devices. After registering for a free account, you can go into Edit mode where you are allowed to operate the most common functions like modifying objects like text, forms, and graphics in files. Also, you can add page numbers to PDF.
This functional application also supports you in viewing and managing files effectively. Searching for text in your document won't be a difficult task if using it correctly. Meanwhile, you can sign a document with your digital certification. 
For the sharing purpose, it provides a method to access files in common cloud services such as Google Drive, One Drive, etc. To get this Android app quickly, just download it on the Google Play Store.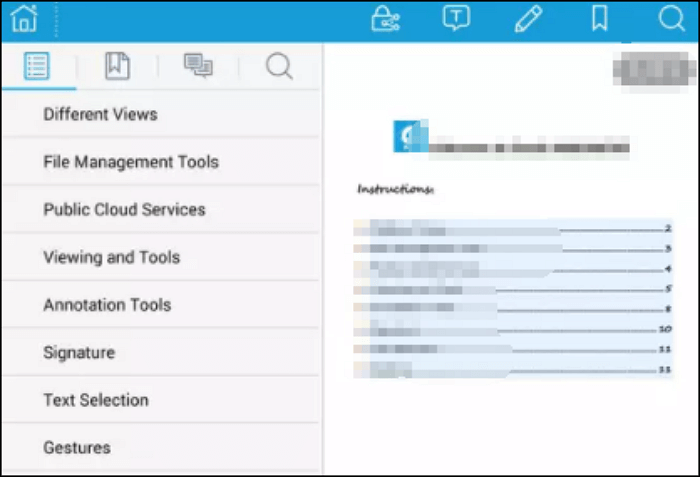 Here is a guide on editing PDF on Android using this application:
Step 1. Find the file that you want to modify. Then, send it to this app.
Step 2. Then, you will see an "Edit" option. You can carry out the functions according to your needs.
Step 3. After the document is modified, save it on your PC.
Besides, using the file management tool can help manage your files.
Bonus Tips: How to Edit PDF on Windows
The above applications give you simple ways on how to edit PDF on iPad, iPhone, and Android. Despite the convenience and speed of modifying your files with a mobile device, you can't compare the functionality provided by a desktop tool. As the desktop program has more advanced features and can be operated without the Internet.
Also, when modifying a PDF in workplaces, it rarely allows you to work with a mobile device. Thus, you should have a desktop tool. An excellent tool recommended to you is the EaseUS PDF Editor. This fantastic PDF editing software lets you make changes in text and graphics. You can even change the size and color of fonts when using this tool.
More Features:
Crop, split, flatten and rotate a PDF
Change the color of the background
Resize images in the file
Replace the selected page and insert a blank page
Apart from modifying functions, this amazing tool helps you convert PDFs to common file formats like Word, Excel, and image formats. If you are serious about keeping good quality after the conversion, you should try this tool!
About the Author

Crystal Chen is very interested in technology products. Experiencing many technological applications like video editors, screen recorders, and PDF editors, She is willing to solve users' issues through writing tech-related articles. Through her words, you can find various solutions to solve one problem.