[2022] Best 3 Solutions to Convert PDF to URL Online Free
The web page is mainly marked with HTML, which provides a way to describe the structure of text-based information in the document. It is used by web browsers by expressing certain text as headings, paragraphs, links, and other HTML source codes. Many users may want to convert their common documents like PDF to URL links, in order to share or express the computer language in business. When you are in rush time, it's wise to convert PDF to URL online free.

Here, three web-based PDF conversion services are introduced, with their core functionalities and detailed steps. 
Bonus Tips>> How to Convert PDF to HTML on Windows 10[New]
How to Convert PDF to URL Link Online Free - Three Options
The online converter is known for its fast conversion and no installation requirement. Below are three online services which allow converting your PDF files to HTML format. Choose one of them as you like. 
Option 1. Turn a PDF into URL Link with Soda PDF
Believe that you are familiar with this online service, Soda PDF, as it's featured with all basic PDF editing and converting abilities. Turing a PDF file into an HTML file is a free and easy task when using it. Also, this online service provides benefits for you by saving the file to Google Drive or sending a URL that would be valid within one day.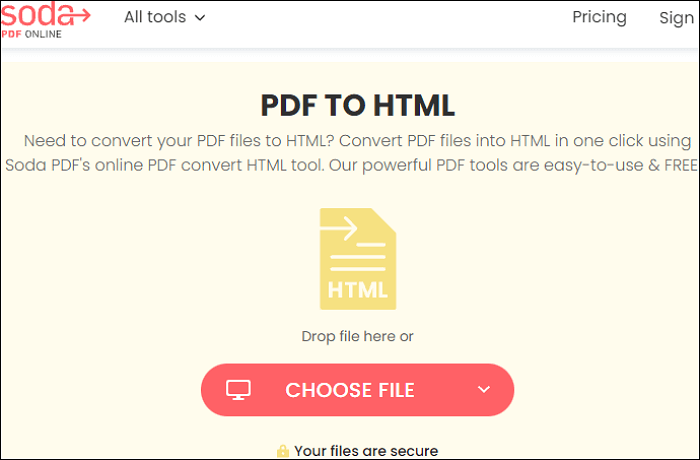 Guide on converting PDF to HTML online for free:
Step 1. Drag the PDF file into this website or click "CHOOSE File" to import the target file. You can import the PDF from Device, Google Drive, and Dropbox. 
Step 2. Once imported, the file will be converted into an HTML file. The web page will show your imported file. 
Step 3. Then, view the file in the HTML format after downloading it to your computer. 
Option 2. Convert PDF to URL Link Online Free via Zamzar
To find an effective online file conversion, choose Zamzar as it provides various documental conversions like PDF to Word, Excel, etc. Of course, the flawless conversion can turn the PDF file into URL links without effort. The chosen web format can be HTML and XML. Also, the maximum file you can import to this online service is 50MB. 
Only in three steps can you get an HTML file from the PDF document. It's available on Windows and Mac.
Here is a list of steps on turning a PDF file into an HTML file online:
Step 1. Open Zamzar with your browser and then hit "Add Files..." to import the PDF file you want to convert to URL links. 
Step 2. Select the output format in HTML in the second step. And then, tap the "Convert Now" option. Wait for a while and save the new file by choosing "Download". 
Step 3. The converted file will be stored for 24 hours and you don't need to worry about the security issue. 
Option 3. Turn a PDF to HTML Online for Free via CloudConvert
Being a PDF to HTML online converter, CloudConvert impresses you with its advanced editing options before conversion. You can choose the page range to be converted and also the embedded content. When importing the PDF, you can choose it from the computer, URL, Google Drive, Dropbox, OneDrive, etc. 
Apart from turning your PDF into URL links, CloudConvert lets you get ebooks and images from PDF as well.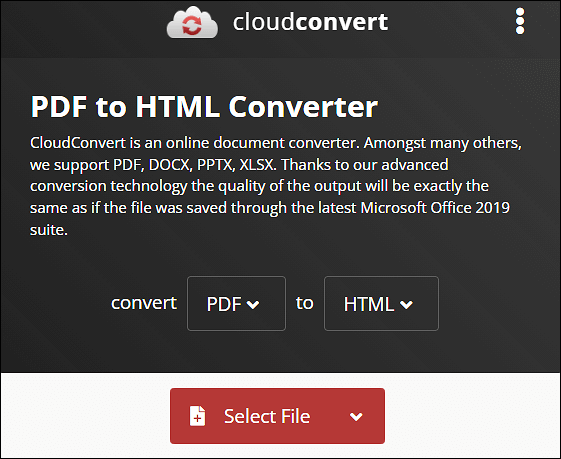 How to convert the PDF to URL links with CloudConvert online:
Step 1. Open this online service with your browser on Windows/Mac. Click "Add more Files" to import your PDF. 
Step 2. On this PDF to HTML web page, select "Convert" directly. Wait for a while. 
Step 3. Choose "Download" to save the HTML file on your computer. 
Bonus Tips: How to Convert PDF to HTML on Windows 10
For frequent usage, try the EaseUS PDF Editor to turn PDF into HTML files. HTML is one of its conversions from PDF, and you can also get Word, Excel, and PowerPoint files. Without losing your quality, you can use this converter offline, and it's useful when there is no Internet connection! It's a recommended software for you to choose a PDF to HTML converter. 
Moreover, this desktop software can help edit the PDF file by modifying the text, images, forms, etc. 
Main Features:
Remove watermark from a PDF
Crop, merge and delete/add text to PDF
Make PDF searchable, editable, and fillable
Without registration, you can convert (PDF to HTML) and edit a PDF file on Windows 10/8/7!
Step 1. Open EaseUS PDF Editor, then click on "Open Files…" to select and import your PDF document, which you want convert to .html.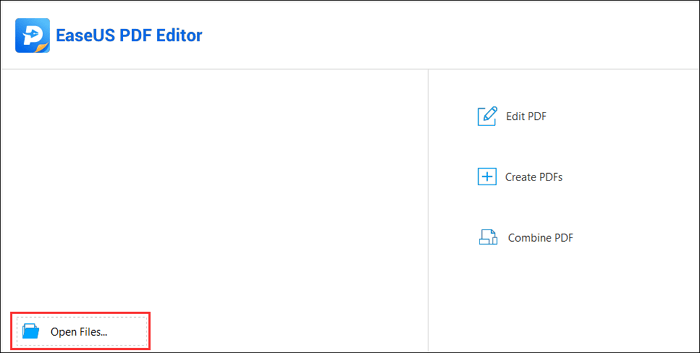 Step 2. When your PDF document is imported, you can click "Convert" > "To HTML" to begin your conversion.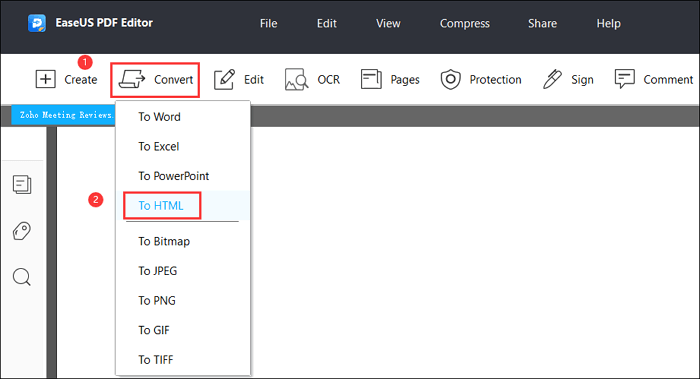 Step 3. Once done, you can view your .html file on your computer.
FAQs about Convert PDF to URL Online
Here are some frequently asked queations related to converting PDF to URL. Have a look at them to find an answer.
1. How do I convert a PDF to a URL for free?
You may use Adobe Acrobat to do so, just follow the tutorial below.
Step 1. Open the file you want to convert in Adobe Acrobat and select the "Create & Edit" button on the right-side toolbar.
Step 2. Click "Export PDF" at the top of the window and choose "HTML Web Page" and select your options.
Step 3. Click "Export" and choose the folder where you want to save your new page.
2. Can you convert a PDF to HTML?
To do this, you need to find a PDF converter that supports converting PDF to HTML. After that, just import the PDF you need to convert into this tool, and choose HTML as the output format. Then, the program will do the conversion for you.
Conclusion
Hope that this article can be of help to you. Turning PDF files into HTML can be effectively achieved when choosing beneficial online converters like Soda PDF. To avoid the hassle of installing desktop software, an online service is a wise choice. However, when you want to make this conversion without the Internet, Windows converting software like EaseUS PDF Editor could be your first choice! Start converting PDF to HTML files on Windows PC. 
About the Author

Crystal Chen is very interested in technology products. Experiencing many technological applications like video editors, screen recorders, and PDF editors, She is willing to solve users' issues through writing tech-related articles. Through her words, you can find various solutions to solve one problem.