Quick Ways to Convert a ZIP File to PDF Online/Offline
Since larger files are hard to share with others, people use zip folders because of their smaller size. However, the ZIP format is unsafe because it may corrupt your data. Also, such files might get blocked from certain servers over security issues.
Conversely, the PDF document acts as an envelope, keeping all connected files safe. Moreover, it does not compress a file and is more presentable, making it the best alternative for transferring files. But what if you already have several zip files? Indeed, you will need a converting tool in this regard.
This article will make you aware of how to convert a ZIP file to PDF online using different tools and offline using EaseUS PDF Editor.
How to Convert ZIP files to PDF Online
Let us check the top 3 online tools for converting ZIP files to PDF format easily. 
#1. PDFen Converter
PDFen Converter is an all-in-one online PDF conversion tool that comes with a great variety of features. It not only allows you to convert ZIP files to PDF, but it also lets you convert other file types like images, emails, and others to PDF easily.
While converting ZIP to PDF, this tool extracts data from ZIP files and places it in PDF format retaining the content quality. It can also extract data from image-based or scanned PDF files into an editable format like Word and Excel with the built-in OCR tool, which supports around 46 languages.
Here is how to convert a ZIP file to PDF using PDFen online:
Step 1. Open PDFen ZIP to PDF Converter on your browser. Click "Upload" and open the ZIP file you want to convert.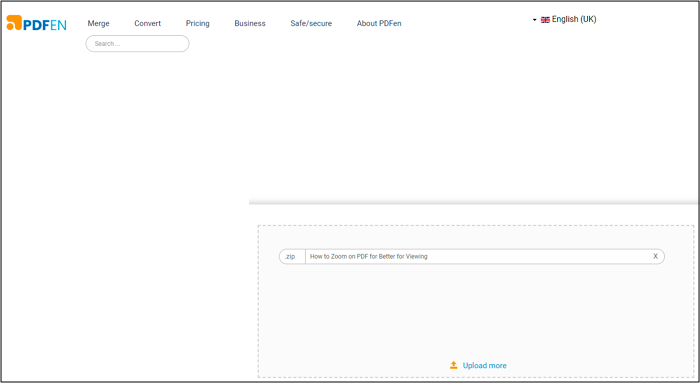 Step 2. Click "Convert." Now, wait for a few seconds to complete the process.
Step 3. Lastly, you will get a link. Press the "Download" button to get your converted PDF file. 
#2. Ezyzip Converter
Ezyzip Converter is a fantastic PDF compression tool that assists you in carrying out your tasks online. It allows you to zip and unzip files with an easy-to-use web program where you don't have any restrictions on the size of files that can be converted. Yes, you can produce huge, compressed files.
Unlike most other applications that can convert PDF to and from other formats, it can only restore ZIP folders containing PDFs while maintaining text quality. Besides working much faster than other online converters, it ensures your privacy because no file data is sent outside your browser.
The following are the steps for using EzyZip when you don't know how to convert the ZIP file into a PDF:
Step 1. Firstly, you need to open the website of EzyZip website via URL.

Step 2. Now, drag & drop the ZIP file into it that you need to convert. If your ZIP file requires a password, type it in at the prompt and then press "Set Password." 
Step 3. Press the green "Save" button to download an individual PDF file to your local drive in the final step. Also, you can open the PDF on your browser by pressing the blue "Preview" button.
#3. Aspose
Aspose is the best online PDF converter for quickly merging, editing, converting, signing, compressing, and securing documents. The tool ensures ease of use throughout to aid you in reliably converting ZIP files to and from PDF files. If you have several files to convert, using the batch conversion option will save you time.
The built-in OCR ensures that the extracted text is 100 percent accurate while keeping the original formatting. This is the best online PDF converter, with a simple interface with high-quality output and lightning-fast conversions. However, you can upload a maximum of 10 files.
Let's know how to convert Zip to PDF files through Aspose:
Step 1. Open the Aspose website by using the provided URL. Upload the ZIP file(s) by clicking inside the file drop area or dragging and dropping ZIP files.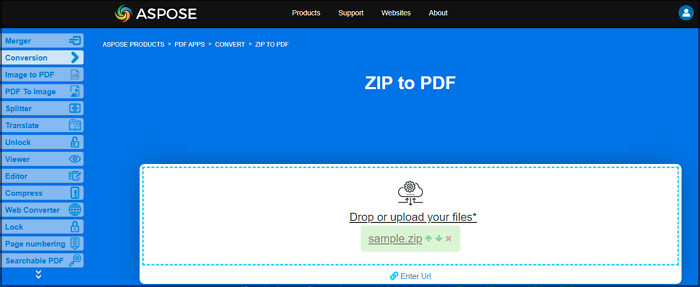 Step 2. Click "Convert" from the lower menu. Your ZIP files will start uploading and converting to PDF format.
Step 3. After completion, hit the "Download" button to save the file. You are all done!
How to Convert a ZIP File into PDF Offline
Online tools are suitable converters until your internet connection is too slow to get tons of files converted or you don't have access to the internet. Moreover, you may want to use different features besides just conversion. In any case, installing software on your PC is a good idea since it allows you to work offline. EaseUS PDF Editor is one good option as offline software for Windows users. Let us find out how it can help you convert a ZIP file to a PDF.
This program is a high-quality PDF editor that makes it simple to read, create, view, convert, edit, protect, and sign files. Having this software, converting ZIP to PDF is a walk in the park. Moreover, you can also convert PDF to Word, PPT, Excel, and other formats and vice versa. 
The editor ensures that PDF conversions keep the original formatting to the maximum extent possible. Thus, it eliminates the need to repair any layout errors. 
Here are the steps of how to convert Zip files to PDF with EaseUS PDF Editor:
Stage 1. Unzip the File
First, you need to unzip the file. Here, right-click the Zipped file and click "Extract All."
Stage 2. Convert the Zip File to PDF using EaseUS PDF Editor
Step 1. Launch the EaseUS PDF editing software, click "Create" > "From File" to open the file that you want to convert.

Step 2. Then, go to the File Menu and choose Save As.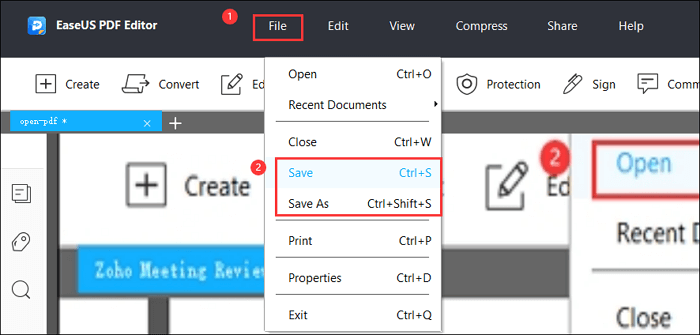 Step 3. Al last, choose the target folder where you want to save the PDF file and click on the "Save" button to convert the Word document to PDF format.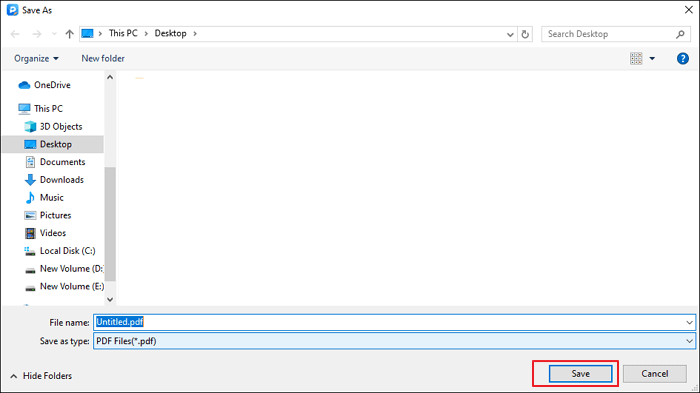 The Bottom Line
The best PDF converter is supposed to elevate your PDF conversion experience to new heights of efficiency. Each of the tools mentioned above has the potential to provide you with outstanding results.
However, the best one you can choose for your Windows device is EaseUS PDF Editor. This software will lace your shoes best and enables you to make the most of converting and editing features. Also, you will get the output faster than ever.
About the Author

Jane is an experienced editor for EaseUS focused on tech blog writing. Familiar with all kinds of video/PDF editing and screen recording software on the market, she specializes in composing posts about recording and editing videos. All the topics she chooses are aimed at providing more instructive information to users.