How to Embed PDF in An Email Message
 Update:

Recently, Microsoft is making a change to its Microsoft Office branding. Microsoft Office is being renamed by Microsoft 365. After the official renaming, our article content will be updated accordingly.
Portable Document Format is mainly used for sharing official documents daily. However, sending PDFs via email is more complex than you think. They are often shared as attachments, but the professionals prefer using the way to embed PDFs in emails.
It is because the embedded PDFs grab more attention than the attachments. It proves beneficial for contracts and official reports. Another reason is that you want the recipients to open the PDF staying in the mail. Otherwise, they may ignore the attachment because of downloading. Embedding increases the chances to read your document.
In this scenario, you must know how to embed PDF in an email. Here, you will find out the three best ways as a solution, including a PDF editor!
Part 1. How to Embed PDF in Email as An Image
If your purpose is to make the user read the document at the moment, then you can also embed email as an image in PDF instead of direct email embedding.
No matter which PDF-related function you need to perform, EaseUS PDF Editor helps you do it efficiently. This PDF editing software supports many popular formats such as TIFF, Bitmap, HTML, and others for conversion. That's why it is not challenging to convert PDF to image formats, i.e., JPG and PNG. You can also make changes to your file before conversion.
The editing options include inserting or erasing text/images, adding signatures, watermarks, protection, using forms, and many more to bring desired results to your PDF files. Also, you can add, remove, or split document pages in a few clicks. Moreover, the option to email PDF under the Share key is available. However, it would be easier to embed PDF in Gmail after converting the file to an image.
Stage 1. Convert PDF to Image
Step 1. Launch EaseUS PDF Editor, then click "File" > "Open" to choose the PDF document. Or you can directly click "Open Files…" to import the PDF that you want to convert.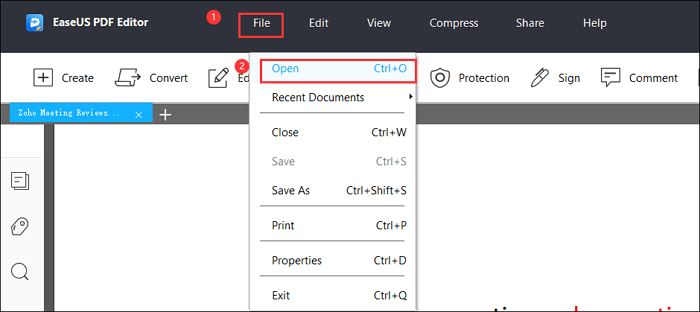 Step 2. Once the PDF file is imported successfully, click the "Convert" button at the top of the interface and choose what you want to save.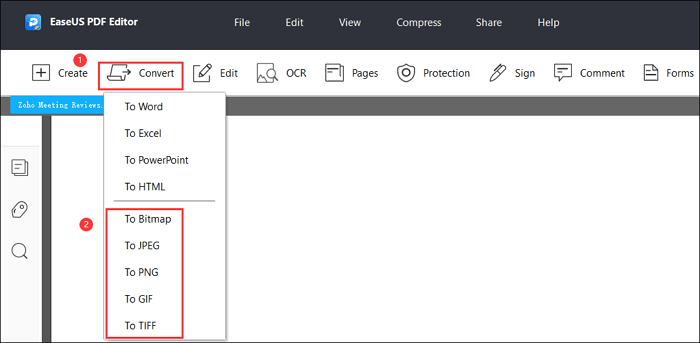 Step 3. After that, select the pages you want to convert flexibly according to your needs.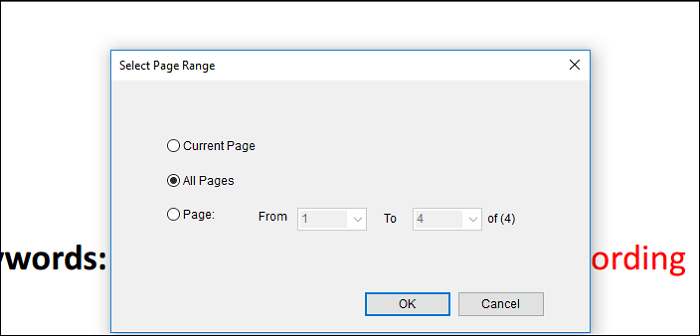 When the converting process finishes, you can customize the file name and file path to save it.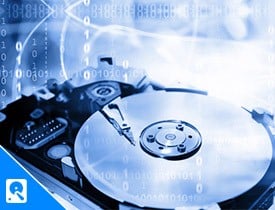 Stage 2. Embed a PDF Image in Email
Step 1. First of all, open your email account, Google Mail (Gmail). Click on "Compose" Next, you need to write the recipient address and the subject in the specific place of "To" and "Subject."
Step 2. Now, type the message you need to send and take the cursor to the small mountain-shaped icon. By doing this, it will display "Insert Photo."

Step 3. Lastly, click "Upload" and "Choose Photos to Upload." Choose the "Inline" option if not selected already and hit the "Send" button after image embedding. You are done!
You may want to know: How to save Outlook email as PDF
Part 2. How to Embed PDF in Outlook Email
Outlook is a personal information managing platform, a part of the Microsoft Office Suite. Besides all other functions like scheduling meetings, appointments, tasks, and many more, it also offers the mailing feature at your ease. You can add as many elements to your email as you want by selecting from its ribbon bar. Primarily, professionals use it, but it also doesn't remain behind in the race from personal tasks.
Moreover, it allows you to create an address book, filter emails, and manage sending/receiving groups. Even you can create your own rules and alerts as per your requirements. Last but not least, setting up Skype meetings is at your fingertips.
Here is a step-by-step procedure for how to embed a PDF in Outlook email:
Step 1. Firstly, you need to open your Outlook email account. Now, click on the "New Email" button in the top left corner. Here, you need to enter the recipient's email address and subject along with the "cc" email if required. Also, enter the message in a specific place.
Step 2. Secondly, open the "Insert" tab from the ribbon bar and go to the "Text" section. Click the "Object." It will open a pop-up menu where you need to select "Create from file."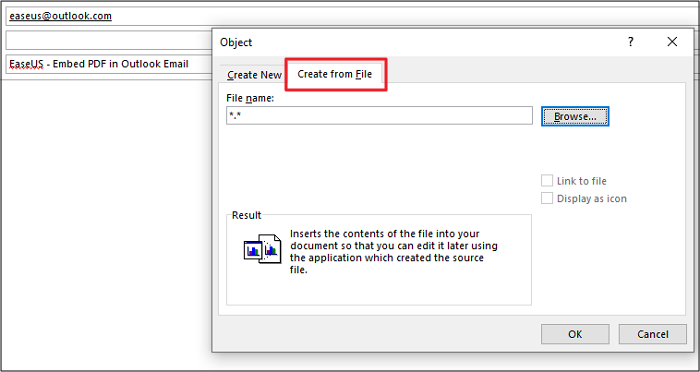 Step 3. In the last step, hit the "Browse" button, choose the PDF you want to share, and press "Insert." Click "Ok" and then "Send." 
Part 3. How to Embed PDF in Gmail
As Microsoft offers outlook, Google offers Gmail to send and receive personal or professional emails. It is a free email service provided, so you can either use it on the browser or the mobile application. Different sections holding Inbox, Sent, Drafts, Starred, and others are available to use. Even you can categorize the emails into Primary, Social, and Promotions.
Moreover, it provides you with the feature to start or join a new meeting. You can access contacts and tasks from the right-hand side column of the interface. And also, it is possible to utilize the Search and Chat function as per your desires.
Let's move forward towards how to embed PDF in Gmail:
Step 1. The first step is to open your Gmail account. Now, hit the button "Compose" available on the left-hand side. Now, you need to add the recipient and subject before proceeding.
Step 2. The next step is to click the triangle-shaped icon. Move the cursor to the icon that shows "Insert files using Drive." Press it, which will open a pop-up menu.
Step 3. Finally, click "Upload" and then "Select files from your Drive." Hit the "Upload" button and then "Save." You are all done!
The Bottom Line
No doubt, many situations require you to embed PDF in an email instead of sharing it as an attachment; however, making the recipient look at first sight is still at the top. Moreover, embedding email as PDF or image is based on your requirements, but you must know how to embed PDF in Outlook email. Here EaseUS PDF Editor is of great use because it allows you to convert PDF to image effortlessly. Also, you can use other features if required.
About the Author

Jane is an experienced editor for EaseUS focused on tech blog writing. Familiar with all kinds of video/PDF editing and screen recording software on the market, she specializes in composing posts about recording and editing videos. All the topics she chooses are aimed at providing more instructive information to users.