How to Convert CBR to PDF on Windows 10 & Online
With the popularity of comics among young people, more and more specialized comic reading applications and software appear on the market. Some file formats are designed for those programs, such as CBR, CBA, CBZ, etc. However, as only a certain group of people uses those formats, and it's not a universal format, they are not compatible with portable devices and their built-in file viewers.
The best solution to its incompatibility is converting those comic formats into some frequently-used ones. Owe to many reasons, PDF is the most suitable target format. But most of you might not know the operations to convert CBR to PDF. How to do that? Which is the best converting tool? Don't worry. This post will answer those questions for you.
What is a CBR File?
If you are not a big fan of comics, you may be unfamiliar with the CBR format. What does this word stand for? As everyone knows, the comics are composed of many pictures with the scene, characters, and scripts. However, if you store those pictures separately on your computer and view them one by one, the continuity and integrality of the plot will be damaged. Sometimes you may even feel confused about the correct order of those images. To solve this problem, CBR, CBZ, and more other formats are invented.
Those two formats mentioned above are mainly related to CDisplay, software for viewing the images in sequence in a comic style. In essence, the CBR file is a renamed RAR file, while CBZ is created from the ZIP file. Those formats help you flip over the images freely on the comic reader. Sometimes, those files can even contain additional tag information such as the author's introduction and so on.
How to Convert CBR to PDF on Windows 10
CBR format can make it convenient to read comics on Windows using CDisplay. However, if you send the CBR files to your iPad or Kindle, you will find that those devices are not compatible with them, and you cannot even find an application on your mobile device to open them. The most efficient way to solve this problem is to convert CBR to PDF. PDF is the most appropriate target format because PDFs can keep the original look of the comic, and you can arrange the PDF pages freely to ensure the images of the comic are in the correct sequence.
Luckily, there are plenty of CBR to PDF converting programs on Windows, and you can use any of them to get a PDF file from the CBR one. In this part, ComicRack will be the example to complete the conversion. ComicRack helps you navigate to any page of a comic freely, and if you cannot see some details clearly, it allows you to zoom in or even offers you a magnifier.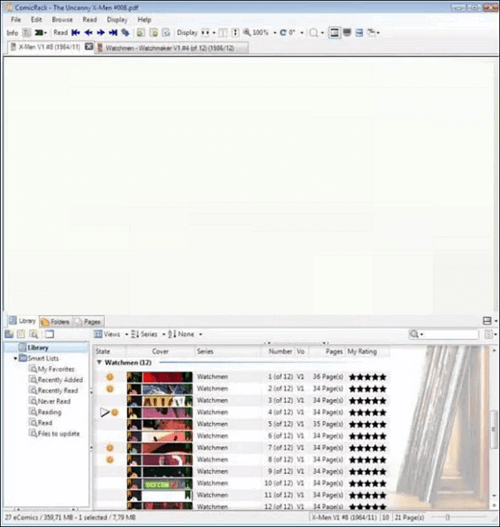 Steps to Convert CBR to PDF on Windows:
Step 1. First of all, open the CBR file you want to convert using this software.
Step 2. Right-click the CBR file and choose the "Export Books" option.
Step 3. A window will pop up, and you can set the conversion parameters freely. The output format, output folder, file name, and many other options can be adjusted. Click on "OK" to confirm your choice.
Step 4. Click on "OK" to confirm your choice, and you will get a converted PDF saved on your computer.
How to Convert CBR to PDF Online
Numerous online tools are available for you to convert CBR files into PDF format. This is an all-in-one tool that enables you to convert nearly all types of files into the format you like. It even supports some professional and infrequent formats, like DWG, SVG, and so on.
Another feature is the concise interface that only provides you with the conversion function. Unlike some other tools, this one doesn't offer you a complex PDF editing interface, and you can only choose to preview the PDF and rotate the PDF pages. The simplicity brings some advantages, such as the fast conversion speed.

Steps to Convert CBR to PDF Online:
Step 1. Open the web page of Cloudconverter.
Step 2. Click on the "Select File" button and upload the CBR file you want to convert.
Step 3. Click on the button behind "Convert to", and select "Document" > "PDF".
Step 4. If you want to save the PDF, tap on the "Download" button. Or you can choose to preview it and rotate the PDF pages.
Bonus Tips: How to Edit PDF After Conversion
As mention above, both of those two tools in this post don't provide you with a powerful PDF editing feature, and that is why you may need third-party PDF editing software to do that. Among all the optional PDF editing programs, EaseUS PDF Editor is a great choice for beginners. This PDF editor for Windows is designed in a simple but utility way, and you can navigate to any tool you need quickly.
To be specific, you can crop the PDF pages to resize them, and this feature is helpful if there are things you don't like on the comic images. Besides that, you can add a watermark to the PDF to claim your ownership. And if you want to prevent others from opening your comic, this software will enable you to add a password to protect it securely.
If those features are useful to you, don't forget to click on the button to download this software.
Steps to Edit the Converted PDF:
Step 1. Launch EaseUS PDF Editor and import the PDF file you want to edit. You can click on the "Open Files..." button to do that.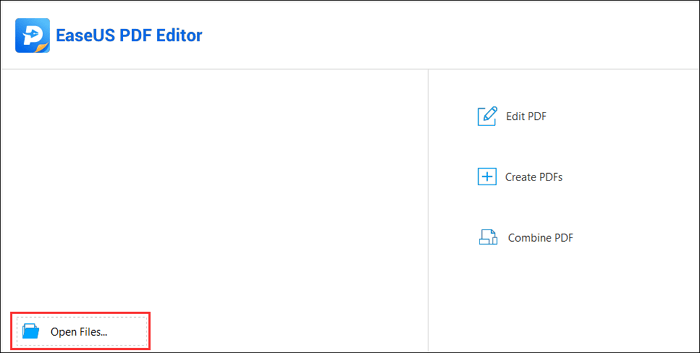 Step 2. If you want to edit the text and images in the PDF, click on the "Edit" button, and there are many options for you. It allows you to insert or remove the words and pictures freely, and you can also adjust the font, size, color of the PDF text.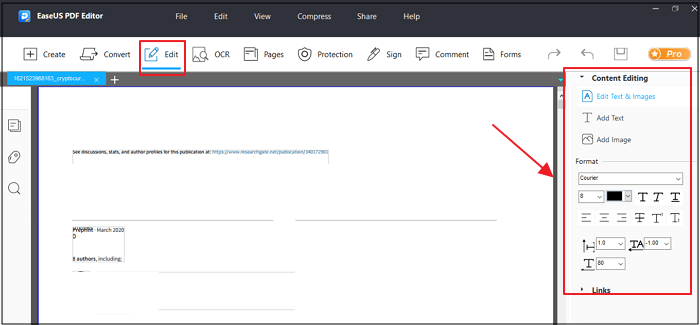 Step 3. More tools are available under the "Pages" option. This versatile software supports deleting, extracting, cropping, rotating the pages with ease. You can add many elements to the PDF, including header & footer, background, watermark, etc.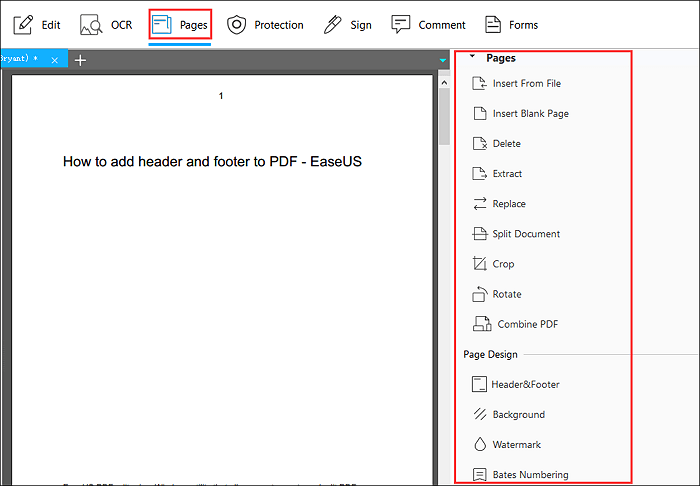 Step 4. After editing, you can choose to encrypt the PDF with a password, sign the PDF with an e-signature, or add comments to it. Then, click on the "File" button and select "Save" or "Save As" to preserve the changes you made to the PDF.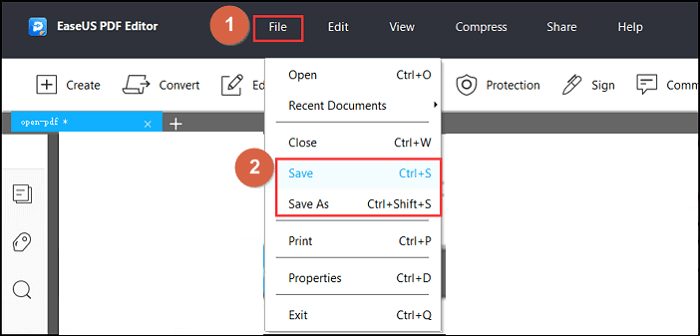 Conclusion
Although CBR could be the best format for you to view a comic using specific software, its lack of compatibility makes it impossible to read the comic on some mobile devices. This post offers users who want to also open the comic on their iPad and Kindle 2 helpful methods of converting CBR into PDF. 
A PDF editor is also necessary if you want to make the output PDF perfect, and EaseUS PDF Editor will help a lot for novice users. Don't miss this versatile program that is worth trying.
About the Author
Melissa is a sophisticated editor for EaseUS in tech blog writing. She is proficient in writing articles related to screen recording, video editing, and PDF file converting.