How to Change Background Graphics in PowerPoint
We always use PowerPoint to make our presentations. Whether you are a student or a worker, it is a necessity to learn to use PPT. If you want to create outstanding slides, one way is to have background graphics. However, it's not an easy task to modify the background on slides, especially when you get the templates from the online marketplace and you realize the features aren't quite as you like.
By changing your PPT background graphics to something unique and fresh, you should get the right background graphics that help you enhance the overall look of your presentation and bring your audience's attention to the main topic. Thus, if you are wondering about PowerPoint change background graphics, here is an easy guide to help you do so.
Preparation to Change Background in PowerPoint
People might be attracted by beautiful objects. Will you pay more attention to a well-designed slide rather than an ordinary slide? Obviously, yes! A good background in files brings a better visual effect. Therefore, you need to pay attention to your PPT background graphics and make changes if necessary.
A unique PPT slide background allows you:
Insert a graphic into your presentation
Make the slideshow fascinating
Attract the audience's attention
Customize detailed elements in your PPT
How to Change Background Graphics in PowerPoint 
Step 1. Open your PowerPoint on your PC, and click "View" from the top toolbar. Then, you select the "Slide Master" option.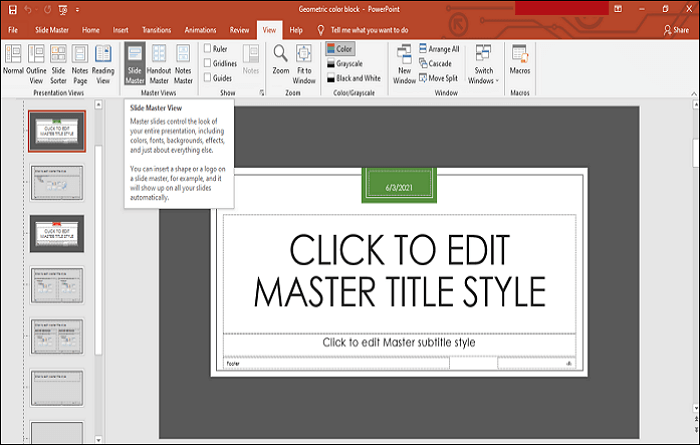 Step 2. Now, you find the "Format Background" option and click it. Located under the "Format Background" panel are various options.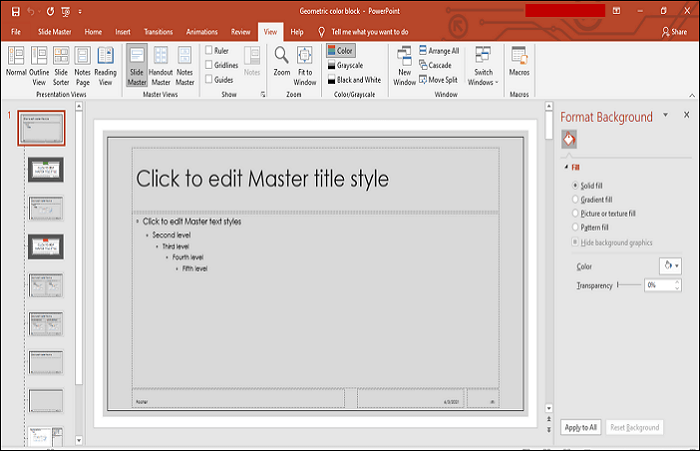 Step 3. If you want to insert a graphic from your computer, click "Picture or Texture fill" to bring your own subjects. Meanwhile, you can adjust other formattings.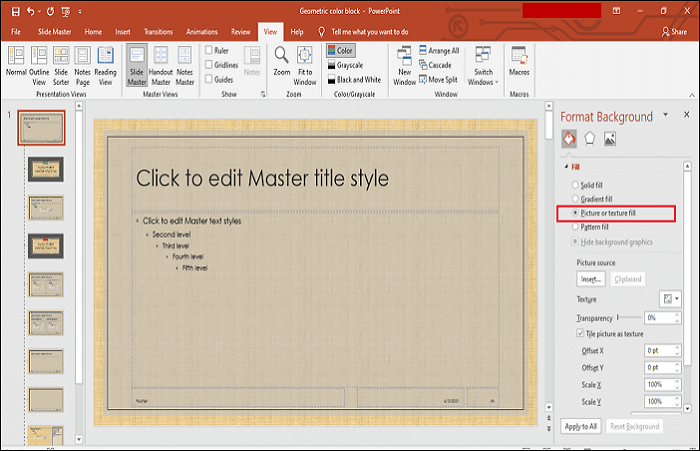 Step 4. Go to modify the background graphics. Click on the "Format Background" panel, and you can change the opacity by sliding "Transparency". Meanwhile, based on your needs, you can modify your graphics on other aspects as you like.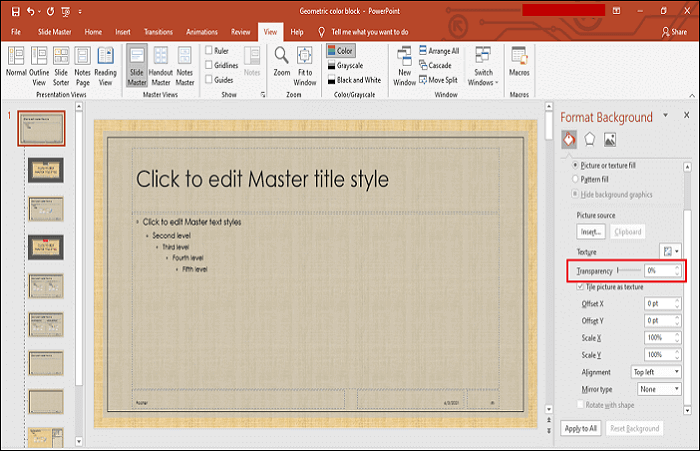 Bonus Tips: How to Modify a Background in PDF
We have shown you how to change background graphics in PowerPoint. However, there are some limitations you have to realize. Firstly, it may not always attract audiences' attention because the slide sometimes shows distracting elements, and the presentation may hinder learning. Also, there is too little content in one slide. Thus, more and more presentations are now produced in another type, which is in PDF format.
Files in PDF format allow the creation of fully interactive presentations. Even better, you can edit backgrounds easily, thereby creating unique and interesting presentations. When it comes to backdrop editing, you need an effective PDF editor. Here, EaseUS PDF Editor is recommended for you to make your presentations more attractive.
There are many remarkable features in this editor as it allows you to change the background color to the selected page, modify the opacity percentage in your background. You can even add a background to the specified area by setting the position. Furthermore, if you don't want a background, this tool will help you remove it permanently.
Main Features:
Review PDF files using commenting tools
Edit text, images, and background 
Convert PDF files into batch formats
Optimize PDF and reduce the size of the document
Try this tool to modify your PDF background much more attractive now.
Below is a simple guide for you on how to modify the background in a PDF.
Step 1. Download this editor on your computer. Then, import your PDF file by clicking the "Open Files" option.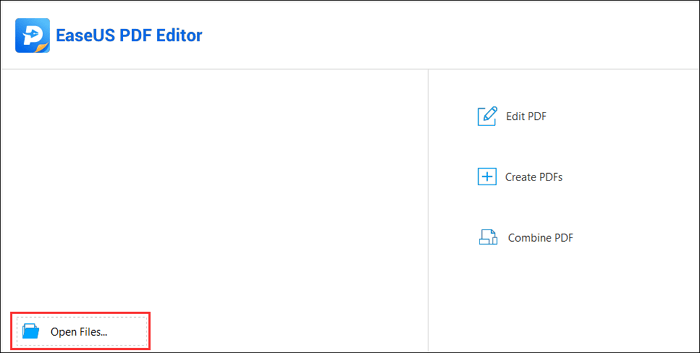 Step 2. Now, you should click "Pages" at the top, then hit "Background" to choose the "Add" option. Meanwhile, if your PDF already has a background, click on "Update Existing" to make a change.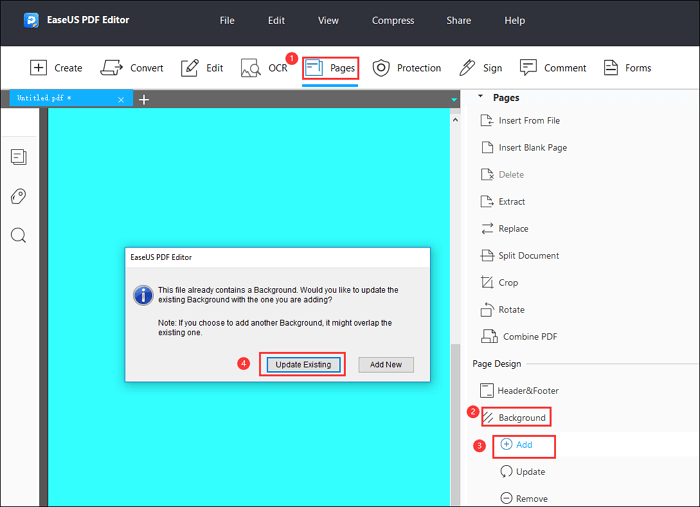 Step 3. In the Update Background dialogue window, you have the choice to select "From color" to set the color. Meanwhile, you can make other changes such as opacity as you like. After your formatting, click on the "OK" button.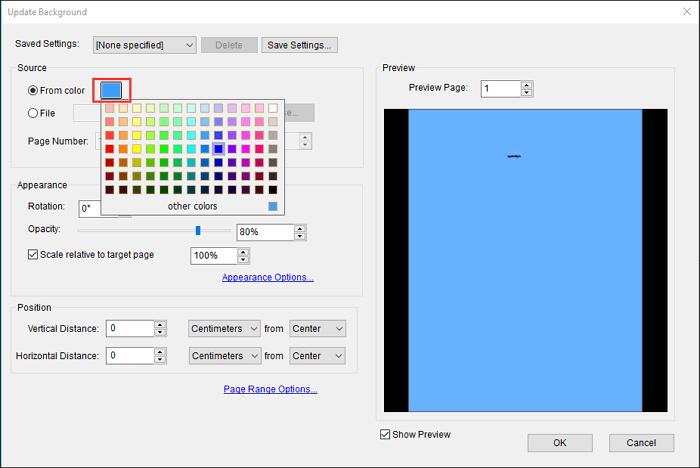 Step 4. Once you are satisfied with your work, you should click "File" to choose the "Save" option.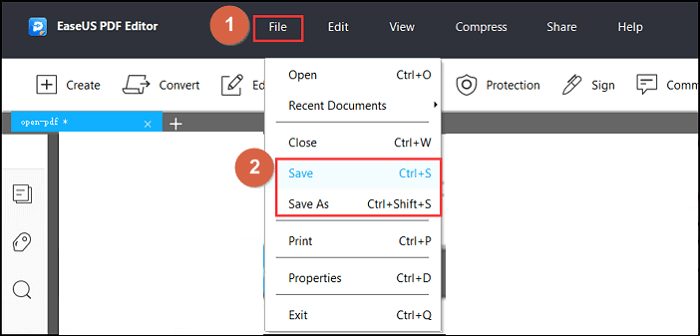 Right now, you might have realized that presentations in PDF format might be a better option for you. So, use the tool we share with you to create a beautiful appearance that captivates your audience for your presentation.
About the Author

Crystal Chen is very interested in technology products. Experiencing many technological applications like video editors, screen recorders, and PDF editors, She is willing to solve users' issues through writing tech-related articles. Through her words, you can find various solutions to solve one problem.