Convert Markdown to PDF with 4 Ways
You must have an understanding of the Markup format if you are a web developer. But for those who aren't, this language is used to create the text document, which ultimately gets converted into HTML for making web pages. Though it can be saved as the Readme files on GitHub, it is suitable to be converted into another format before sharing.
The preference is given to PDF because it offers greater portability. Moreover, it can keep/compile multiple Markdown files in one place. However, an ideal Markdown to PDF converter is required for the perfect conversion.
This piece of content offers the top four methods to perform conversion along with their tutorials. Even you will get the best Windows converter in the end.
Convert Markdown to PDF with Calibre
Calibre is an eBook management software that works as an all-in-one PDF Editor. Supporting a large number of formats, it allows you to convert Markdown to PDF without any hassle. It makes the conversion possible to process quality conversion. You can view any eBook or other samples properly and manage your digital library here.
Moreover, you can either convert the files individually or benefit from the bulk conversion feature to save your energy and time. Finally, it is also suitable to share and backup your library easily.
Features:
An open-source converter with an intuitive interface
Offer the complete and valuable tutorials
Support even the unique AZW formats
Create a catalog of eBooks in the virtual library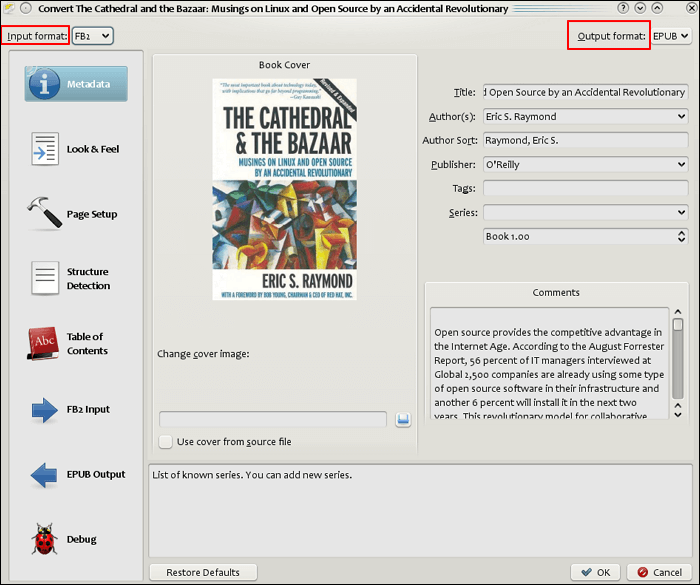 Here is a step-by-step guide for converting Markdown to PDF using Calibre:
Step 1. Let's go to the official site to download and install the Calibre on your system. Now, click "Add books" to import your Markdown file into the section.
Step 2. Next, open the "Convert books" drop-down menu and choose "Convert Individually" to proceed next.
Step 3. In the new window, open the drop-down menu of "Output Format" to select "PDF." Hit the "OK" button, and you are all done!
Convert Markdown to PDF with Cloud Convert
Cloud Convert is a fantastic online conversion tool with which you can easily convert Markdown to PDF. With its advanced technology conversion methods, it helps you to retain the target file quality. The conversion will also be quick in comparison to other online tools.
Moreover, the bulk conversion option is what you can choose if you have several Markdowns or other documents to convert simultaneously. It allows you also to adjust the Input Markdown Syntax in the settings bar. Even it is possible to use the rotate, print, and other functions at the download time.
Features:
Support 200+ formats like XLSX, PPT, TXT, MD, PDF, and more
Offer complete data security
Quick and high-quality conversion

Let's move forward toward the procedure for how to convert Markdown to PDF via
Step 1. Open the Cloud Convert website and click "Select File" to start loading the Markdown file. Then you can also click the settings to adjust before conversion.
Step 2. Press the "Convert" tab to open up a new window in the final step. Use all the options and then click "Download. That's all!
Convert Markdown to PDF with Online-Convert
Online-Convert is a popular online file conversion tool that not only assists you in converting Marktown to PDF but also between various other formats. It supports many file types like eBooks, documents, audio, video, and many more. Also, the conversion process is straightforward, and you can do compression in the end.
Moreover, you can drag and drop the document into the section to save yourself from the hassle of finding and uploading the required file. Even it allows you to download the PDF as a zip file if required.
Features:
Offer to save websites as PDFs
Support Cloud as Google Drive and Dropbox
Feature of converting with OCR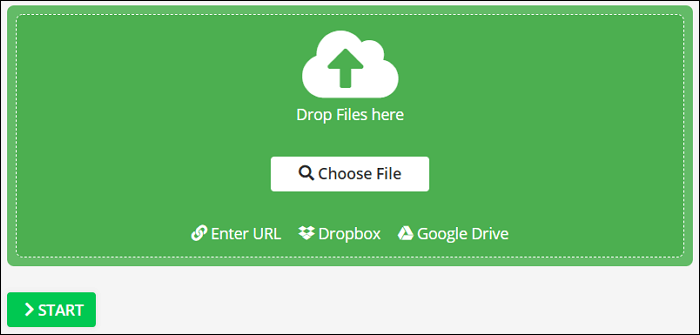 Here is an operational procedure to convert Markdown to PDF through Online-Convert:
Step 1. Open the website of Online-Convert using the given link. Now, click "Convert to PDF" to proceed to the following interface further.
Step 2. Click "Choose File" to import the Markdown file into the required section, and then hit the "Start" button. Finally, press the "Download," and you are done!
Convert Markdown to PDF with MarkdowntoPDF
Besides Cloud Convert and Online-Convert, you can also go for another efficient and credible converter. Yes, it is the MarkdowntoPDF tool that aids you in making this conversion easier by taking some simple steps. Also, you can create the Markdown files yourself if required. Even the quick export function is a bonus for you.
Furthermore, your files get stored on AWS, which is 100% safe and secure. Even the custom PDF styling is all at your fingertips. Despite all, you have the availability of the Markdown file editing in this online tool; however, it is possible in editing tools.
Features:
Convert documents in an efficient manner
Let you change the heading, font, and also colors
Offer PDF styles customization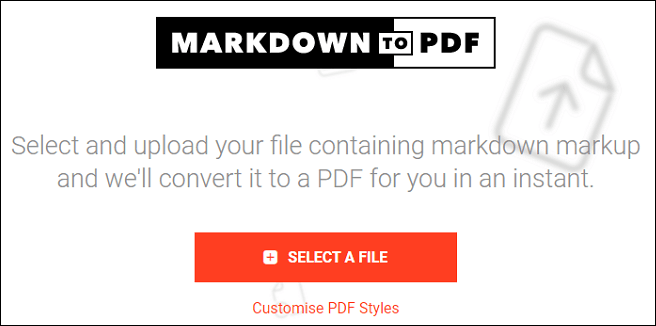 Let's proceed to the conversion of Markdown to PDF by using MarkdowntoPDF:
Step 1. Open the MarkdowntoPDF website on your browser. Click "Select a File" and upload the document to convert.
Step 2. Now, the file will automatically get converted into PDF and start downloading. That's all!
Bonus Tips: A Capable PDF Converter You Need
Get the EaseUS PDF Editor installed on your device without a second thought if you want a simple, stable, secure, efficient, and easy-to-use software. It supports almost all popular formats such as TIFF, HTML, BMP, TXT, etc. Conversion and PDF creation are possible, either from blank documents or files. Even you can enjoy all the editing features to alter the PDF as per your requirements.
Moreover, you can encrypt your PDF, add watermarks, or even sign the PDF to ensure its safety if it contains any sensitive/confidential information. Also, it is possible to make EaseUS PDF Editor work as a reader to perform all the necessary and relevant functions. Last but not least, combining multiple PDFs into one is easier than ever.
Features:
Add content, pages, and protection to PDF
Offer compression via optimizing document
Support the OCR technology assistance
Change the background easily
Perform quick conversion of files to/from PDFs
Conclusion
Many personal and professional requirements lead you to a scenario where converting Markdown to PDF becomes necessary. All the above-recommended converters would be of much help in this case. However, if you want to go for an ideal conversion process on Windows and advanced editing, EaseUS PDF Editor is your way. It helps you get a speedy conversion without affecting the quality of the output file. Even you can use its wide range of features to get the desired product.
About the Author
Melissa is a sophisticated editor for EaseUS in tech blog writing. She is proficient in writing articles related to screen recording, video editing, and PDF file converting.